I write about commodities on a daily basis, but do not currently have an agricultural producer in my portfolio
So, in continuing my research on Marijuana Stocks, producers specifically and with a focus on Aphria, my next step is to
Is now the time to invest?
I'm still not sure…
I'm always looking for your thoughts… Let me know!

#4IR: A Case for Cannabis?
The History of Hemp in America
In the U.S., the first hemp plantings were in Jamestown, Virginia
Hemp cultivation was so important to early Americans that it was illegal not to grow it in places like Virginia, Connecticut and Massachusetts in the early 1600's
Subsidies were also offered to farmers in the 1700's who agreed to grow hemp on their land
From then on hemp was used in everything from 19th century clipper ship sails to the covers of pioneer wagons
The Declaration of Independence was drafted on hemp paper, and even the finest Bible paper today remains hemp-based
Prior to marijuana prohibition, hemp was the crop of choice for producing things like paper and textiles (the original American flag was even made out of hemp) because of its hardy nature and versatility of use
In 1892, cotton made its grand appearance on American land and suddenly hemp had competition
Cotton production overtook hemp production largely due to the introduction of the cotton gin which could quickly separate cotton from seed. Because hemp harvesting and production was still largely done by hand, cotton production became a more efficient option. Although hemp cultivation continued (primarily in Kentucky), cotton became the more desirable crop throughout most of America.

Then, in the 1930's, "Reefer Madness" took the country by storm crippling a largely unsuspecting hemp industry
Though farmers could still technically grow hemp at the time by paying a fee and agreeing not to use it as a drug, the introduction of synthetic fibers coupled with a struggling economy ultimately put many hemp farmers out of business
In 1937, the passage of "Marihuana Tax Act" occurred, and, despite the U.S. government's "Hemp for Victory" campaign during World War II, misplaced fears that industrial hemp is the same as marijuana combined with targeted harassment by law enforcement discouraged farmers from growing hemp
The last crop was grown in Wisconsin in 1958, and by 1970 the Controlled Substances Act (CSA) formally prohibited cultivation (although the state of Hawaii is home to the first industrial hemp crop to be cultivated since the passage of the CSA)
Industrial hemp was once a dominant crop on the American landscape. This hardy and renewable resource (one of the earliest domesticated plants known, with roots dating back to the Neolothic Age in China) was refined for various industrial applications, including paper, textiles, and cordage.

The Situation Today
Sustainable hemp seed, fiber and oil are still used in raw materials by major companies, including Ford Motors, Patagonia, and The Body Shop, to make a wide variety of products
However, most hemp product manufacturers are forced to import hemp seed, oil and fiber from growers in Canada, Europe, and China because American farmers are prohibited by law from growing this low-input sustainable crop
In 2012 the U.S. hemp industry was valued at an estimated $500 million in annual retail sales and growing for all hemp products, according to the Hemp Industries Association, a non-profit trade organization consisting of hundreds of hemp businesses
Not only can hemp be used for an astonishing number of products, its net environmental benefit is impressive.

Why is this incredible plant still illegal?
Because it is erroneously confounded with marijuana, and many policymakers believe that by legalizing hemp they are legalizing marijuana, which is not true. Canada, Britain, France, Germany, and Spain, along with over twenty other countries, cultivate and process industrial hemp without affecting the enforcement of marijuana laws. (More common misperceptions about hemp and factual rebuttals.)
In fact, industrial hemp and marijuana are different breeds of Cannabis sativa; hemp has no value as a recreational drug
Actually smoking large amounts of hemp flowers can produce a significant headache, but not a high
To delve further in the details, in most western countries industrial hemp is distinguished from marijuana on the basis of THC (the chief intoxicant in marijuana) content, which allows the growing of industrial hemp for fiber and seed
Regulations in the E.U. and Canada (31 countries currently grow industrial hemp) limit THC levels in hemp flowers to 0.2 percent and 0.3 percent, respectively, and prevent attempts to camouflage marijuana in hemp fields
Comparatively, THC levels in marijuana flowers are generally between 5 percent and 20 percent
A hemp revival is beginning to gain momentum
Perception is beginning to shift in the U.S. Over the past several decades, there's been a resurgence of interest in hemp by a diverse but increasingly politically influential and unified group of businesses, farmers, nutritionists, activists, and green consumers.

Cannabis Industry Stastistics
Medical Marijuana is the fastest growing industry in North America
More than 1.2 million people already use medical marijuana for a wide variety of medical problems, from cancer to epilepsy to depression
If you're not sure how the industry is shifting, consider these statistics:
$7.1B: The estimated size of the legal U.S. marijuana industry (both medical and recreational) in 2016 – a boost of more than 25% over the year 2015. This substantial increase is linked to massive growth in Colorado, Washington, Oregon and other states expected to approve both medical and recreational use
89%: The percentage of Americans who support the legalization of marijuana for medical treatment if prescribed by a doctor. In 2011, 74% did. Attitudes toward marijuana continue to shift, with the public becoming accepting toward marijuana use every single year
25: States (and Washington, D.C. and Puerto Rico) that have already legalized medical marijuana, with some states gearing up for votes on recreational marijuana including Nevada, Maine, and California. Broadening acceptance of recreational marijuana could push half a dozen states to legalize it by the end of 2016
$996M: The amount of recreational and medical marijuana sales in Colorado in 2015 alone. Meanwhile, Washington has brought in over $661 million in recreational sales since marijuana was legalized. Tax revenue from states where recreational marijuana is legal is already being used to fund education, improve infrastructure, and feed the homeless
$573M: The estimated size of the 2015 hemp market, including CBD products ($65 million), foods ($90 million), and personal care products ($147 million). This marks an estimated 10% increase over 2014, and doesn't even include sales data from big box retailers, which could more than double the estimate
56%: Percentage of physicians who support nationwide legalization of medical cannabis. Oncologists and Hematologists are the biggest supporters. As acceptance by the medical community snowballs, physicians are petitioning to open quality testing labs, marijuana clinics, and other businesses
183M: Number of people who used marijuana during 2014, according to the United Nations, making it the most commonly used drug globally. This counted for 3.8% of the global population
7: Number of states legally growing hemp for research in 2015, including Hawaii, Oregon, and Tennessee. Five states, including Colorado, Vermont, and Kentucky, registered or licensed certain farmers to legally grow hemp.
16: States with controversial laws that allow CBD oil from marijuana, with low THC. These laws do provide limited access to CBD in jurisdictions that are highly unlikely to legalize medical marijuana. However, they overlook the fact that CBD from hemp is already available in all 50 states, infact, you can get discounted CBD products everywhere!

The Cannabis plant is one of the most versatile materials that can be found on planet Earth
Aside from what people typically associate with it — the act of altering one's state of consciousness — cannabis also has myriad other practical and economical uses. But for generations now, fear-mongering, paranoia, and misinformation have forced its use to remain under the radar or completely out of the question.

Commonly known uses for Hemp
Some estimate that the global market for hemp consists of more than 25,000 products in nine sub-markets
Agriculture & livestock feed
Textiles / clothing
Recycling & plastics
Automotive & fuel
Furniture & paint / varnish / lacquer
Food, nutritional supplements & beverages
Paper
Construction materials & building supplies
Personal care & cosmetics
Uncommonly known uses for Hemp
Batteries
Oil for Lighting
Weed Control
Chemical Cleanup
Medicine

The Future of Hemp in the U.S.
As we transition to a future that embraces more sustainable agriculture practices, industrial hemp can help lead the way
With focused and sustained research and development, hemp could spur dramatic positive ecological and economic benefits
For instance, renewable, fast-growing hemp is a substitute for many unsustainable products like non-organic cotton (which currently uses more than 25 percent of the world's insecticides and more than 10 percentof the world's pesticides) and many plastic products
So where is the disruption?
Remember, we're talking about #4IR Fourth Industrial Revolution, here
I'm always open to others' opinions, so let me know if I'm missing something here, but it seems to me like
Cannabis is MOST likely to disrupt in the following areas:
Medicine & healthcare

Construction materials & building supplies

Proven medical uses for Cannabis
The widespread use of cannabis as a medicine can be traced back millennia, where early Chinese doctors, such as surgeon Hua Tuo (c. 140-208), used the plant as an anesthetic by reducing the plant powder and mixing it with wine for administration before surgery. In fact, the Chinese term for "anesthesia" (mázui ??) literally means "cannabis intoxication."
Dutch sinologist Frank Dikötter also wrote about the ancient use of cannabis as medicine in his book, Narcotic Culture: A History of Drugs In China, where he highlighted how the root of the cannabis plant was used to remove blood clots, while the juice from the leaves could be ingested to combat tapeworm, and the seeds, once reduced to powder and mixed with rice wine, were used to fight several ailments including constipation and hair loss
Even the Egyptians recognized the medicinal applications of cannabis, particularly for the treatment of hemorrhoids
In ancient India, cannabis was used for a variety of ailments, including insomnia, headaches, GI disorders, and pain
In his article, Booming New Cannabis Industry Faces an Abundance of Hurdles, Dr. Mercola points out that the scientific evidence supporting its medicinal value "is strong, and growing, due to its cannabidiol (CBD) content. Much of the herb's popularity stems from its medicinal potential. In 2014, a survey found that the majority of physicians — 56 percent — favor nationwide legalization of medical cannabis."

It can be difficult to locate information about the safety and therapeutic value of cannabis
An unfortunate result of the federal prohibition of cannabis has been limited clinical research to investigate the safety and efficacy of cannabis to control symptoms of serious and chronic illness. Many scientists have noted research is "hindered by a complicated federal approval process, limited availability of research grade marijuana, and the debate over legalization."
Between 1840 and 1900, European and American journals of medicine published more than 100 articles on the therapeutic use of cannabis
In fact, cannabis was part of the American pharmacopoeia until 1942, and is currently available by prescription in Canada, the Netherlands, Israel, and Germany

Let's take a look at proven medical applications for cannabis
Outlined partly by Leafscience, and discuss how this miracle plant is doing wonders for so many
Pain Relief
Studies show that THC activates pathways in the central nervous system which work to block pain signals from being sent to the brain
Likewise, cannabis has been shown to be especially effective against neuropathic pain, or nerve-related pain
Next time you go for an Advil, try a small puff and see how that helps instead
PTSD
Post-traumatic stress disorder (PTSD) is another common reason to use medical marijuana
Interestingly, the high from THC is also associated with temporary impairments of memory
While this may be seen as a drawback for some marijuana users, impaired memory is often therapeutic for those who struggle to forget painful memories, such as patients who suffer from PTSD
Recent studies confirm that oral doses of THC can help relieve a variety of PTSD-related symptoms including flashbacks, agitation and nightmares
Nausea & Vomiting
THC has been available in pill form for treating nausea and vomiting in cancer patients since the 1980s
Marinol, a pill containing synthetic THC, was the first THC-based medication to be approved by the FDA for this purpose
Since then, other THC pills have been developed and prescribed to patients undergoing chemotherapy, including a pill called Cesamet

Appetite Stimulant
Along with its ability to reduce nausea, THC is known to work as a powerful appetite stimulant in both healthy and sick individuals
Similarly, Marinol and Cesamet are regularly prescribed to boost appetite in patients with cancer and HIV-associated wasting syndrome
A number of studies conducted with Marinol suggest that THC can also stimulate weight gain in anorexia
Asthma
Treating asthma may not seem like an obvious use for medical marijuana
But as it turns out, THC's ability to improve breathing in asthmatics is supported by research dating back to the 1970s
Following trials that showed smoking marijuana could help calm asthma attacks, scientists tried (and failed) to develop an inhaler that could deliver THC
While the THC inhaler idea was ultimately abandoned, some say modern-day vaporizers might be the solution
Glaucoma
Another benefit of THC recognized early on was its potential to relieve eye pressure in patients with glaucoma
Likewise, after studies in the 1970s showed that smoking marijuana could reduce symptoms in glaucoma sufferers, scientists tried (and failed again) to develop a way to administer THC in eye drops
The idea proved too complicated due to the fact that THC is not soluble in water
While some glaucoma patients rely on medical marijuana to this day, The American Glaucoma Society maintains the position that its effects are too short-lived (lasting 3-4 hours) to be considered a viable treatment option
Sleep Aid
Many are aware of the sleep-inducing effect of marijuana, and research shows that THC is largely responsible
In fact, trials conducted in the 1970s found that oral doses of THC helped both healthy individuals and insomniacs fall asleep faster
Interestingly, more recent studies suggest THC may also improve nighttime breathing and reduce sleep interruptions in those who suffer from a common disorder known as sleep apnea
Researchers are currently working to develop a THC-based medicine for treating the condition

Other Uses For Cannabis With Overwhelming Anecdotal Evidence
The fact that your body is replete with cannabinoid receptors, key to so many biological functions, is why there's such enormous medical potential for cannabis. CBD may be the most potent and beneficial of the cannabinoids, particularly for tamping down an overactive immune system, as is the case with autoimmune disease. CBD also has antipsychotic properties but does not get you high. Here are a few more serious conditions to which cannabis can substantially aid in treating:

Dravet Syndrome
Dravet syndrome, also known as Severe Myoclonic Epilepsy of Infancy (SMEI), is a form of intractable, life-threatening epilepsy in which a child can suffer upwards of 100 seizures a day
Dr. Mercola explains, "Certain varieties of cannabis offer the only real hope for children with this type of disorder, as Dravet syndrome does not respond well to standard epilepsy drugs. Twenty to 30 percent of children with Dravet experience a significant reduction in seizures within days or weeks of using high-CBD, low-THC cannabis, with virtually no adverse effects. So for some, legalized marijuana is just one more option for entertainment, but others feel like it's the difference between life and death."

Cancer
Over the past several years, dozens of studies point to marijuana's effectiveness against many different types of cancer, including

Brain cancer
Breast and prostate cancer
Lung cancer
Thyroid cancer
Colon cancer
Pituitary cancer
Melanoma
Leukemia

It fights cancer via at least two mechanisms, making it difficult for a cancer to grow and spread

Cannabis is pro-apoptotic, meaning it triggers apoptosis (cellular suicide) of cancer cells, while leaving healthy cells untouched
Cannabis is anti-angiogenic, meaning it cuts off a tumor's blood supply

For more on cannabis and cancer, read our more in depth article, 20 Medical Studies That Show Cannabis Can Be A Potential Cure For Cancer

Where will Cannabis disrupt existing medical practices and traditional medicine?
I believe Marijuana is poised to disrupt in the following areas…
Medical marijuana reduces use of prescription drugs

Cancer Therapy

Pain & Movement Management

Medical marijuana reduces use of prescription drugs, research finds
Why We Need To Move Away From Prescription Drugs And Embrace Natural Cures
Pharmaceuticals in general are among the leading causes of death in the US, you don't have to look far to find research confirming that cannabis is safer and less toxic than many prescription drugs.
Pharmaceuticals are know to cause
Liver and kidney toxicity

Gastrointestinal damage

Nerve damage

Nausea
Disorientation and drowsiness
Prolonged use can increase tolerance
Result in severe dependence or addiction
By contrast, the safety record of cannabis is remarkable, and its centuries of use as an analgesic well documented
In their meta-analysis of the available data, the Institute of Medicine acknowledged the wide use of cannabis for pain, noting that "after nausea and vomiting, chronic pain was the condition cited most often to the IOM study team as a medicinal use for marijuana." Currently, pain relief is by far the most common condition for which physicians recommend the use of cannabis.

Medical marijuana is having a positive impact on the bottom line of Medicare's prescription drug benefit program
In states that have legalized its use for medicinal purposes, according to University of Georgia researchers in a study published today in the July issue of Health Affairs
The savings, due to lower prescription drug use, were estimated to be $165.2 million in 2013, a year when 17 states and the District of Columbia had implemented medical marijuana laws
The results suggest that if all states had implemented medical marijuana the overall savings to Medicare would have been around $468 million.
Compared to Medicare Part D's 2013 budget of $103 billion, those savings would have been 0.5 percent
But it's enough of a difference to show that, in states where it's legal, some people are turning to the drug as an alternative to prescription medications for ailments that range from pain to sleep disorders
Because medical marijuana is such a hot-button issue, explained study co-author W. David Bradford, who is the Busbee Chair in Public Policy in the UGA School of Public and International Affairs, their findings can give policymakers and others another tool to evaluate the pros and cons of medical marijuana legalization
"We realized this question was an important one that nobody had yet attacked," he said
"The results suggest people are really using marijuana as medicine and not just using it for recreational purposes," said the study's lead author Ashley Bradford, who completed her bachelor's degree in sociology in May and will start her master's degree in public administration at UGA this fall.
To obtain the results, they combed through data on all prescriptions filled by Medicare Part D enrollees from 2010 to 2013, a total of over 87 million physician-drug-year observations
They then narrowed down the results to only include conditions for which marijuana might serve as an alternative treatment, selecting nine categories in which the Food and Drug Administration had already approved at least one medication
These were anxiety, depression, glaucoma, nausea, pain, psychosis, seizures, sleep disorders and spasticity
They chose glaucoma in particular because while marijuana does decrease eye pressure caused by the disease by about 25 percent, its effects only last an hour
With this disorder, they expected marijuana laws—as a result of demand stimulation—to send more people to the doctor looking for relief. And because taking marijuana once an hour is unrealistic, they expected to see the number of daily doses prescribed for glaucoma medication increase
They were not disappointed. While fewer prescriptions were written for the rest of categories—dropping by 1,826 daily doses in the pain category and 265 in the depression category, for instance—the number of daily doses for glaucoma medication increased by 35
"It turns out that glaucoma is one of the most Googled searches linked to marijuana, right after pain," David Bradford said. "Glaucoma is an extremely serious condition" that can lead quickly to blindness. "The patient then goes into the doctor, the doctor diagnoses the patient with glaucoma, and no doctor is going to let the patient walk out without being treated."
The researchers will explore further in their next study
They expect the cost savings seen in their current study to be repeated when they look at Medicaid, saying their findings suggests a more widespread state approval of medical marijuana could provide modest budgetary relief
Their current study suggests total spending by Medicare Part D would have been $468.1 million less in 2013 if all states were to have adopted medical marijuana laws by that year, an amount just under 0.5 percent of the prescription drug benefit program's spending

Will Cannabis kill cancer?
Cannabis and Cancer
People with cancer who must undergo radiation and chemotherapy frequently stop treatments rather than suffer the nausea, pain, and other unpleasant side effects
Years before any state had authorized the medical use of cannabis, a 1991 Harvard Medical School study revealed that nearly half (44%) of U.S. oncologists were recommending cannabis to their patients as a way of mitigating the side effects of cancer treatments
In its 1999 review, the Institute of Medicine concluded that cannabis could be a valid alternative for many people living with cancer
Specifically, the IOM notes, "In patients already experiencing severe nausea or vomiting, pills are generally ineffective, because of the difficulty in swallowing or keeping a pill down, and slow onset of the drug effect."
Since the release of the IOM report, new research has been published which supports the use of cannabis to curb the debilitating effects of cancer treatment
In 2001, a review of clinical studies conducted in several states during the past two decades revealed that, in 768 individuals with cancer, cannabis was a highly effective anti-emetic in chemotherapy
Other studies have concluded that the active components in cannabis produce palliative effects in cancer patients by preventing nausea, vomiting and pain and by stimulating appetite
The tumor-fighting properties of cannabinoids have also been demonstrated in numerous laboratory studies, though not yet in human clinical trials
Researchers have observed that "these compounds have been shown to inhibit the growth of tumor cells in culture and animal models by modulating key cell-signaling pathways. Cannabinoids are usually well tolerated, and do not produce the generalized toxic effects of conventional chemotherapies."

Combating Chemotherapy
Cannabis is used most often to combat nausea induced by chemotherapy agents and pain caused by various cancers
More than 30 human clinical trials have examined the effects of cannabis or synthetic cannabinoids on nausea, not including several U.S. state trials that took place between 1978 and 1986
In reviewing this literature, scientists have concluded that, "THC is superior to placebo, and equivalent in effectiveness to other widely-used anti-emetic drugs, in its capacity to reduce the nausea and vomiting caused by some chemotherapy regimens in some cancer patients."
A 1998 review by the British House of Lords Science & Technology Select Committee concluded that "cannabinoids are undoubtedly effective as anti-emetic agents in vomiting induced by anti-cancer drugs. Some users of both find cannabis itself more effective."
The House of Lords review builds upon data provided in a 1997 inquiry by the British Medical Association that determined cannabis is, in some cases, more effective than Marinol

Cancer-fighting Cannabinoids
Recent scientific advances in the study of cannabinoid receptors and endocannabinoids have produced exciting new leads in the search for anti-cancer treatments
In the past decade, scores of studies, both in vivo and in vitro, have demonstrated that various cannabinoids have a significant effect fighting cancer cells
To date, studies have shown that cannabinoids arrest many kinds of cancer growths through promotion of apoptosis (programmed cell death) in tumors and by arresting angiogenesis (increased blood vessel production)
Cannabinoids have also been shown to halt the proliferation or spread of cancer cells in a wide variety of cancer types. Unlike conventional chemotherapy treatments that work by creating a toxic environment in the body that frequently compromises overall health, cannabinoids have been shown to selectively target tumor cells.
Cannabinoids and Tumor Reduction
The direct anti-tumor and anti-proliferation activity of cannabinoids, specifically CB1 and CB2 agonists, has now been demonstrated in dozens of studies across a range of cancer types, including brain (gliomas), breast, liver, leukemic, melanoma, phaeochromocytoma, cervical, pituitary, prostate and bowel
The anti-tumor activity has led in laboratory animals and in-vitro human tissues to regression of tumors, reductions in vascularisation (blood supply) and metastases (secondary tumors), as well as the direct destruction of cancer cells (apoptosis).41-45 A 2009 review of recent studies on the role of cannabinoids and cannabinoid receptors in the treatment of breast cancer notes that research on the complex interactions of endogenous cannabinoids and receptors is leading to greater scientific understanding of the basic mechanisms by which cancers develop.
Cannabinoids have been shown to inhibit tumor growth in laboratory animals in multiple studies
In one study, injections of synthetic THC eradicated malignant brain tumors in one-third of treated rats, and prolonged life in another third by as long as six weeks
Other research on pituitary cancers suggests that cannabinoids may be the key to regulating human pituitary hormone secretion
Research published in 2009 found that the non-psychoactive cannabinoid cannabidiol (CBD) inhibits the invasion of both human cervical cancer and human lung cancer cells. By manipulating cannabidiol's up-regulation of a tissue inhibitor, researchers may have revealed the mechanism of CBD's tumor-fighting effect. A further in vivo study demonstrated "a significant inhibition" of lung cancer metastasis in mice treated with CBD.58 The mechanism of the anti-cancer activity of CBD and other cannabinoids has also been repeatedly demonstrated with breast cancers.
Scientists have also demonstrated the anti-tumor effects of the cannabinoid THC on cholangiocarcinoma cells, an often-fatal type of cancer that attacks the liver's bile ducts
A 2009 study found that "THC inhibited cell proliferation, migration and invasion, and induced cell apoptosis."
At low levels, THC reduced the migration and invasion of cancer cells, while at high concentrations, THC triggered cell-death in tumors. In short, THC reduced the activity and number of cancer cells. This dose-dependent action of cannabinoids on tumors has also been demonstrated in animal studies.

Cannabis makes pain manageable?
Chronic Pain
According to the American Academy of Pain, nearly 50 million Americans suffer from persistent pain. Unfortunately, it is estimated that four out of every ten people living with moderate-to-severe pain have yet to experience relief. After reviewing a series of trials in 1997, the U.S. Society for Neuroscience concluded that "substances similar to or derived from marijuana could benefit the more than 97 million Americans who experience some form of pain each year."
Many well-designed, double-blind placebo-controlled clinical trials clearly demonstrate that cannabis can reduce neuropathic pain
Years of clinical studies confirm that the active ingredients in cannabis have powerful analgesic effects, sometimes equivalent to codeine or morphine
A review of the body of scientific research concerning the analgesic effects of cannabis concluded that "[t]here is now unequivocal evidence that cannabinoids are antinociceptive [capable of blocking the transmission of pain] in animal models of acute pain."
Research shows that cannabinoids also produce an entourage effect that enhances the effectiveness of opiate painkillers

One animal study found morphine was 15 times more active with the addition of a small dose of THC
Codeine was enhanced on the order of 900 fold
Human and animal studies have repeatedly shown that cannabinoids work synergistically with opioid drugs in relieving neuropathic pain
Researchers suggest that direct and indirect interactions between opioid and cannabinoid receptors not only enhance analgesia but also reduce the development of tolerance to opiates
These interactions hold promise for developing therapeutic strategies that provide better pain relief with fewer of the dangerous and debilitating side effects that patients reliant on opiate pain killers experience
Decades of research on cannabis' effectiveness in pain management include
Clinical human trials
Anecdotal evidence
New understanding of how activation of the cannabinoid system in the central nervous system reduces sensitivity to pain
Between 25% and 45% of cancer patients experience neuropathic pain, a type of chronic nerve pain that resists conventional treatment.

Some of the most encouraging clinical data on the effects of cannabinoids on pain involve the treatment of intractable cancer pain and hard-to-treat neuropathic pain
The effectiveness of cannabis and cannabinoids in relieving neuropathic pain has been demonstrated in more than three dozen preclinical and clinical trials
A 2009 review notes that "a large number of research articles have demonstrated the efficacy of cannabinoids" for treating neuropathic pain and concludes that "cannabinoids show promise for treatment."
Multiple clinical trials have shown that a dosage-controlled whole-plant extract of cannabis (Sativex) relieves intractable cancer pain, and does so better than THC alone
A recent double blind, randomized, placebo-controlled trial of 360 cancer patients in 14 countries found that pain scores improved significantly with a cannabis extract. Researchers report that the combination of natural cannabinoids in Sativex "is an efficacious adjunctive treatment for cancer-related pain" for patients who do not get relief from opiate painkillers such as Oxycontin or Vicodin.
Pain from spinal injuries may also be treatable with cannabis
A French team, noting that "very few pharmacological studies have dealt specifically with neuropathic pain related to SCI," suggests that for "refractory central pain, cannabinoids may be proposed on the basis of positive results in other central pain conditions (e.g. multiple sclerosis)."
Several sets of researchers have recently published findings on the efficacy of cannabinoids in treating pain resulting from spinal cord injuries (SCI)
Researchers have demonstrated in an animal model of SCI pain that cannabinoids yield more consistent positive results than conventional analgesics such as opiates, which "decrease in efficacy with repeated treatment over time," concluding that drugs targeting the body's cannabinoid receptors "hold promise for long-term use in alleviating chronic SCI pain."
Researchers have also determined that neuropathic pain may be treatable via bolstering the body's natural cannabinoids
A study that inhibited the two enzymes that break down the body's natural cannabinoids found that preserving them "reduces neuropathic pain through distinct receptor mechanisms of action" that "present viable targets" for developing new analgesic drugs
Drugs which can selective target CB2 cannabinoid receptors, which are almost completely absent from the central nervous system, have also been shown to have therapeutic potential for both inflammatory and neuropathic pain control

Multiple Sclerosis
One survey of people living with multiple sclerosis reported that more than 40 percent of respondents used cannabis to relieve symptoms of the disease. Among them, nearly three quarters said that cannabis mitigated their muscle spasms, and more than half said it alleviated their pain. A similar survey found that 96% of Canadians living with MS believe cannabis is therapeutically useful for treating the disease. Of those who admitted using cannabis to treat symptoms of MS, the majority cited relief of chronic pain, spasticity, and depression.
Cannabinoids have been shown in animal models to not just measurably lessen MS symptoms but may also slow or halt the progression of the disease
Cannabinoids have demonstrated effects on immune function that may reduce the autoimmune neuroinflammatory response which drives relapsing neurological attacks and increasing disability
Clues as to why may lie in research that discovered that persons with multiple sclerosis have increased levels of endocannabinoids in their blood, indicating that the endocannabinoid system "may be dynamically modulated depending on the subtype of the disease."
Previous studies of the pharmacology of cannabis have identified effects on motor systems of the central nervous system that have the potential of affecting tremor and spasticity
A controlled study of the efficacy of THC in the animal model of MS, experimental allergic encephalomyelitis (EAE), demonstrated significant amelioration of these two MS symptoms. A review of six randomized controlled trials of a cannabis extracts that combines delta-9-tetrahydrocannabinol (THC) and cannabidiol (CBD) finds "a trend of reduced spasticity in treated patients" and "evidence that combined THC and CBD extracts may provide therapeutic benefit for MS spasticity symptoms."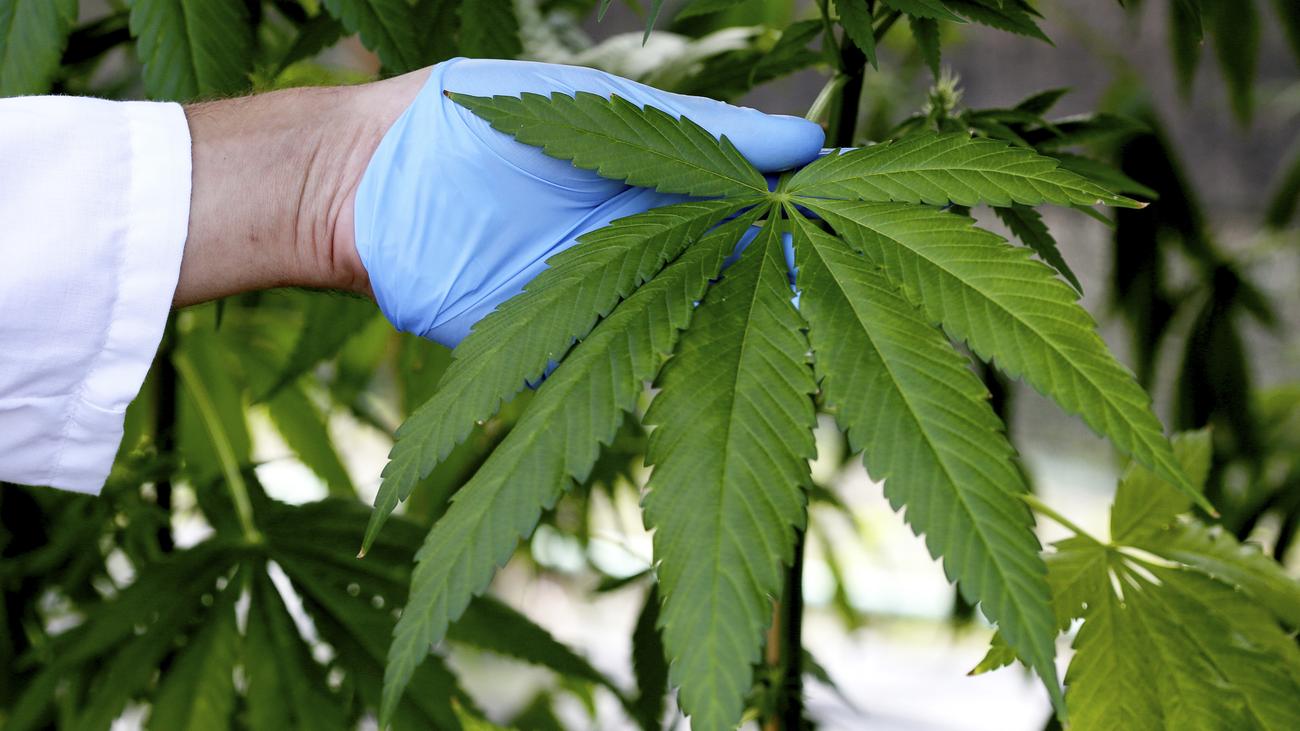 One such dosage-controlled THC-CBD whole-plant extract—GW Pharmaceuticals' sublingual spray, Sativex®—has been shown in numerous clinical trials to ease pain, decrease spasm frequency, and improve bladder control and sleep
Clinical trials of Sativex® found that it "demonstrated a statistically significant and clinically relevant improvement in spasticity and was well tolerated in MS patients."As of June 2012, Sativex® is available by prescription in the UK, Spain, Germany and Denmark for the symptomatic relief of spasticity, neuropathic pain, or both in adults with multiple sclerosis. It has been approved for distribution in Italy, Sweden, Austria and the Czech Republic, with recommendations for approval in Belgium, Finland, Iceland, Ireland, Luxembourg, the Netherlands, Norway, Poland, Portugal and Slovakia
The distribution of CB1 cannabinoid receptors in the brain suggests that they may play a role in movement control
Only recently have scientists identified EAE as an animal model for MS, allowing testing for symptom suppression
While objective measures of spasticity in humans have not consistently shown benefit from cannabinoid treatment, a randomized clinical trial with 189 MS patients being treated with a cannabis extract showed 40% achieved a greater than 30% improvement
In addition to studying the potential role of cannabis and its derivatives in the treatment of MS-related symptoms, scientists are exploring the potential of cannabinoids to inhibit neurodegeneration
A 2003 study that the National MS Society called "interesting and potentially exciting" demonstrated that cannabinoids were able to slow the disease process in mice by offering neuroprotection against EAE.142 Neurodegeneration is implicated in a host of debilitating conditions

Other Movement Disorders
Muscular spasticity is a common condition, affecting millions of people in the United States. It afflicts individuals who have suffered strokes, as well as those with multiple sclerosis, cerebral palsy, paraplegia, quadriplegia, and spinal cord injuries. Conventional medical therapy offers little relief for spasticity. Phenobarbital and diazepam (Valium) are commonly prescribed, but they rarely provide complete relief, and many patients develop a tolerance, become addicted, or complain of heavy sedation. These drugs also cause weakness, drowsiness and other side-effects that people find intolerable.
Endocannabinoids have modulating effects on the nervous system
Sometimes they block neuronal excitability and other times they augment it
As scientists are developing a better understanding of the physiological role of endocannabinoids, it is becoming clear that these chemicals may be involved in the pathology of several neurological diseases
This means researchers are identifying an array of potential therapeutic targets within the human nervous system
They have determined that various cannabinoids found in the cannabis plant interrupt the synthesis, uptake, or metabolism of the endocannabinoids that drive the progression of Huntington's disease, Parkinson's disease, and tremor
The neuroprotective qualities of cannabis mean it has enormous potential for protecting the brain and central nervous system from the damage from disease or injury that creates various disorders
Researchers have found that cannabinoids fight the effects of strokes, brain trauma, and spinal cord injury, as well as multiple sclerosis and neurodegenerative diseases. If you have unfortunately experienced a brain trauma or something similar through no fault of your own, then you should take a look at someone like these California brain injury lawyers to give you a better idea of what to do next.
More than 100 research articles have been published on how cannabinoids act as neuroprotective agents that slow the progression of Huntington's, Alzheimer's, and particularly Parkinson's, a condition that affects more than 52% of people over the age of 85

Arthritis
According to the Arthritis Foundation, arthritis is one of the most prevalent chronic health problems and the nation's leading cause of disability among Americans over age 15. A 2006 report estimated that 46 million Americans-nearly 1 in 5 adults-live with chronic joint pain and arthritis.
The use of cannabis as a treatment for musculoskeletal pain in western medicine dates to the 1700s
Modern research confirms that cannabis and related therapies can relieve the pain associated with arthritis and the other rheumatic and degenerative hip, joint and connective tissue disorders
Not only is cannabis an effective pain reliever and anti-inflammatory in its own right, it also has the potential to enhance the efficacy of opiate painkillers, allowing for better pain relief at reduced dosages
In their 1999 meta-analysis of the data then available, the Institutes of Medicine specifically noted that the anti-inflammatory properties of cannabinoids could have therapeutic application in preventing or reducing pain caused by swelling (such as arthritis)
Research has shown that cannabis and its constituent cannabinoids have powerful immune-modulation and anti-inflammatory properties that may treat chronic inflammatory diseases directly
Many patients and doctors report cannabis has proven an effective treatment for rheumatoid arthritis, and it is one of the recognized conditions for which many states permit medical use
Specifically, cannabis has a demonstrated ability to improve mobility and reduce morning stiffness and inflammation, and research suggests that individuals can reduce their use of potentially harmful Non-Steroidal Anti-Inflammatory Drugs (NSAIDs) when using cannabis as an adjunct therapy
One of the non-psychoactive cannabinoid components of cannabis, cannibidol (CBD), has also been shown to have numerous medical applications as an anti-inflammatory and neuroprotective agent, including as a treatment for rheumatoid arthritis
Research indicates that CBD suppresses the immune response in mice and rats that is responsible for a disease resembling arthritis, protecting them from severe damage to their joints, and markedly improving their condition

Cannabis may also disrupt materials & building companies
Hemp provides all sorts of good building materials!
Building materials are one of the most exciting products that can be manufactured from cannabis, as it would allow for people living in areas with little resources to access things needed for construction
Of course, this puts fear into the heart of

timber

companies

, but we can all agree that saving some trees is probably a good thing
Not to mention that cannabis crops can be turned over incredibly fast compared to forests
Materials including concrete, plastic, wallboard, and even insulation can be made from cannabis, essentially all the stuff needed to build a house
Pipes can be fitted from hemp-based plastics as well, taking care of plumbing issues
Can you imagine being the first on your block to have a hemp-based house?

So far I'm liking Cannabis' prospects for Disruption
Speaking of Energy Storage…
The way we think about how we store energy is transforming, and cannabis may be able to spur things along even faster
Alternet reports that researchers are finding that cannabis may lead the way to producing more efficient supercapacitors
The actual engineering is a bit complicated, but basically involves the creation of nanosheets from hemp fibers, in the same way scientists have been able to use graphene in the past
Hemp provides a huge advantage due to its inexpensiveness, as it can cost thousands of times less than graphene or similar materials
As hemp becomes more socially acceptable to work with, exploration into the potential technology should only increase in scope, and hopefully a viable technology will come out of it
But in every Industrial Revolution there is both Disruption AND Innovation
What are your thoughts on how Cannabis will Innovate or be Innovated?
I immediately think of AgTech… but that's a topic for another day…
I hope you enjoyed this post! Thanks for reading!

Resources:
Cancer.gov,12 the US government's cancer website, contains research relating to the use of cannabis
PubMed13 is a searchable public resource containing a vast amount of medical literature, including studies involving cannabis
The Journal of Pain14 is a publication by the American Pain Society with a long list of studies on the pain-relieving effects of cannabis
National Institute on Drug Abuse15 is an excellent resource, including information about preclinical and clinical trials that are underway to test marijuana and various extracts for the treatment of a number of diseases, including autoimmune diseases such as multiple sclerosis and Alzheimer's disease, inflammation, pain, and mental disorders

Check out past issues!
#4IR: A Case for Cannabis?
Do you have a specific research or social media need?
Let me navigate the digital jungle for you and compile timely, targeted insight on your chosen company, market, or trend. I take custom assignments on these types of projects:
Company profiles
Market and/or trend analysis and updates
Social media profile optimization
Social media content creation and promotion