What's your resolve on Resolute Mining (RMGGY)?
I know. Me, too… until recently, that is, when I went looking through the junior gold mining etf (GDXJ)…
(via Morningstar.com … top 25 holdings)

See what I see? 
Did I notice this before and disbelieve as an illusion?
I KNOW! OK… let's calm down…
I'm not even looking for another gold or silver mining company right now.
BUT I DO LOVE DAT GOLD!
"BULLION: THERE's ALWAYS ROOM FOR ONE MORE."
And I CAN make a case for a junior gold miner in my precious metals portfolio considering gold's 3 month performance.
Is that Resolute Mining?
Interestingly, Morningstar has listed Resolute Mining as a small-cap value, NOT growth company.
Currently, my basket of shiny stuff includes:
I'm further intrigued when I realize that the last time something was posted on Twitter under Resolute Mining's ADR ($RMGGY) was back in June 2015… An undiscovered gem?
RMGGY -18.75% Stock Charts $RMGGY Resolute Mining Ltd. ADS (OTC) Last Updated: 06/26/2015 12:44:35 RMGGY Stock http://t.co/6jV68DCIcO

— chartguy89 (@chartguy89) June 26, 2015
So… what's the deal with Resolute Mining? 
They don't have a twitter page… bummer. But they still get tweeted about under #Resolute #Mining:
I want to look at the charts before I check out fundamentals:
I'm assuming the 700%+ meteoric rise in share price is accurate. What I want to compare is Resolute Mining's volatility relative to gold and other mining companies, both major and junior.
Does Resolute Mining tend to track with another gold company or etf?
Resolute Mining vs. Gold (GLD):
This is a 3-year chart. Yes, the basically flat line is GLD. $RMGGY looks CRAZY!!! Not a lot of volume, and that could lead to a liquidity crunch if everyone tries to get out at the same time, but check out the buys in July! Serious positive sentiment.
Resolute Mining vs. Barrick Gold (ABX):
Another 3-year chart. I'm comparing Resolute to Barrick because Barrick Gold is the biggest of the big boys. Here you can see that $RMGGY is correlated with Barrick Gold (purple line) until around May. In the fast few months gold, and Barrick, have fallen off a bit. But not Resolute Mining… more seriously strong forward sentiment.
Resolute Mining vs. Gold Mining ETF (GDX):
Resolute is a gold miner, so how has it done compared to the Gold Mining ETF? In this 3-month chart we can see the decline in the gold majors, and the continued ascension of Resolute Mining… what's the deal? Why is $RMGGY immune to the drama?
Resolute Mining vs. Junior Gold Mining ETF (GDXJ):
And since Resolute is a junior gold mining company, let's compare to the junior gold mining etf. 3-years chart confirms recent weirdness. Is Resolute Mining simply overbought, and over-hot, or has something happened to warrant this demand?
Resolute Mining vs. Junior Silver Mining ETF (SILJ):
So now I'm wondering if $RMGGY more closely matches silver miners over the last few months?
Still not a great fit: SILJ shows that same 3-month decline as GDJ…
Resolute Mining vs. 3x Leveraged Gold ETN (NUGT):
Keep in mind that the triple leveraged gold ETN NUGT is NOT intended for investing, it's a TRADING instrument. Without going into too much detail on the math, NUGT will always return to ZERO over time because of decay. Therefore, only use NUGT for day and/or trend trading. Triple leverage makes NUGT a great (or potentially disastrous) momentum tool. Lots of volatility here, so let's compare to Resolute.
In the year-to-date chart we see Resolute fairly well correlated to the triple leveraged gold ETN, but with less volatility. Pretty cool.
Resolute Mining vs. all of the above:
In case we still have some questions about which investment Resolute Mining's performance and volatility MOST CLOSELY match, let's look at them all together.
Clearly, on the YTD chart Resolute most closely matches the 3x leveraged ETN (NUGT). AWESOME!
Why is this important? Because via Resolute, I get similar performance to NUGT, but without the decay. Remember, 3x leveraged ETN's are short term trading tools, not long-term investments.
Now let's mine for details!
Is Resolute Mining simply overbought, and over-hot, or has something happened to warrant this demand?
$RMGGY isn't showing the same level of downward pressure gold and the gold majors over the last few months, so what's up?
Who is Resolute Mining?
"We pride ourselves on being a global gold producer, explorer, developer and innovator." -John Welborn, Resolute Mining
Resolute has begun a journey of operational change as investment is injected into its three operations to ensure their lifespans are sustained well into the future.
Resolute is a successful gold miner with more than 25 years of continuous production. The Company is an experienced explorer, developer, and operator having operated nine gold mines across Australia and Africa which have produced in excess of 7 million ounces of gold.
The Company currently operates two mines, the Syama Gold Mine in Africa and the Ravenswood Gold Mine in Australia, and is one of the largest gold producers listed on the Australian Securities Exchange with FY17 guidance of 300,000 ounces of gold production at All-in-Sustaining Costs of A$1,280/oz (US$934/oz).
That's good for a junior gold miner, but definitely not the BEST in the industry…
Typically, I invest in mining companies not only for the precious metals exposure, but also for exposure to emerging markets such as those in South America and Africa.
I've been a lover and researcher of Africa for a LONG time, so I'm excited to find that Resolute is a HEAVY play on Africa… and in areas of Africa many miners avoid due to lack of infrastructure and geopolitical drama.
I LIKE that Resolute is a (calculated) risk taker!
The Ravenswood Gold Mine in Queensland, Australia demonstrates Resolute's significant underground expertise in the success in mining the Mt Wright ore body. The completion of the Ravenswood Extension Project Study has now confirmed a 13-year mine life based on a return to open pit mining.
Resolute's flagship Syama Gold Mine in Mali is a robust long life asset benefitting from fully operational parallel sulphide and oxide processing plants. The move to underground mining will continue the asset's history of strong cash generation and extend the mine life to out beyond 2028.
In Ghana, the Company has completed a feasibility study on the Bibiani Gold Project focused on the development of an underground operation requiring modest capital and using existing plant infrastructure. Resolute also controls an extensive exploration footprint along the highly prospective Syama Shear and greenstone belts in Mali and Cote d'Ivoire and is active in reviewing new opportunities to build shareholder value.
"As a company, Resolute is very focused on Africa."

Now the boring stuff… FINANCIALS! Not ready to take a nap? Skip forward a bit!
Financials:
"As a gold producer we are currently enjoying a nice wind under our wings. We will also remain committed to responsible sustainable operations and discipline in our capital allocation."
POSITIVE net income in 2016 vs. massive losses in 2015. Huge shift in fortunes…
Company Highlights:
Snapshot of Financials:
Maybe some confusion now? Morningstar has the P/E for $RMGGY at 10.3 vs Tradeking, at 24.2. I'll have to look into that discrepancy.
I check with Reuters:
And confirm a P/E ratio for Resolute Mining closer to 10.5 vs a sector P/E of 17.7. I notice a Beta of 0.51… that makes sense considering the recent LACK of correlation to gold's downward pressure. I also notice a higher Price to Book, but lower price to Cash Flow, vs. sector numbers.
Look at these growth numbers!
Strong sales, crazy earnings. Oh yeah, and no long term debt. That's a major plus in an industry plagued with massive debt levels.
"Resolute's operating gold mines in Mali and Queensland and large-scale gold project in Ghana are all poised for transformational change. Together with our new management structure, we are positioning ourselves to take the company into a new era."
Analysts and Investors are increasing their bullish bets:
(via Reuters)
Resolute Mining Ltd, probably the best uptrending gold stock on the ASX. pic.twitter.com/h1QVAhT1Ad
If you skipped all that financial stuff, or took a nap, you can pick back up here!
Mining for data: 2 Past Articles
I wanted to first find an investment-based article from last year… not too recent, but not too old. That way I have some sort of starting point for what investors thought versus what investors think. What was going on with Resolute Mining a year ago and how have things improved?
I hope this guy bought Resolute Mining… He was right about the opportunity.
October 6, 2015: What will 2016 bring for Resolute Mining?
As the Syama oxide circuit has a mine life of just six more years, Resolute has been investigating additional production scenario's for the mine. The sulphide resources at Syama contain 25.5 million tonnes that are located underground as well as an additional 6 million tonnes of stockpiled ore. Even though Resolute is convinced the underground mining scenario could be successful, I still have my doubts.
OK… so he was wrong on this one.
For starters, the average grade of the underground ore reserve is just 2.8 g/t and that's not a lot considering underground mining is more expensive than open pit mining. It's doable (as the mineralized area is accessible directly from the existing pit) but as the cash cost will be close to US$800/oz (20% higher than the FY 2015 cash cost), there won't be a huge margin of error at $1100 or $1150 gold. So for now, I'd like the company to focus on further expansion of the oxide resources, and it really looks like Resolute will do so.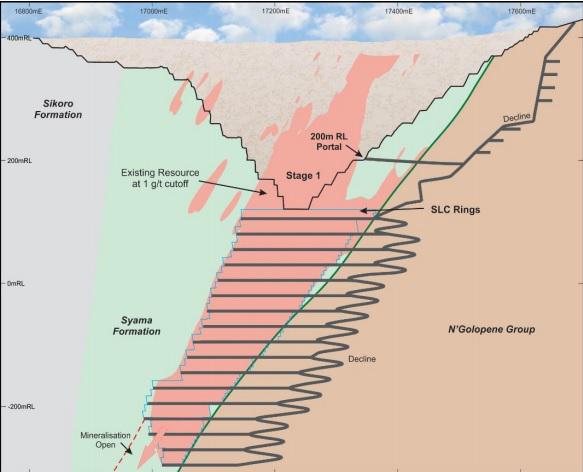 Source: company presentation
And there are some additional scenarios to increase the value of the project. Exploring will add more ounces to the resource and reserve estimates, but the real key to be an appealing gold miner is to reduce costs as much as possible. One potential cost-saving measure would be to connect the Syama gold mine to the High Voltage Grid. As the power costs are very high at Syama, linking the mine to the grid could save the company $100/oz, which is approximately $20-25M on an annual basis. Not too shabby for a company with a market capitalization of just $160M.
And he was TOTALLY off on what Resolute's management was going to do over the next year…
The incoming cash flow will also fund Resolute's ongoing investment in the Bibiani gold project which has a total resource estimate of almost 2 million ounces gold. A first scoping study indicated the mine could be reopened for a low double-digit capital expenditure, so I'm expecting the feasibility study to confirm these numbers where after Resolute could start to develop this property. This could potentially increase the consolidated gold production to 400,000 ounces by the end of FY 2017 (although I would expect some delays in the development of the Bibiani project).
But, he was correct in that Resolute's management was taking the right steps.
In hindsight, over the last few years they've made great choices with great timing. And, clearly, the author is correct in that the market had undervalued Resolute Mining at this time. 
Resolute is doing all the right things and taking the right steps and should be rewarded for it as the company is now trading at a free cash flow yield of almost 25%! The market doesn't seem to realize this as one needs to do some calculations to derive the adjusted free cash flow as the majority of the capital expenditures are not qualified as sustaining capex but as growth capex.
2016 will be an important year for Resolute as it will finalize its plans to go underground at Syama but I'm also expecting a construction decision at the Bibiani gold project in Ghana. Resolute deserves a spot on my watch list and I'll wait for the final development plans at Syama and Bibiani before pulling the trigger. At US$160M, this company isn't really expensive.
Now I'm stoked! Resolute Mining is using tech innovation for mining disruption!
Innovation is a key plank of Resolute Mining's strategy to keep costs down and extend mine life, managing director John Welborn told Business News, while acknowledging the pressures such a plan placed on capital and human resources.
Think about the improved levels of safety, let alone production and extraction. Forward thinking… make the investments now to reap massive dividends later.
THAT'S #4IR!
Resolute is currently undergoing a transformation of sorts… Mr. Welborn said the company has been repaying debt and prioritising cash flows to prepare for transition of its assets.
Syama is an above-ground mine that will be extended underground, while Ravenswood is an underground mine that will move to an open pit, thanks to the higher gold price and cost reductions.
"We are operating a somewhat innovative sub-level cave in Queensland, we're bringing that technical innovation to the future of our African projects… We have brought in driverless trucks, we are looking at remote bogging in our mines."
Resolute is also focused on driving innovation outside the pit, to deliver maximum results.
"In our processing, certainly at Syama, where we have a very interesting ore body that has caused problems for previous owners, we have focused on metallurgical advancements that can increase the recovery of gold."
The company's results show that it has had some impact, with recovery of gold from oxides at the mine up from about 78% in March to 85% in June.
At the end of the mining process, Resolute is working on some changes to tailings dams and environmental management at the Ravenwood operation.

Recent News:
Recent news goes a long way explaining the hype around Resolute's stock price… and it seems well deserved.
September 21st, 2016: Ravenswood expansion project extends mine-life to 2029.
Highlights:
Feasibility Study completed for the Ravenswood Expansion Project which confirms long life, low risk, low cost development plan with robust economics.
Average annual production to increase to approximately 120,000 ounces of gold.
Mine life extended by 13 years with operations continuing until at least 2029.
Life of Mine All-in-Sustaining Costs of A$1,166 per ounce (US$880 per ounce).
Total Ravenswood Ore Reserves increased to 1.8 million ounces.
Staged development plan requires no immediate additional capital expenditure during FY17.
Significant potential for economic upside and further extensions.
September 12th, 2016: ASX-listed gold producer, Resolute Mining, has committed A$19 million to its exploration budget, largely for testing new targets in Africa over the next 12 months.
DUUUDE! So much opportunity in Africa. Glad to hear this.
https://www.miningreview.com/news/resolute-mining-commits-19-million-to-africa-exploration-projects/
August 30th, 2016: Resolute Mining is paying its dividend in gold!
WOW! Barely able to contain myself… this is HUGE! (Especially for those who don't believe in Central Banking and Fiat Currency)
Expectation that 2% of annual gold sales revenue will be allocated to an annual dividend.
July 6th, 2016: FY 2016 production and FY 2017 guidance.
FY 2017 gold production forecast to be a minimum of 300,000 ounces . FY17 all-in-sustaining-costs forecast to be A$1,280 per ounce . FY17 gold sales forecast to be 325,000 ounces . FY 2017 exploration budget increased to A$19 million . Says preliminary 2016 gold production 315,169 ounces in line with guidance of 315,000 ounces.
HAHAHA! I just tricked you into looking at FINANCIALS!
June 23rd, 2016: Resolute completes feasibility study for Bibiani undergound mine in Ghana.
An initial ore reserve has been established of 5.4 Mt at 3.7 g/t containing 640 000 oz.
Gold production is expected to be maintained at approximately 100 000 ozpa which will sustain a five year mine life on the initial ore reserve.
All-in-sustaining-costs are expected to be US$851/oz for life of mine production of 561 000 oz of gold.
"Bibiani is a key growth asset for the company, and the completion of the feasibility study and the establishment of our first ore reserve at the project is an important milestone. We are delighted with the results of the study which demonstrate a viable development plan for Bibiani, competitive costs, and excellent upside potential.

The feasibility study is a major improvement on the scoping study completed a year ago and demonstrates the potential for even better results. In the current environment of rising gold prices Bibiani offers the company an increasingly attractive growth opportunity. Further successful exploration to upgrade and extend the ore body will boost project economics, extend the mine life and further enhance value."
"Given our previous operating history in Ghana, and mining expertise, Bibiani is seen as a key part of Resolute's future."

Now let's "dig into" Resolute Mining's global operations… 
Thanks for the over-laughter. I appreciate the sarcasm…
Resolute Mining Key Operations:
Australia:
Ravenswood Gold Mine:
"Ravenswood is generating strong cash flow with development opportunities in a tier-one location."
The Ravenswood gold mine is approximately 95km south-west of Townsville and 65km east of Charters Towers in north-east Queensland. Ore for the Ravenswood operations in FY17 will be sourced primarily from:
Mt Wright underground mine using Resolute's pioneering sub-level shrinkage with continuous fill mining method.
Nolans East open pit – the first stage of the transition back to a large scale, open pit operations at Ravenswood through the Ravenswood Extension Project (REP).
The recommencement of open pit mining at Nolans East will assist in maintaining continuity of production as the Mt Wright underground mine prepares for closure in 2017. Nolans East represents the start of the transition back to large scale open pit mining.
The available open pit resources at Ravenswood constitute a major, and greatly underappreciated, asset of Resolute.
The 1.2Moz Ore Reserve and 2.6Moz Mineral Resource are located immediately adjacent to our large operating mill and processing plant which requires only minor re-configuration to return to its former 5Mtpa capacity.
Africa:
Mali: Syama Gold Mine:
"Syama is a long-life flagship project with robust economics."
Located in the south of Mali, West Africa, the mine is approximately 30kms from the Côte d'Ivoire border and 300km southeast of the capital Bamako. Syama benefits from two fully operational parallel sulphide and oxide processing plants with site production capable of more than 250,000oz/pa. Ore for the 2.1Mtpa sulphide circuit is currently sourced from the Syama open pit stockpiles while the A21 satellite pit supplies oxide ore to the newly constructed 1.3Mtpa oxide circuit.
Resolute's positive Definitive Feasibility Study completed in June 2016 has extended mine life to at least 2028 and led to immediate development of the Syama UG with first development ore expected to be delivered by December 2016.
Syama UG Highlights (DFS June 2016):
Life of Mine All-in-Sustaining-Costs of US$881 per ounce and strong Life of Mine margins
Initial operating life of more than 12 years
Total Syama Gold Mine production will grow to 250,000 ounces per annum
Pre-production capital of US$95 million which will be fully funded from current balance sheet and future operating cash flows
Processing innovation will continue to enhance project economics
Underground development to commence immediately with first ore expected to be delivered to the mill in December 2016 which allows for continuous production from Syama to be maintained
Resolute's successful Mt Wright underground experience to deliver efficiency and productivity gains at Syama underground mine
Substantial upside with opportunities to extend mine life, increase mining recovery and further reduce All-In-Sustaining Costs
Innovation and Future Technology Application:
The Syama UG development has been designed to ensure it is able to accommodate the best available technology for mining, haulage and processing.
Underground development costs include provision for a high capacity fibre optic system, which will be installed throughout the mine. This will allow the operation to install sophisticated mobile equipment monitoring and guidance systems, which will in turn improve safety and productivity in the mine.
The design of underground loading points and ore passes has also been influenced by current trends in mobile equipment operation and automation technology. As these technologies develop their use will be progressively incorporated into the operation of the mine.
DAAAAANG! They're using Robots!
Not that kind, stupit!
" … "
Gross. Chill out.
It's more like:
And
The twin decline design has been specifically adopted to ensure future flexibility and allow Resolute to critically examine alterative haulage technologies. In particular conveyer haulage offers potential for improved productivity and lower operating costs.
Ghana: Bibiani Gold Project:
In Ghana, Resolute has completed a positive Feasibility Study for its 90% owned underground Bibiani Gold Project.
The study contemplates production of up to 1.2 million tonnes per annum from long hole open stope underground mining. Processing of the ore will occur at the existing Bibiani processing plant. The majority of the US$72M of upfront capital is allocated to the refurbishment of the plant. The project has a short lead time to production of only 9 months from commencement.
Great infrastructure!
Bibiani is well serviced by excellent road access, electrical power from the national grid, two fresh water dams and two well equipped coastal ports.
Highlights:
Resolute has completed a Feasibility Study for the Bibiani Gold Project in Ghana which confirms a viable development pathway
Initial Ore Reserve of 5.4 million tonnes @ 3.7 grams per tonne containing 640,000 ounces of gold
Mine plan to produce up to 1.2 million tonnes per annum of underground ore
Initial operating life of 5 years with production of approximately 100,000 ounces per annum
Start-up capital of US$72M including US$29M of underground mining equipment
Short timeline to production expected with only a 9-month development and refurbishment period
Life of Mine All-in-Sustaining-Costs of US$858/oz
The location and characteristics of Bibiani are well matched to the technical capabilities of the Company.
Substantial upside remains with ongoing work scheduled to focus on upgrading and expanding the orebody to extend minelife and reduce operating costs
Thoughts?
Well, we'll see what Gold does this week. My mining portfolio is slightly more weighted to Silver than I want right now…
Pretty good chance I could be buying me some Resolute!
Thanks for reading!
Live Twitter feed for the Gold ETF (GLD):