"The Farm Credit System was founded by an act of Congress in 1916 and has grown to become a critical component within the fabric of agriculture and rural America."
Over the last century, the System has supported farmers and ranchers throughout the country, weathering the storms with producers and providing strong and stable support to those who depend on us as a reliable and consistent source of credit:
When Congress created the Farm Credit System, it gave the System a mission to be a competitive, reliable source of funds for eligible borrowers in agriculture and rural America.
Over time, Congress gradually expanded the System's portfolio to include rural infrastructure that supports agriculture, such as power generators, water systems, and telecommunications.
Through its cooperative banks and lending associations, the System provides more than one-third of the credit needed by those who live and work in rural America.
The Farm Credit System is the largest rural lender in the nation:
Unlike commercial banks, the Farm Credit institutions do not take deposits.
Instead, loanable funds are raised through the issuance of Farm Credit debt securities, which provide a dependable source of funding – AAA-rated Farm Credit bonds and notes, which are sold in the nation's capital markets.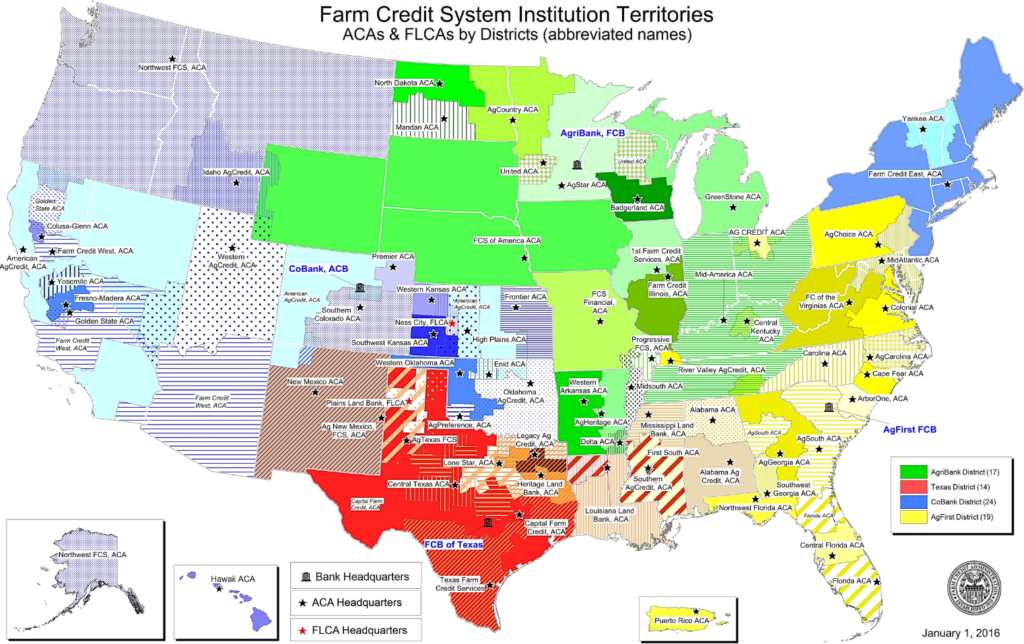 Agricultural Financial Services provided by the Farm Credit System include:
Production, operating and mortgage financing
Short and long-term loans
Real estate loans
Equipment and vehicle leasing
Specialty loans for Young, Beginning, Small and Emerging Market Farmers
Syndication and participation in Capital Markets financing
Lines of Credit
The Farm Credit System aims to resolve the following challenges faced by many farmers:
Climate Change: Concerns over the extended drought and demand for quality farmland.
Commodities Risk Management: At the same time, after some bountiful years for most commodities, many borrowers are experiencing price volatility or a decline in prices in areas such as nuts, corn, wheat, beans, and dairy.
Currency Wars of 2015-2016: On top of this landscape, exported products face additional challenges related to the strength of the dollar.
Fact: If Farm Credit were a single bank, it would be the ninth largest financial institution — measured by assets — in the United States.
Why choose American AgCredit?
Big, but not the biggest: a great market (above)average
Recent merger announced: continued strengthening of global agriculture
Smart Management & strong execution on sound planning
Agricultural Experts: Long history with a long-term view & single focus on Agriculture
American AgCredit offers a full-spectrum of specialty financing, cash back and investment programs
Strong Financials: letter from Q2 Earnings
"While American AgCredit's core services provide financing for real estate, operations and facilities, our expertise in agriculture allows us to offer additional value-added services that work together to deliver an umbrella of financial and business support. These include insurance, dealer-direct financing, and leasing."
Regional Contacts:
Reasons to choose American AgCredit:
1. Big, but not the biggest: a great market (above)average –> Small enough to still have great service, large enough to have great infrastructure
"I like that the staff knows me and my business personally. Beyond the traditional loan options, they offer Funds Held and H-Stock investment accounts, so I can get greater return on my money." –Rich Bass, Bass & Bass Ranch
Today, the Farm Credit System provides more than $305 billion in loans to more than 500,000 borrower-owners, representing more than one-third of the credit needed by U.S. agriculture. As part of this larger network, American AgCredit is the sixth largest lending association in the Farm Credit System, serving more than 7,300 borrowers with over $8.0 billion in assets and financing.
2. Recent merger announced: continued strengthening of global agriculture –> Bayer/Monsanto, Dow Chemical/DuPont, Syngenta/ChemChina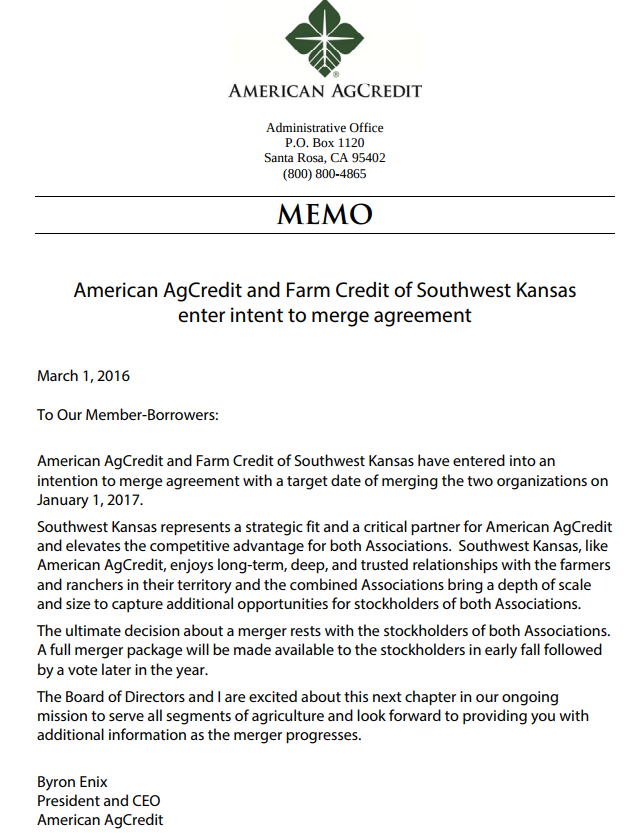 3. Boy Scout motto: "Be Prepared" –> Smart Management & strong execution on sound planning
American AgCredit's geographic presence in both western and plains states underpins a diversified portfolio and a foundation of strength and stability:
"We are more than prepared for market changes… Our diversity reduces the risk from any one event or market downturn and brings an added level of stability to our financial strength. In addition, we focus on internal governance and controls, sustaining a healthy permanent capital ratio and implementing risk management strategies to maintain a business model that is sufficiently flexible to withstand today's market challenges."
"Portfolio diversification" includes:
Several tranches for various loan sizes
Diversification via exposure to multiple commodities
Lending to companies big AND small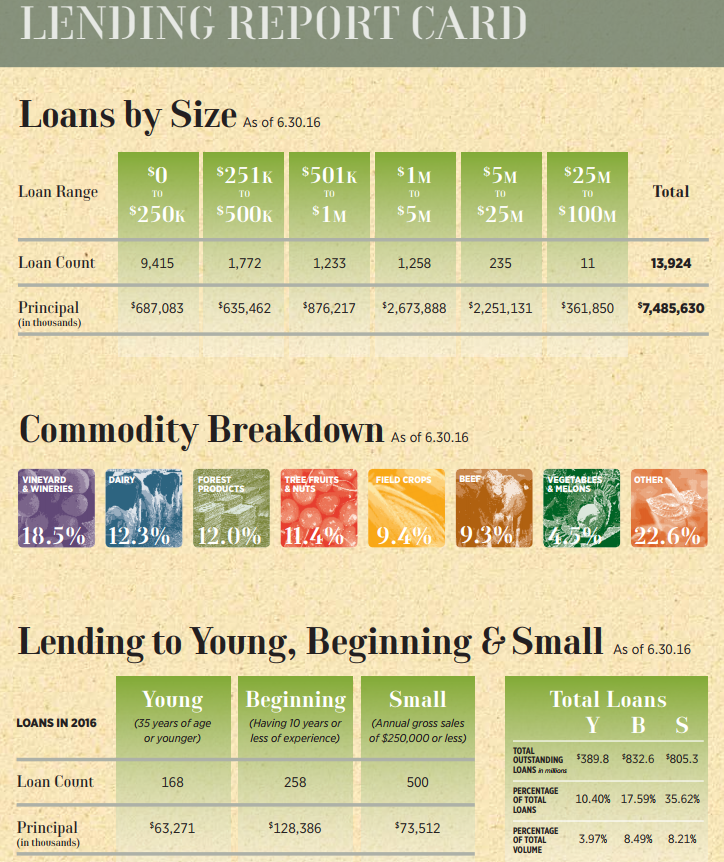 4. Agricultural Experts: Long history with a long-term view & single focus on Agriculture –> Diversify your portfolio, not your specialization
Great link to American AgCredit timeline: Chapter History
Chartered in 1916 to provide financial services to agriculture, American AgCredit has focused exclusively on agriculture for 100 years. This kind of specialized expertise means that they have a deep understanding of agriculture and rural communities.
"Over the last century, we have struggled along with our customers – restructuring through the Depression and weathering a host of regional disasters ranging from floods and fires to hail and thunderstorms. Throughout the years and the challenges, we have remained a solid financial partner to farmers and ranchers, ensuring the safety and security of the nation's food and fiber. Based on our history, focus, and expertise, we offer insightful knowledge and a deep penetration in the marketplace that is unparalleled among other lenders."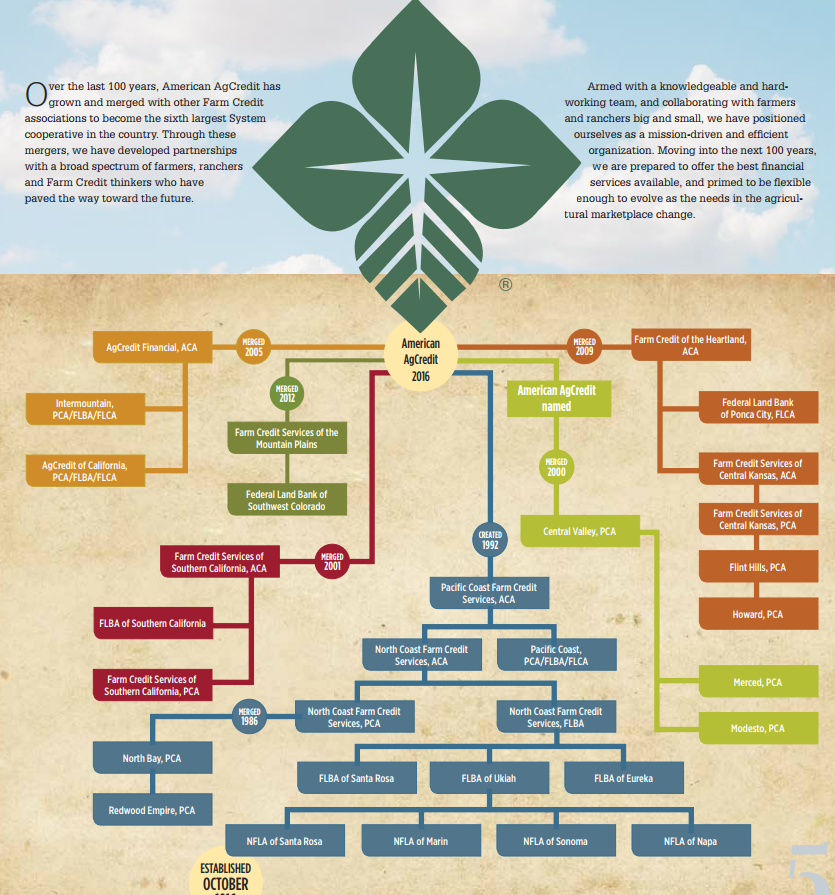 5. American AgCredit offers a full-spectrum of specialty financing, cash back and investment programs: A focus on younger, smaller, and/or emerging farmers
AgLife
AgConnect
AgDirect Equipment Financing
Cash Dividends Program
Harvest Preferred (H) Stock
AgYouth Program
Scholarships
AgLife:
The AgLife Program is an umbrella program designed to assist Young, Beginning, and Small (YBS) farmers and ranchers with financing and other support programs. The Program includes an array of subsidiary programs with the goal to assist farmers and ranchers at different stages with their varying business or educational needs.

AgConnect:
Building on the AgLife Program, AgConnect offers financing and business support to emerging market and niche farmers who otherwise might not qualify for financing. This encompasses an array of new business models such as CSAs, food hubs, and other farm-related business operations.

AgDirect Equipment Financing:
AgDirect offers highly competitive purchase, lease and refinancing options for all types of agribusiness. Through AgDirect, they offer flexible payment terms, including delayed payments up to one year, plus variable or fixed rates that match your financing needs.

Cash Dividends Program:
In addition to the 100% focus on agriculture, competitive rates, agribusiness expertise, and local customer service, American AgCredit's newly launched Cash Dividends Program literally puts money back in your pocket.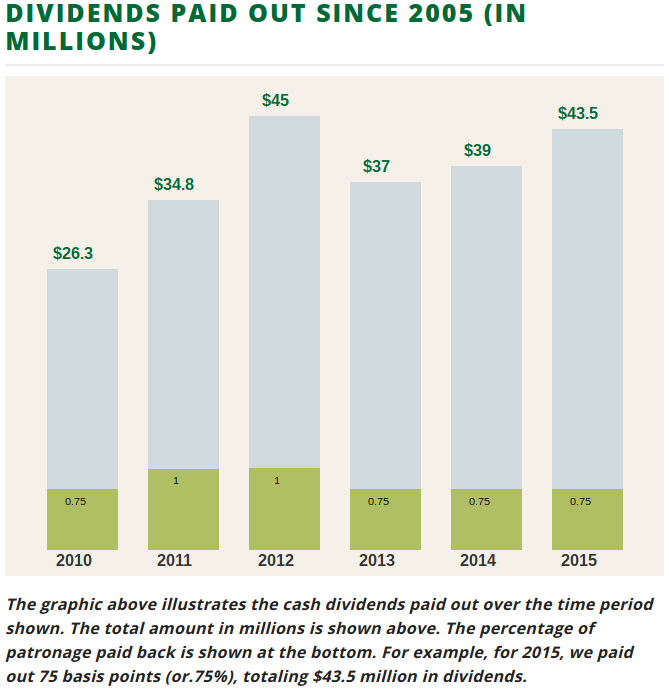 Harvest Preferred (H) Stock:
Existing American AgCredit stockholders now have the option to buy preferred stock issued by the Association through a Preferred Harvest Stock Account. Stockholders interested in buying Preferred Harvest Stock will be provided a Disclosure Statement that thoroughly describes the Stock.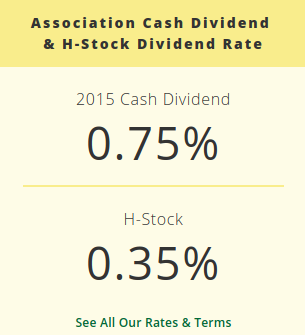 AgYouth Program:
American AgCredit's AgYouth Program is part of the Association's commitment to Young, Beginning and Small Farmers, targeting school-aged students who have exhibited an interest in agriculture by joining 4-H Clubs and Future Farmers of America (FFA) Chapters.

Scholarships:
Association-wide, American AgCredit offers $80,000 to young people studying or planning to work in agriculture. These scholarships are made available through partnerships with trade organizations, farm bureaus, community colleges, and neighboring universities. The minimum amount given is $1,000, and can vary depending on the agreement with the scholarship partner.

6. Strong Financials: letter from Q2 Earnings –> Agribusiness is growing
"At June 30, 2016, the Association's regulatory capital ratio was 18.46%, which exceeds the minimum of 7.00% required by our regulator, the Farm Credit Administration."
Dear Stockholder:
Midway through the year, your Association continues to deliver strong financial performance and we remain on track to meet our business plan objectives for the year:
We are seeing loan volume growth across the full spectrum of agriculture – from large Agribusiness operations, to traditional farms and ranches across rural America, and to newly emerging markets.
At the same time, we manage the risks of our overall portfolio by keeping a careful watch on volatile commodity prices; impacts on export markets resulting from the strong dollar; and developing weather-related adversity in order to maintain stable returns to our stockholders.
Financial Condition and Results of Operations:
Net Income:
For the six months ended June 30, 2016 was $57.3 million compared to $49.8 million for the same period one year ago, an increase of $7.5 million.
The increase was due to a $14.1 million increase in net interest income and a $2.0 million increase in patronage and fee income partially offset by a $4.7 million increase in operating expenses.
Additionally, the Association recorded a provision for credit losses of $4.4 million during the first six months of 2016 compared to $879 thousand for the same period one year ago.
The increase was due to strong loan volume growth combined with some minor credit quality deterioration.
Return on assets:
For the first two quarters was 1.47% compared to 1.46% for the same period one year ago and 1.41% for the full twelve months of 2015.
Total loan volume was $7.478 billion at June 30, 2016 an increase of $186.0 million from $7.292 billion at December 31, 2015.
On a year-over-year basis, loan volume increased $904 million when compared to June 30, 2015, resulting in a year-over-year growth rate of 13.8%.
Portfolio Credit quality:
Continues to be very good, although signs of stress are appearing due to the continuing challenges facing agriculture.
However, non-accrual loan volume represented just 0.41% of total loan volume at the end of the first quarter compared to 0.60% at June 30, 2015 and 0.64% at December 31, 2015.
The Association's capital position:
Continues to be very strong: Total members' equity was $1.818 billion at the end of the second quarter compared to $1.772 billion at June 30, 2015 and $1.784 billion at December 31, 2015.
The Association's permanent capital ratio, a measure of risk-bearing capacity, was 18.46% at the end of the second quarter compared to 19.70% as of year-end 2015.
The reduction was due to our first quarter distribution of $43.5 million of cash patronage and our strong year-to-date loan growth partially offset by excellent year-to-date earnings.
Our cash patronage program is an additional way of thanking you for your business as we continue to strive to be the best lender to agriculture!
Not finding what you need or you have unanswered questions?
Maybe these resources will help:
And let's get Social!

American AgCredit Twitter Feed: