Food and water (in)security, changing weather patterns, and shifts in global demographics REQUIRE large-scale adoption of advanced hydroponics.
Why? Because Global Food Systems are under attack and advances from agricultural mechanization in the 1920s and the Green Revolution from 1940-1960 have largely been exhausted.
Rates of yield increases for major crops have been trending negatively on a 10-year curve at the very time that global forces of population growth, prosperity, and globalization are putting basic supply-and-demand pressure on our agriculture system
The population is growing at approximately 77.6 million per year, and it is expected to reach nearly 10 billion by 2050
To meet the demand for food, fuel, and fiber from a growing and increasingly affluent population, experts predict that we will need to double global crop production over the next 35 years
Demand has been outstripping supply since the emergence of "new" China starting in the mid 1990s
Farmers and ranchers are already facing devastating impacts from the realities of Climate Change – including severe floods, extreme heat and drought, and increased pressures from changing disease and pest patterns…
…Leading to protein unavailability and further malnourishment in many of the developing nations (Africa and South East Asia, in particular).
The impact of climate change can be clearly seen in the following infographics: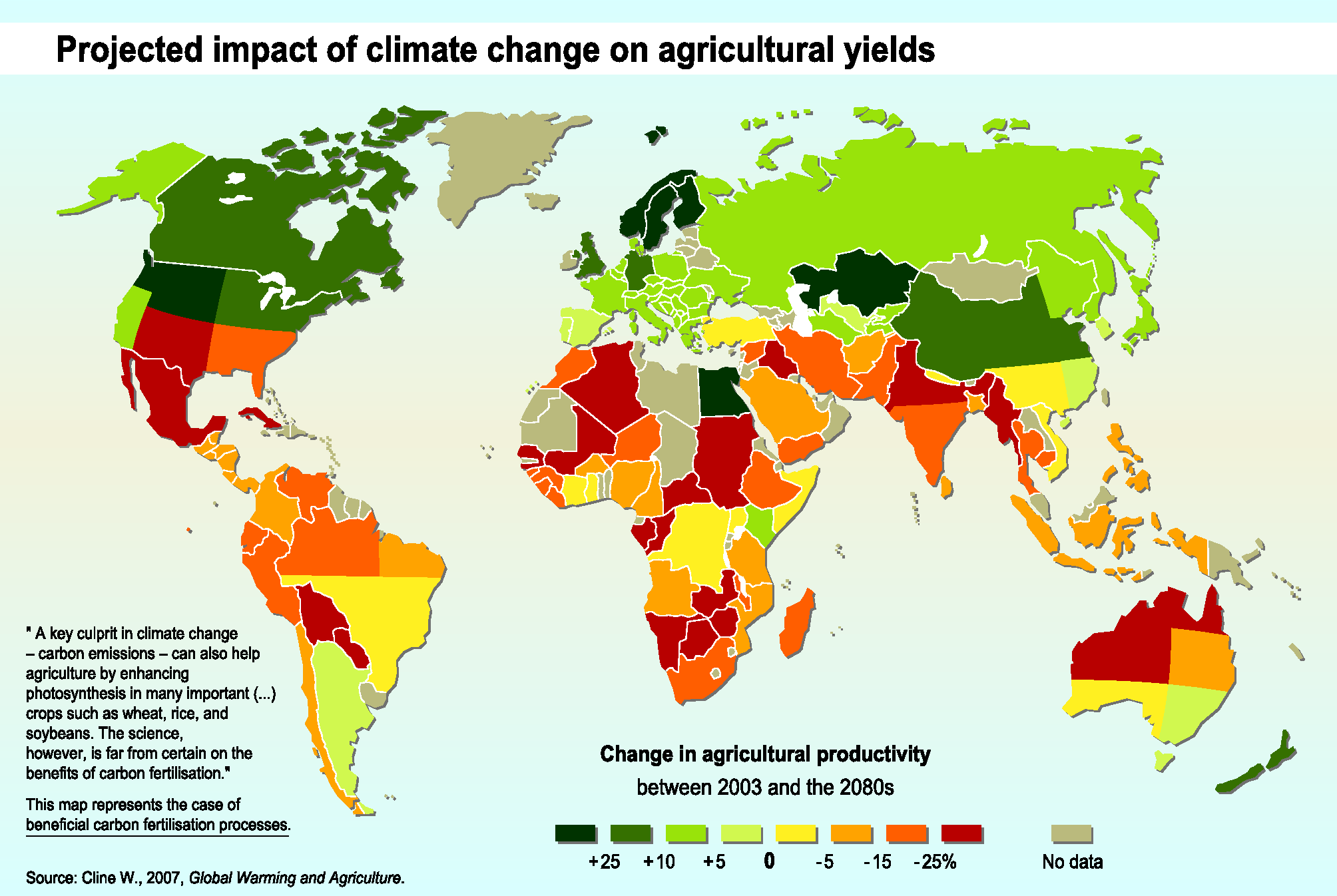 Cross-reference the above chart with the following, which shows worldwide DCL agri-food systems:
There are 18 priority dryland cereal and legume (DCL) farming (agri-food) systems worldwide. The most important of these systems, in terms of area and population, are found in South Asia and sub-Saharan Africa.
The farming systems in Latin America, the Middle East and North Africa, Central Asia and East Asia are also important, but dryland cereal and legume crop distribution data show that South Asia and sub-Saharan Africa are the most important regions for crop improvement and adapted crop management practices.
So not only are South Asia and Africa the most important DCL farming systems in the world, but they are also the most heavily disrupted by Climate Change.
"World population is predicted to double by 2050, imposing an increasing demand for food that comes together with an increasing concern on environment and food security."
So what's the solution?
With global food security, water scarcity, and climate change as major geopolitical issues, Agtech offers hope…
Technology is transforming every industry, and now it's coming to agriculture:
The agri-food industry is only at the frontier of applying advancements in satellite, irrigation, drone, robotic, bioenergy, nano and other decision support technologies across the supply chain
Smart farming and food production techniques have benefited greatly from agtech by supporting what could be described as a "Second Green Revolution"
Increased application and adoption rates in primary agriculture and food processing has the potential to significantly increase output, product quality, seasonality, and shelf life
There are hundreds of agtech startups working to utilize big data analytics and machine learning innovation for agriculture, but few of them truly address the major crisis: Global Climate Change.
What to do when Climate Change hurts agriculture?
Despite the technological developments improving our industrial agriculture productivity, issues such as land availability, seasonality, high water consumption, and carbon emissions are in fact the main obstacles preventing us from meeting food security and sustainability targets.
In order to reach global food security goals, is it possible to implement alternative farming methods that could increase agricultural outputs and reduce environmental impacts?
Enter Hydroponics!
Hydroponics is gardening without soil. In hydroponic gardening systems, plants are placed in a growing medium and nutrients are provided directly to the roots. Many people are surprised that plants don't require soil to live, but soil can sometimes be a very inefficient growing medium. Plants expend a great deal of energy growing root systems so they can search the soil for the water and nutrients they need to survive.
Hydroponics Offers MANY Benefits:
Indoor farming allows for controlled environments where data analytics can be applied for process improvement
Hydroponics systems can use up to 90% less water and 75% less fertilizer than traditional farming, offering a significantly smaller carbon footprint
In addition, hydroponic gardening systems can be set up to recycle water and nutrients, greatly reducing the resources necessary to grow food
Reduced reliance on fossil fuels when food is produced in urban areas due to limited transportation impact and machinery use
Indoor agriculture also allows for multiple crops per year, resulting in higher annual yields
By providing constant and readily available nutrition, hydroponics allows plants to grow up to 50% faster than they do in soil
The use of hydroponics broadens the ability to garden in small spaces, producing the same yield as soil gardens in 80% less space
Food produced via Hydroponics is of a high quality: Fruit and vegetables have a high biological and dietary value, with crops for household consumption harvested when they are ready to be used. Hence, produce is fresh and has intact nutritional and medicinal properties (vitamins, minerals, phyto-nutrients, etc)
Hydroponics involves less labor, upkeep, and harvesting efforts than traditional farming methods
Though the benefits of hydroponic gardening are numerous and well documented, the commercial hydroponics industry has yet to truly hit the mainstream. As time passes, environmental concerns and a decline in arable land will inevitably foster a global awareness of the advantages of hydroponics for farmers and home vegetable gardeners alike.
It has even been speculated that in decades to come, hydroponics will become a significant food source for over-populated urban regions, with people growing food on rooftops or in basements. In this case Hydroponics can result in important social benefits, especially for the poor, and can positively retrain our urban areas.
How to get started?
Start with asking a professional LOTS of questions. The great thing is that the Hydroponics community is open, friendly, and collaborative. We love to share our experiences and knowledge!
You can't go wrong with the products from Hydrofarm. Not only is Hydrofarm the nation's oldest wholesaler and a leading manufacturer of hydroponics equipment and high-intensity grow lights, but we have a reputation for quality equipment and service.
Anywhere Hydrofarm products are sold is a good place to seek out hydroponics professionals to answer your many questions: Where to Buy?
And you can always connect with us on Social Media!
Hydrofarm Twitter Feed: Let's stay in touch!