[Post updated October 13th, 2017] … Ardor added
There's a LOT going on in crypto right now, of course. Bitcoin just reached a new 1-year high yesterday, LTC has been hot (I called that one as undervalued a couple weeks ago), and new blockchain technologies are launching with ever-increasing frequency. I just added Ardor to this list, which is bringing "blockchain 2.0" technologies to crypto… but I'm wondering: why do we need another coin, and does this coin fill a need we NEED filled, or is this just another cool technology?
I'm working through a series of posts aggregating information about the top cryptocurrencies in an effort to better understand what makes each of them special, and which, if any, seem poised to continued and long-term growth.
Is Bitcoin the winner? Is Ethereum the clear choice? Why are people talking about IOTA? I aim to find out…
I'm not a cryptographer, a data scientist, or even a crypto trader. I'm an investor looking for ways to allocate capital in advance of coming industrial disruptions. And, to be sure, cryptocurrencies represent a broad spectrum of potential disruptions.
This list will be updated as I release new posts on additional cryptocurrencies, and the cryptos will be ordered by market cap, from largest to smallest.
Currently, the largest cryptocurrencies by market cap are:
(Last reordered October 2nd, 2017)
Gas
Kyber Network
Basic Attention Token
SALT
Komodo
Decred
Metal
PIVX
DigixDAO
GameCredits
Factom
DigiByte
ChainLink
CAMCrypto30 Index:
In tracking the performance cryptocurrency market as a whole, I find Crypto Asset Management's (CAM) Crypto30 Index to be the most reliable. It tracks the 30 largest digital currencies by market cap, which markes sense considering the domination those top 30 have on the crypto space.
Below you'll see the chart reflecting CAM Crypto30's performance over the last 6 months: (last updated September 14, 2017)
Reference Market Caps:
August 22nd, 2017: the CAM Crypto30 Index stood at $674.11.
August 30th, 2017, the CAM Crypto30 Index was at $786.12.
September 14th, 2017, the CAM Crypto30 Index was at $551.36
September 26th, 2017, the CAM Crypto30 Index was at $682.00.
6-month Performance: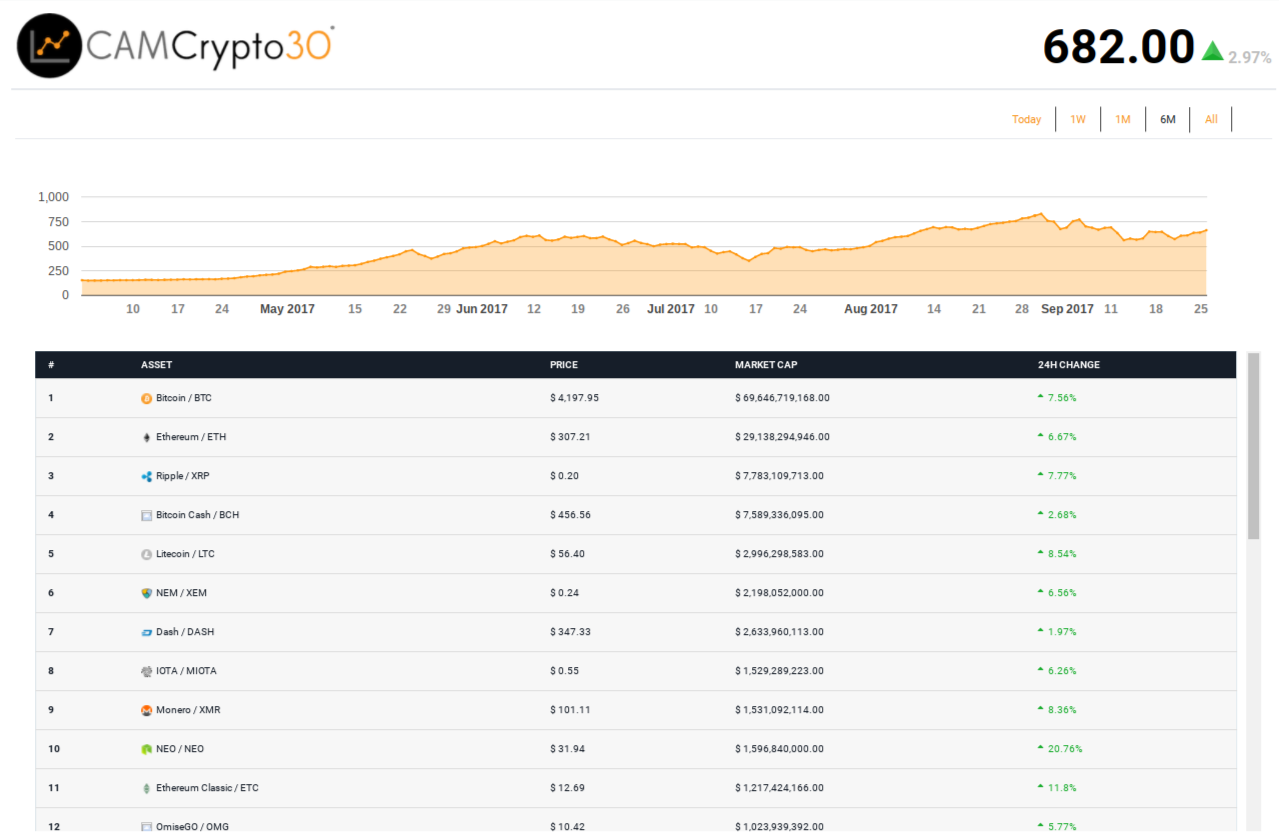 See below for articles on these innovative digital assets:
(listed in alphabetical order by Coin)
Ardor & Child Chains: A Blockchain 2.0 Innovation, But Is This A Coin We Really Need?
Binance Coin: Binary Finance With A Focus On The Chain Of Chain Assets
BitConnect: A Self-Regulated Financial System Connecting Bitcoiners Worldwide
Golem: Infrastructure-As-A-Service (IaaS) Meets Platform-As-A-Service (PaaS)
Hcash Hshare: The New Standard Of Crypto Value, Or An Unprecedented Technical Nightmare?
ICONOMI: A Digital Assets Management Platform For The Distributed Economy
RIALTO.AI: A Cryptocurrency Investment For Hedging Your Crypto Portfolio – Arbitrage, Market Making & AI TradeBots
The "RIPPLE Effect:" Internationalizing the Banking Industry
SiaCoin: Death Of The Data Center? Introducing Your DECENTRALIZED Private Cloud
What Makes Steem Think STEEM Has Steam? Where Gamification & Blockchain Meet Social Media
Stellar Lumens: Connecting Banks, Payment Systems, And People With Affordable Financial Services Via The Blockchain
TenX Is Connecting Blockchains With The TenX Wallet: "X" Marks The Spot, Or A Map To Nowhere?
Veritaseum: Using Blockchains & Smart Contracts to Create All-Inclusive P2P Capital Markets
Waltonchain's Walton Coin Aims To Decentralize Supply Chains Around The World: Wanting Cash or Walking Crash? 
Waves: A Crypto Platform For Custom Tokens – Issuance, Transfer And Trading On The Blockchain
Zcash: Stash or Trash? "If Bitcoin is http for money, then Zcash is https"
Thanks for reading! Don't forget to follow me on Twitter: Follow @BrianDColwell
Related Articles:
"CryptoTime" – Where Physics Meets Philosophy In Valuing Cryptocurrencies
Crypto Asset Fund, LLC: Putting the Cool Back in Hedge Funds
The "Second Era" of Fintech Investment: A List of Things to Know