"Honoring our inspiration: Mycelia – the amazing underground networks that are largely unseen but occasionally sprout up beautiful mushrooms."
I've been chatting with Pedro from MYCE for several months about the cryptocurrency industry, masternodes in particular, but until this brief interview didn't understand what MYCE was all about. I knew the project had something to do with masternode infrastructure, but that was it. That's why I finally asked Pedro for a bit of his time…
Enjoy!
MYCE: The Future Of Blockchain Support
1. At first I thought MYCE was just another 1-click masternode service, but it's much more than that. Who is MYCE? What does MYCE do?
Who is MYCE?
We represent a unique take on what an intelligent, profit-oriented blockchain organism could look like. MYCE gives you the possibility to own a business, our team are investors who believe and understand the power of joint collaboration.
Forget about cryptocurrencies for a moment and imagine how a normal business works. Employees and owners. MYCE team is the first team of employees for MYCE Masternode owners… a Decentralized Autonomous Organization made possible with blockchain technology.
What do we do?
"MYCE is a blockchain support coin to service, repair and help other projects as they scale; a singular network built to hyper-connect token economies with people. We deploy products specifically designed to work independently of human operators to execute protocols as needed by our strategic network."
Since we deploy products, there is a misconception that MYCE is another hosting solution or mining pool. This is untrue.
We build products that support people involved in blockchain technology, both developers and final users, by giving them solutions for repetitive tasks. Further, every product we deploy is completely focused on profit, and every product is born when we identify a problem to be solved. As such, our use-cases are only limited by the current technology and our investors' creativity.
"Once you see artificial intelligence put into practice you understand how much it can empower cryptocurrencies today. Everyone is now focused on trading, good for them, but the real value will come from projects who can make this technology more approachable to common users. MYCE is there."
MYCE is the future of BLOCKCHAIN SUPPORT.
2. Tell me about the MYCE technology strategy & cryptography: what's the direction?
"We are now working on porting our old code into PIVX, everything will be done on-chain. Quite a milestone when you think that no other masternode project has improved it's blockchain this way."
After that, implementing Bitcoin v0.9.0. to natively inherit Segwit and bip65/bip112 which allows for Atomic Swaps and the Lightning Network implementation. Once we upgrade into the best possible technology we can, we will move into our own investors ideas developed on the blockchain.
3. I see three products listed on the MYCE website. These are bots for: Mining Pool, Masternode Guard, and Swap Module. Please explain why they're important.
All our solutions are connected `underground`. We offer a complete default option for users to understand how to approach an investment.
Masternode management lowers the entry barrier for non-technical investors, Mining solution to give experienced investors the tools to breath crypto daily, Swap/Exchange Module to facilitate a repetitive but dangerous task for development teams and Customer Support Module to connect them all and allow for network integration. Our customer support module has been developed to decentralize customer support on Crypto.
All of our solutions will be improved as we scale. That means they will be ported into Web, Twitter, Facebook, Discord and Mobile. Telegram allows for rapid and agile development.
4. In terms of a fiduciary duty to protecting investor capital, where is MYCE's focus? How is MYCE preparing for future growth?
We are funding our developments with the payments we received on our products, by doing so we invest on ourselves and our infrastructure.
"Delivering long-term solutions with immediate results is what this current market condition requires."
We are organically spreading our reach by working relentlessly. This space is now full of work and new investors. We are already starting to decline some jobs and that's both a good and bad sign. Internal organization, how to allow new energy to get onboard, is an extreme challenge to our growth.
Now we have more than 3600 users on our bots, those are proven masternode investors.
Governance is key on our core values and what we are aiming for, the reason why we are upgrading our current code. Not many people know this project was abandoned and resurrected from it's investors. One of the big reasons we have such a high percentage of coins locked, the core values and ideas are highly integrated on the "masternode mindset".
"Widespread adoption is now going to be our focus: NOW we have a solution."
5. Masternodes can serve a variety of functions. What's the function of the MYCE masternode, beyond paying dividends?
The MYCE masternode is the control panel of this organization. It gives you the key into management, the seat into the directory. Since you mention dividend, I'll go back into the beginning of the interview: imaging our coin as a common financial stock and you need 100k YCE for a seat at the owners table.
Our Masternode will apply every single improvement we detect as worth having, there is no real way to understand how complex the blockchain will become. An evolving organization needs to keep it's mentality open to just improve constantly.  
5.5. SWOT Analysis!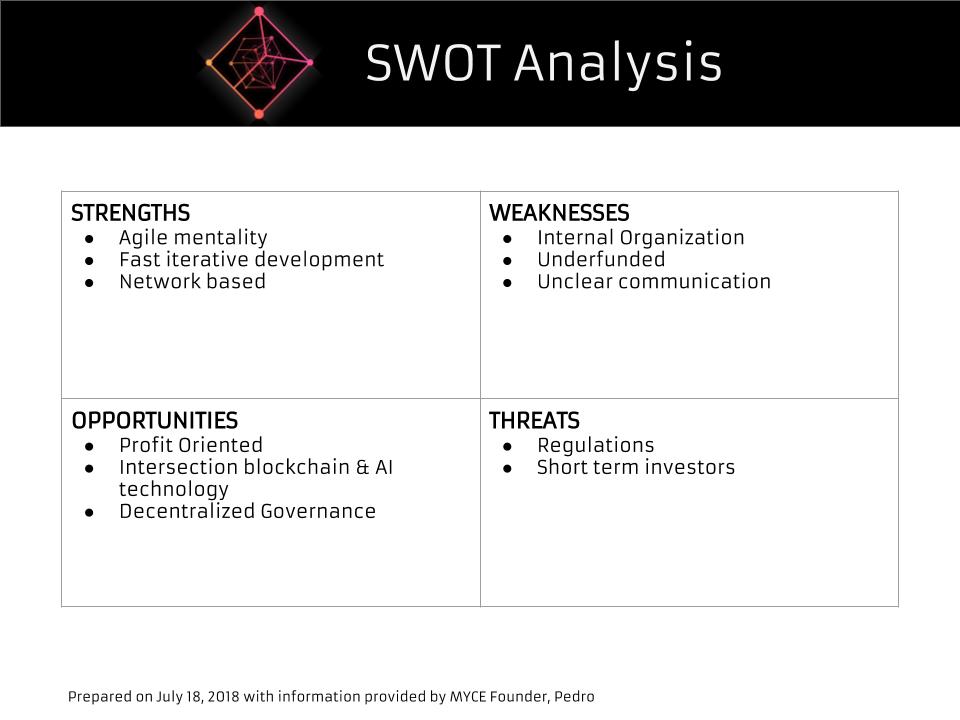 Thanks for reading! I hope you enjoyed.