In the process of exploring gold together, we uncovered the often unappreciated precious metals royalty and streaming business model. It was found that these types of companies benefit from several important advantages, such as precious metals optionality with a perpetual discovery option, high margins with a free cash-flow business, and limited exposure to operating costs and geopolitical risks.
These business benefits taken together allow for royalty and streaming companies to scale easily, build diversified commodities and mine portfolios, pay dividends to investors, and maintain a level of bear-market resistance. In addition, it has been shown that royalty and streaming companies are able to provide more upside than gold ETFs with less risk than miners.
This blog post represents the fifth post in this series. For those interested, here are the other articles that led us to where we are today:
Today we're digging into the big-boy of precious metals royalties and streaming, Franco-Nevada.
Who Is Franco-Nevada?
Our conversation on specific royalty and streaming companies could start no better place than Franco-Nevada. Not only is Franco-Nevada the world's first gold royalty company, but it is also the world's largest and most successful gold royalty company. Franco-Nevada has the largest and most diversified commodities portfolio of the royalty and streaming companies, not only when considering the types of commodity assets, but also in terms of geography, project pipeline, and revenue type.
Of course, the performance of Franco-Nevada's management speaks for itself. The management team has a long-term view and seeks massive upside potential from exploration without the guaranteed and significant risks of mine operation. Franco-Nevada is comfortable lending money to projects with a low initial rate of return in order to maximize their exploration optionality benefit, and they typically invest with the goal of capital growth years or even decades into the future, building a foundation of wealth for shareholders and leading to an impressive dividend history.
A Portfolio Diversified: Geographies & Commodities
As this article is titled, Franco-Nevada is more than a gold play. The company is well diversified by geography, commodity, revenue type and stage of project, and aims to get 80% of its revenue from precious metals. "Our objective has always been to run a portfolio that is at least 80% precious metals, but we've always liked having that room of 20% for diversification, which gives us opportunities to grow when there are not a lot of opportunities in gold." – Franco-Nevada President and COO Paul Brink
Asset Deep-Dive By Region
Franco-Nevada Asset Base: 377 total assets
It is interesting to note that Franco-Nevada's adjusted EBITDA by commodity comes to 66% gold, 16% silver, 7% PGMs, 8% oil and gas, and 3% "other." When one considers the adjusted EBITDA by geography, we see geographic diversification built into Franco-Nevada's business with an EBITDA at 42% Latin America, 21% Canada, 18% United States, and 19% rest of World. Notice the number of producing and exploration precious metals projects in the pipeline! They represent current and future income, respectively.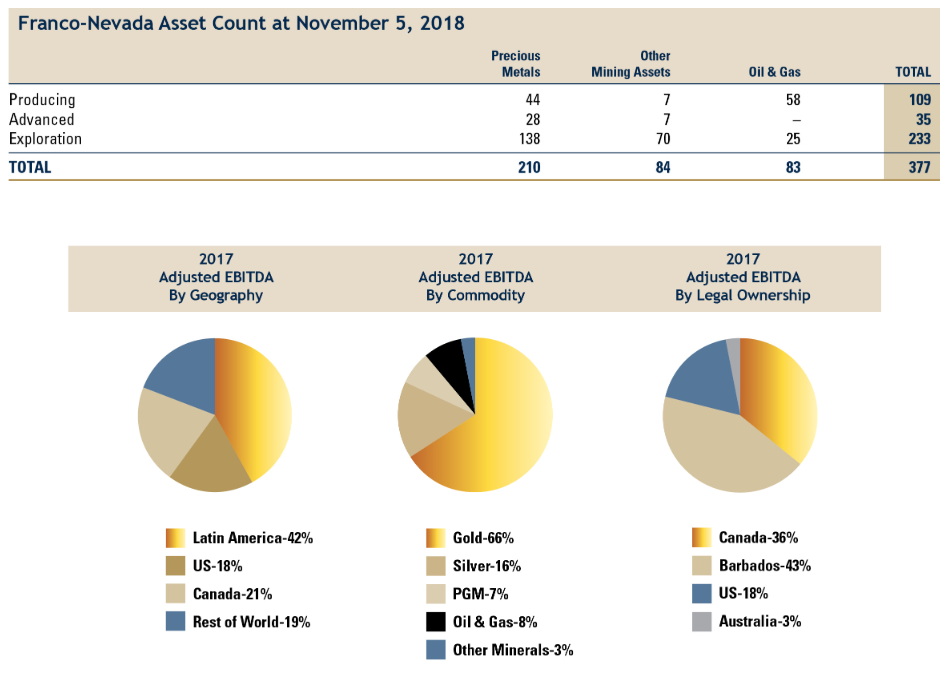 Exploration Projects:
Franco-Nevada has interests in 208+ exploration stage mineral properties as at March 28, 2018. By commodity, these include 138 precious metals assets and 70 other minerals exploration assets. Exploration assets represent interests on projects where technical feasibility and commercial viability of extracting a mineral resource are not demonstrable. At the same time, exploration projects represent the highest ROI opportunities. These projects are the extra cream on top for investors, if they hit commercial production, so they're important to follow. Unfortunately, according to Franco-Nevada, "a good portion of the properties are inactive and may not see activity again."
The following table is a list of exploration assets of Franco-Nevada as at March 28, 2018: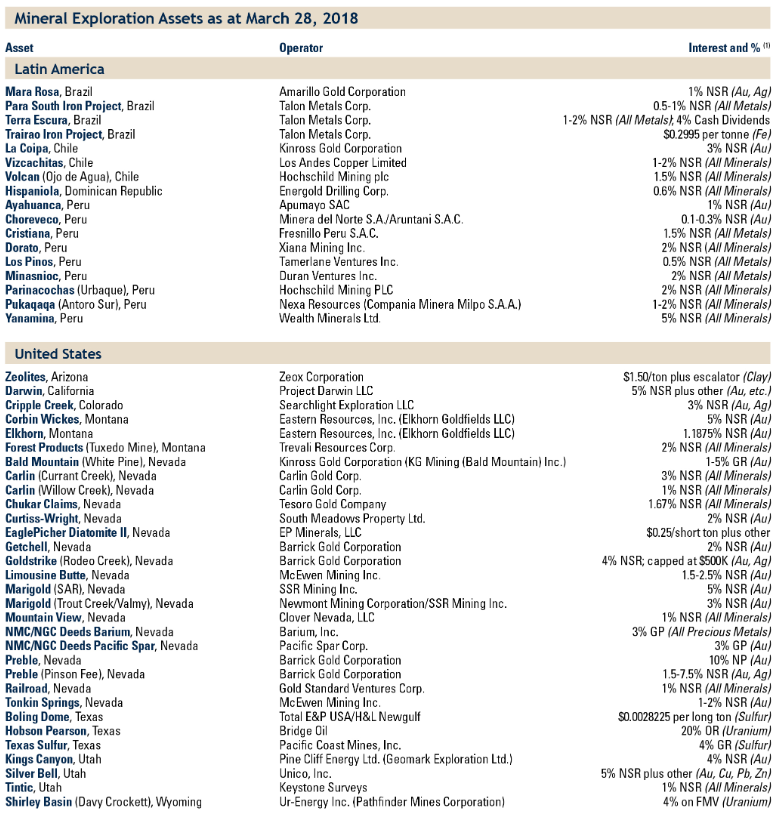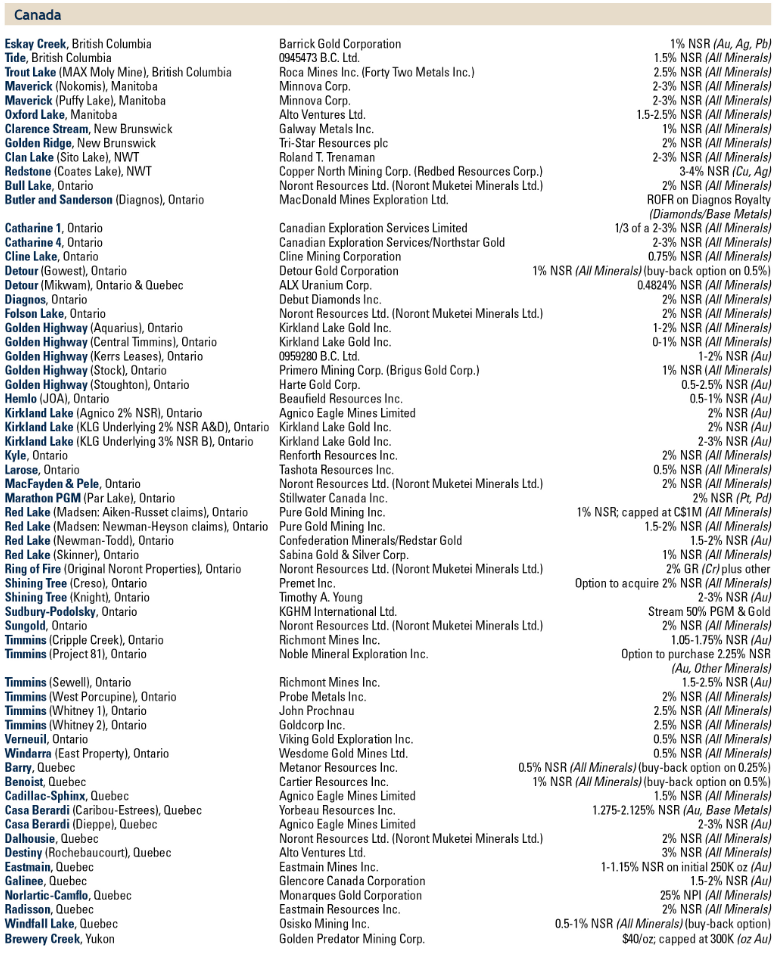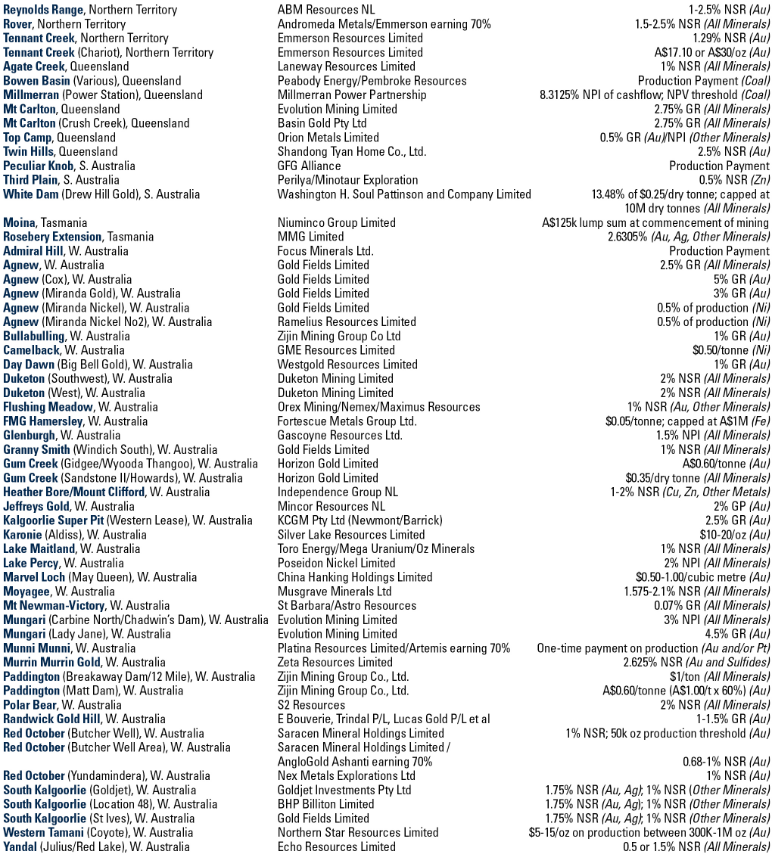 Final Thoughts:
"We are now in the position where [Franco-Nevada] paid the largest dividend in the global gold industry last year, $165 million. We increased it for this year to $180 million, [and] we can pay that for the next 35 years doing nothing. Moving forward the plan will be to build up cash to invest during the next downturn. Franco-Nevada will see growth in the near-term from three main areas: the Cobre Panama project, assuming it comes in, the Candelaria project and the company's oil and gas assets… right now the [mining] equity market is very weak, there's more than enough for us to buy and for our competition to buy as well. The mining industry is starved for capital."  – David Harquail, CEO of Franco-Nevada
Certainly, Franco-Nevada seems well-positioned, well-managed, built to last, and should be considered as a risk-management component for your investment portfolio! If you felt that this article was lacking some information, fear not… next articles will dive into Franco-Nevada's royalty portfolio in depth and by region. Franco-Nevada is a complex company, and one article, even long-format, would do a disservice to Franco-Nevada were the goal to dig fully into this granddaddy of royalties and streaming companies.
Thanks for reading!
Lightning Network tipping jar –