[updated 7/10/2018: "There'll be a profit share pool, where you can lock your ALQOs in order to receive a part of 30% of all profits generated by Bitfineon." –> changed to: "There'll be a profit share pool, where you can lock your ALQOs in order to receive a part of 50% of all profits generated by Bitfineon."]
"ALQO is a 3rd generation cryptocurrency which offers Instant Transactions. It is created as a multi-purpose coin so that ALQO will be used as a connection tool in the so-called "'ALQO Planetary System.'"
ALQO is a masternode cryptocurrency that has attracted popular Crypto Twitter personalities such as @crypToBanger and @cointradernik. However, ALQO is in need of some communication TLC to better clarify its complex offering.
There are many moving parts to the ALQO project, so I set out to speak with Moritz "Moh" Heimberg, Co-Founder of ALQO, to chat on ALQO's governance, market strategy, and "Planetary System."
Enjoy!
ALQO: An Interview With Moritz Heimberg
ALQO is more than a cryptocurrency. Who is ALQO? What does ALQO do? Why should I care about ALQO?
ALQO is a relatively new cryptocurrency, founded way back in October 2017, developed and led by a German team headquartered in Zug, Switzerland. The Genesis Block was mined on the 1st of November 2017.
"From the beginning, we were and are still aiming to not just provide a basic cryptocurrency that has some value, but instead to develop and maintain a cryptocurrency that people can trust in and that's easy to use."
The main focus for ALQO is mainstream adoption. To achieve that, we are creating an ecosystem that shapes ALQOs use cases and helps leveraging the awareness for ALQO itself, as well as all other parts of the ecosystem (we call them planets).
The whole ALQO project is based on a "planetary"-system. Pretty much like many islands that are connected to each other. For better understanding imagine you heard about an island but you don't know how to get there. ALQO is an island for sure, but with all our planets (Bitfineon, Payinx, Coinfolium and the Falqon App) and the ones that are not announced yet, we are trying to build airports, harbors and easy connections for everyone, even those that are completely new to crypto.
"Since one of the most important values was and always will be the community and their decisions, ALQO had a very low pre-mine, only to run the first 10 masternodes in order to secure the network, which'll be burned after one year."
What's the function of the ALQO masternode and what is its purpose in relation to the ALQO Planetary System?
To start ALQO we decided to go with an setup like Dash and PIVX. Masternodes are awesome – not just for their payouts but to secure the network and to give the blockchain more functionally.
"Masternodes are very important for ALQO infrastructure, and we need a minimum of 500-700 masternodes to secure the network and to make sure everything runs smoothly."
The ALQO team is currently developing one of the first Cryptocurrency Exchanges with a Fiat-Gateway, called Bitfineon. Not only will Bitfineon be a military-grade secure exchange, with top-notch customer support and usability on every device, it'll also heavily include ALQO into almost every use-case you could think of for an exchange coin.
ALQO will also be the main trading pair, both crypto and fiat, which doesn't cost any fee to exchange. More use-cases are planned and will be published when we get closer to the Bitfineon release, which is on track to meet goals and we are currently working on the front-end with several UI/UX companies. 
"There'll be a profit share pool, where you can lock your ALQOs in order to receive a part of 50% of all profits generated by Bitfineon."
What's the differentiator that makes ALQO a leader long-term?
Another planet of the ecosystem that makes ALQO unique and valuable will be Liberio, a lightweight multi-device wallet which you can use to monitor and spend your ALQO, wherever you are, as well as monitor your masternode payouts and lock your coins for the Bitfineon profit share, right from within your wallet.
More planets are already being developed, such as the Portfolio-Website CoinFolium, or the Payment-Gateway Payinx, which'll enable merchants to integrate cryptocurrency payments into their current accepted payment methods, so people can pay with ALQO and other cryptocurrencies.
"Our goal is to create an easy access to crypto currencies for people."
We believe it's important to not use nicknames, but instead use our real names, build a real and registered business behind ALQO to give everyone maximum security and trust. If ALQO continues to attract attention over the next 5 years, we see a huge potential. 
"There are plenty of cryptocurrencies out there. But there is only a very small percentage of cryptocurrencies that are actually a legal company. In addition, we will be the only masternode coin with a trading platform and a revenue share program."
Developers are key to every cryptocurrency project, and I see many underpaid for their efforts. Is the ALQO dev team growing? Are the devs compensated at industry standard levels, or better?
The team is currently in the process of hiring new developers and other people as well as looking for some freelancers to work with in the near future. Some of the more time intensive parts, especially when it comes to Bitfineon, will be outsourced and handled by professional companies in those areas, such as customer support, KYC and security audits.
Initially, there was no other funding or dev-fee in place, but we added a 5% dev-fee for further development of ALQO and its planets in April, after the community agreed to that with over 90% approval in a vote. This allows us to pay for our core team members on industry standard levels and have them under contracts without temporary limitation.
"The core team members don't work for any other project, except for ALQO's ecosystem and its planets (e.g. Bitfineon)."
How is ALQO focused on fair distribution and decentralized coin supply? How many masternodes are there?
ALQO itself already achieves to be a very secure and fast cryptocurrency, with one of the highest number of locked coins in masternodes of all POS coins, as well as governance voting to let the community decide on how ALQO's future will look and to give every community member a voice.
Here are a few details about ALQO:

5,64% is owned by the top 10 wallets

https://twitter.com/OmniAnalytics/status/993476460877840387

OmniAnalytics declared ALQO to be the wealth distributed masternode coin

3679 masternodes

Masternode count from 1500 to 3679 this year

Masternode count from 3300 to 3679 in 2 weeks

It is steady growing, because it's a safe option for people to get passive income, without much technical knowledge

Around 5000-6000 masternodes once PoS starts
BONUS!
S.W.O.T analysis: What are ALQO's: Strengths? Weaknesses? Opportunities? Threats?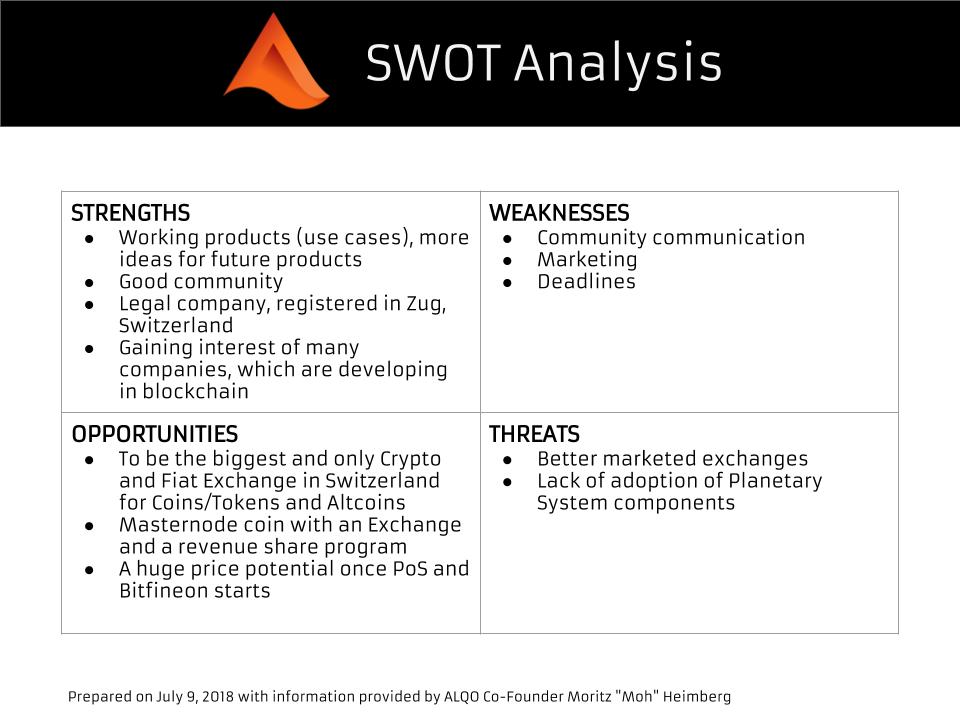 Thanks for reading! I hope you enjoyed.
Lightning Network tipping jar: