Guest post by Squanch!
Are you tired of seeing GRIN and BEAM on your feeds ? Well, i will add one more to that crowd. You better read my analysis about Mimblewimble and Beam and learn why people talking about them.
The common side of these two coins is based on an article written in 2016 under the title "Mimblewimble" [Actually it is coming from 2013 with Greg Maxwell's "CoinJoin" ]
If you'd like to read the related articles here are links below:
Coinjoin: Bitcoin privacy for the real world

Mimblewimble article of Voldemort (WTF*)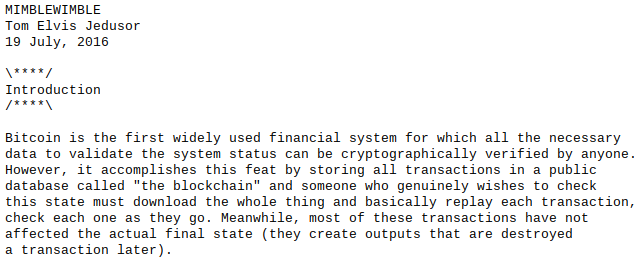 The author of the Mimblewimble article used a code name "Tom Elvis Jedusor" which is the French version villain of Harry Potter series called Lord Voldemort. As a matter of fact, the technology's own name is also about the Harry Potter series. Mimblewimble was named after the Harry-Potter tongue-tying curse which refers to the privacy of Beam and Grin's cryptographic processes.
It is not surprising that Mimblewimble is became so popular and that the first coins use it are quickly accepted by the community and listed on the exchanges (Beam hasn't been listed on any relatively big exchange yet). That is because creator of this technology often thought to be closely related to Bitcoin. that also explains why GRIN's adoption has been much faster than BEAM so far. Some of well known OGs shilled Grin so hard. Here are some examples…

Even btctalk now accepts Grin as a payment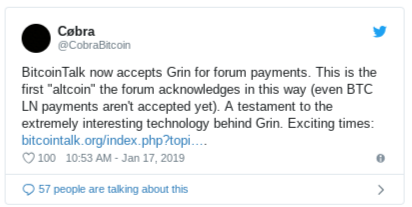 GRIN uses a very unpopular PoW algorithm called CUCKOO, while BEAM uses Equihash like algorithm . While the GRIN team is completely anonymous, non-anonymous professionals work for the BEAM project. Apart from these, the fund modelling of the projects also varies. GRIN expects a donation from the community to continue to keep up (so far it has not gone well). Recently Poloniex has announced that they will donate some of the fee they earn from Grin trades to fund Grin development. Beam cuts some of its block rewards so that project development can continue. In fact, it is possible to compare GRIN and BEAM to Monero and Zcash respectively. Because, Zcash and Beam both are privacy focused coins with some of their block rewards directly going to project development.
Grin and Beam are two important projects and i believe that will hear we will hear their name for years. However, if we look at the eyes of the investor, we are still in bear market and Grin has already been listed on two of the three major exchanges, on the other hand Beam hasnt been listed any major exchanges yet. I think Grin lacks some catalyst to start strong movement.
In the whitepaper of Beam, team claimed that performance of Beam blockchain is now faster than privacy focused coins and bitcoin, but still not enough to be used as a medium of exchange (i liked this honesty). They also said that they would focus on second layer improvements, but Beam is actually meant to be used as a store of value.
Quantitative Basic Analysis
1- Marketcap
Beam is number 365 on
Marketcap and there's only $ 5.7 million market cap (note that they have had 30 million from private investors). His sibling Grin is 204th on the line Circulation supply of both projects increase each passing. Even if their price keep dropping, their marketcap keep growing and it won't be wrong to assume that both Grin and Beam will push towards top 100 in 2019.
2- The amount of coin in circulation
Like all coins using the Proof of Work algorithm, the amount of circulation supply increases each second. While the total supply is 262 million, the amount currently in circulation is slightly more than 7 million.
3- Total Supply
As I wrote in a row, the total number of BEAM coins to be generated is 262,800,000 units. The last coin is expected to be mined around year 22xx! So our grandson's granddaughter's grandson may catch last Beam.
4- Inflation
Coin's inflation differs from token's. Beam has better inflation rate than Grin that is for sure, yet Beam circulation supply is also increasing like hell! At the end of 2019 there will be 50M Beams! (now only 7M).
On the other hand Beam's inflation is severely diminishing after 5 years with halving (I'm sure you are already familiar with that word "halving"). In the first year there are 100 Beams per block, second year it falls to 50 and then 25 for 5 years. So the number of Beam coin that can be produced in unit time in 5 years falls to 1 from 4.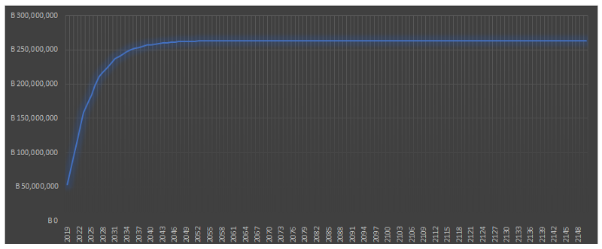 5- Coin distribution
I emphasized that Beam previously funded a method similar to Zcash. 20% of the rewards from each block goes to Beam's development fund. So far, there are 876 thousand coins to the Beam team. Since Beam (and Grin) started mining with a fair start (No ICO, No Premine, No Presale), it is impossible to talk about the classical token economy.

6- ICO Status
No Ico No Premine No Presale. There is only 20% development fund. So they're cutting some tribute from our digs. However, they need to work to make "their cut" to be valuable.
7- Price
Although the price has changed considerably since the start of mainnet, no tragic situation happened to Beam unlike Grin (There are people bought Grin for 265 $). Beam, which is now at $ 0,7 has reached maximum of $ 3.15.
a- Today price of Beam is so close to it is all time low. It may even be considered BTFD zone!
b- It has not yet formed a complete market cycle because it has just been released in the middle of January.
c- Keep in mind that there are no coins durable enough to sudden bitcoin movement and bitcoin is so stable nowadays that i started to expect some drastic price movement soon.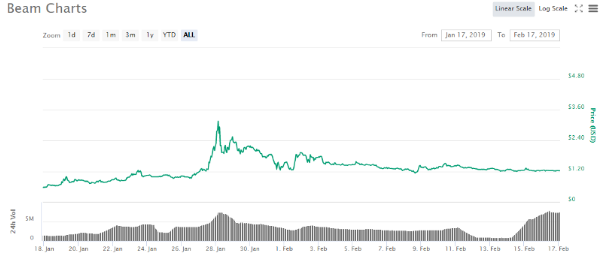 6- Valuation against competitors
Grin: Absolute decentralized start is certainly what made it more popular, however they need money for the sustainability of the project. One year-long poloniex support may cover that for a limited time yet they will certainly remain strong pick among other coins in the field of privacy.
Monero: Monero, currently king of privacy coins :). Together with Bulletproof, they really made a very important improvement to speed up, but they are still planning to add Mimblewimble to the chain. If MW projects are successful, they will be facing competitive opponents.
Zcash: The weakest of privacy coins in my opinion. It's hard if they don't try to catch the age like Monero did.
7- Exchanges
Beam is not listed on any major exchanges yet whereas Grin listed on both Bittrex and Poloniex. Considering current bear market there is only one catalyst that works. It is not rebranding,(:P) not mainnet opening; it is of course Binance listing! It is bad for Beam not to be listed on any major exchanges, let alone Binance. Besides it may be good opportunity for investors who wish to buy.
8- Consensus model
Beam uses modified a version of equihash algorithm.
9- Github activity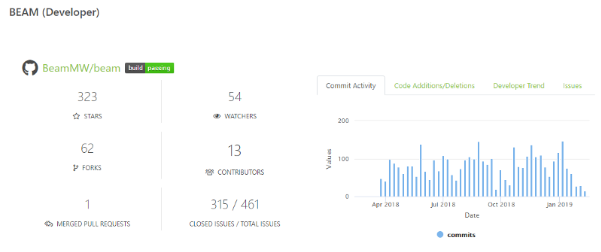 Qualitative Basic Analysis
1- Usage area
According to the Beam team's planning, Beam is designed to be used as a store of value. For the past year, cryptocurrencies have performed awful performance as a means of value storage. Of course, all those coins completed a cycle with both bull and bear market but Beam was already born in winter. Time will show the SoV (store of value) performance of the recent projects.
2- Target market
Beam, a privacy coin trying to be a store of value, I think it is exactly as it should be, because it will be demanded by people who want to keep their assets on crypto and who give importance to privacy.
3-Technology and Innovation
Mimblewimble, which is the focal point of the both this article and Beam, is actually the biggest difference in technology. The first steps of this technology put out by Greg Maxwell, old Bitcoin foe (now Bitcoin developer) in 2013 (you may not recognize because he doesn't use Twitter).
4- Team
There is not much to write about the individuals in the team. All team members have Linkedin accounts and past work on the link above. In summary, Beam is an Israeli startup and it got 11 international funding on their website. Two weeks ago Beam announced that they had also Japan firm "Recruit" on their investor onboard.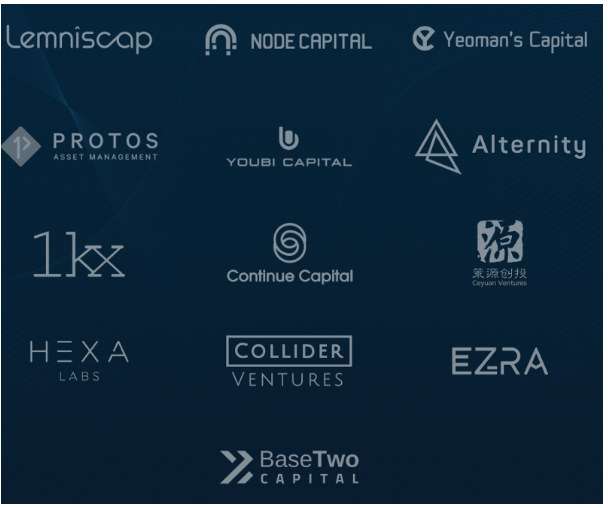 The links below indicate the funds invested in Beam and other investments of these funds.
5- Road Map
Beam is obviously moving ahead of the road map. The wallet, which was actually expected to be released in March, was already in use in February. There are plenty of secondary layer enhancements on the road map. They also work on fast medium of exchange of currency other than their main focus store of value.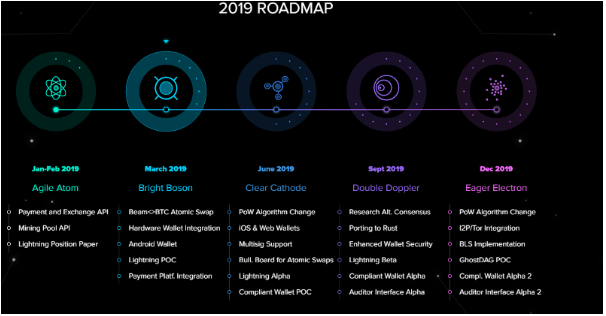 6- Documentation