This report marks the first in a series intended to explore the current state of marketing in the cryptocurrency industry. I've selected BEAM as the first in this endeavor due to my  interest in the privacy sector and to better serve BEAM in a professional capacity. Full disclosure, BEAM is a current client of Brian D. Colwell, Inc. BEAM did not commission or arrange this research in any way. I may seek to incorporate official responses and/or updates from the BEAM team as appropriate.
Report Methodology
The goal of this report is to assess BEAM's online presence relative to its direct competitors. I plan to revisit this report regularly, then publish the adjusted data and findings as time progresses. This report relies entirely on public sources, all of which are provided at the end of the Slideshare presentation embedded below. Feedback is encouraged, and the author has already received and incorporated data updates from projects such as Zcoin.
Given that cryptocurrencies are native to the internet, digital marketing performance factors make good indicators of brand health. Public metrics related to branding, SEO, website, and social media provide a snapshot of digital marketing performance.
BEAM Marketing Profile from Kristen Colwell
Introduction to BEAM
BEAM's mission is to "create a currency that supports multiple use cases and works for businesses and individuals."
Key details include:
Founded July 19, 2018

No ICO or premine

Mimblewimble implementation

Proof of Work

All transactions are private

Maintained by non-profit BEAM Sovereign Money Foundation

Mainnet launched January 3, 2019

Equihash algorithm
Coin Market Cap (4/19/2019):
Symbol: BEAM

Rank: 318

Market Cap: 1,916 BTC

Volume (24 hr): 808 BTC

Circulating Supply: 14,798,400 BEAM

Max Supply: 262,800,000 BEAM
BEAM Value Propositions
BEAM communicates three core value propositions: confidentiality, compliance, and scalability.
Confidentiality
All transactions are private by default. No addresses or other private information is stored on the blockchain.
"Users have complete control over privacy – a user decides which information will be available and to which parties, having complete control over his personal data in accordance to his will and applicable laws."

BEAM Position Paper
Compliance
Compliance is a driving force in BEAM's product strategy. The project's Compliant Wallet is a cryptocurrency wallet developed for business with unique features such as an auditor interface and the ability to generate public/private auditor key pairs for different authorities.
"The Compliance Suite will be a complex piece of software incorporating various use cases, integrated third-party services, and conforming to country-specific regulations."

BEAM Roadmap Announcement
Scalability
BEAM asserts that it provides superior scalability due to its compact blockchain size.  With BEAM, confidential transactions do not cause bloating of the blockchain, thus avoiding excessive computational overhead or penalty on performance/scalability while completely concealing the transaction value.
"Superior scalability through compact blockchain size – using the "cut-through" feature of Mimblewimble makes the BEAM blockchain orders of magnitude smaller than any other blockchain implementation."

BEAM Position Paper
Target Audiences
Based on BEAM's value propositions and product development plans, the brand has two distinct audiences: individual users and enterprise users. Interestingly, these two audiences have opposed values, needs, and wants with regard to cryptocurrency privacy.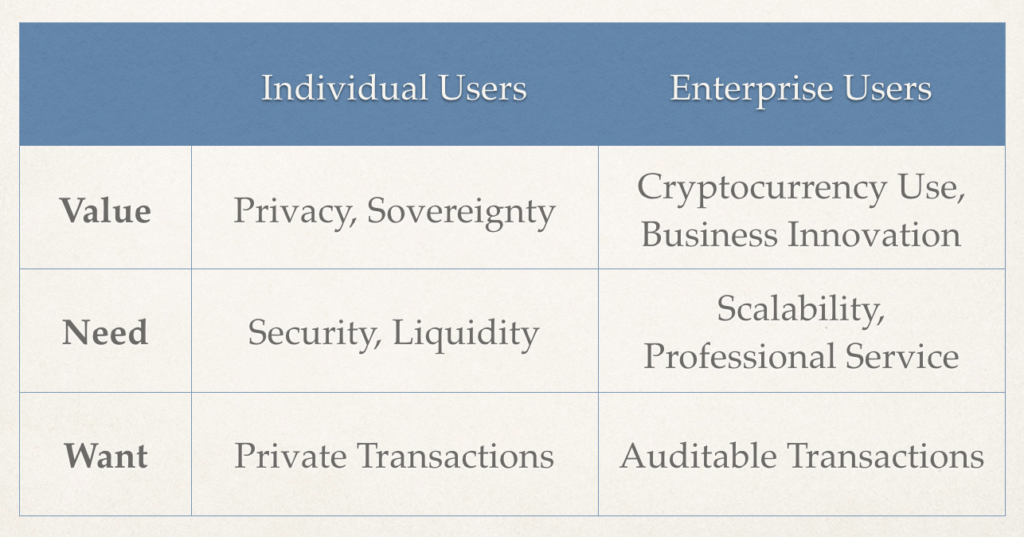 Marketing Audit
Branding
BEAM performs well in Google searches for branded terms, but does not have a Google Knowledge Graph yet. The brand is fairly dominant on its name, but there are two notable brand conflicts: Beam Solutions and Beam Wallet.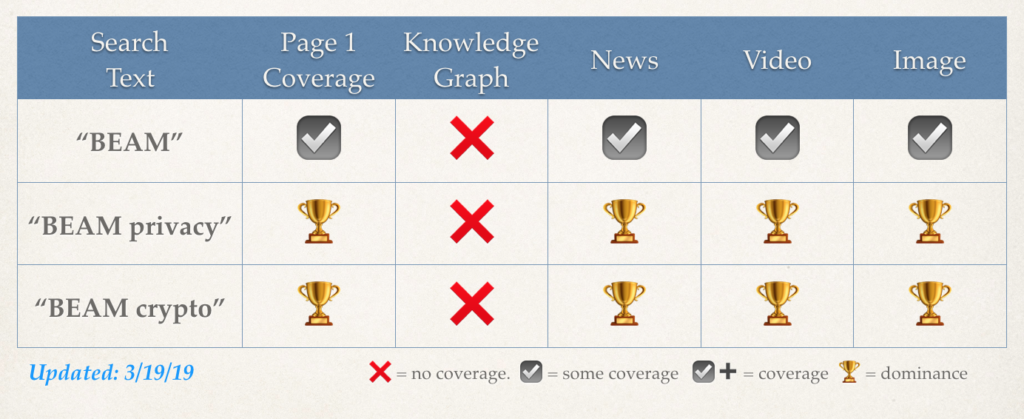 SEO
BEAM's SEO performance as of March 20, 2019 according to the Moz Link Explorer:
Page Authority: 43

Domain Authority: 40

Linking domains: 687

Inbound links: 3,100

Ranking keywords: 57
Website
BEAM's website loads more quickly and performs better overall on desktop computers compared to mobile devices. BEAM's top linking domains include high authority websites such as Forbes, Medium, and Yahoo Finance. The BEAM downloads page is tied for fifth in page authority amongst all the domain's pages, with 62 linking domains directing to the downloads page as of March 20, 2019.
Social Media
BEAM is a young brand with a growing social media presence. The brand is absent from Facebook and LinkedIn, but active on Twitter, Reddit, and Telegram. BEAM's brand is applied consistently across platforms.
Competitive Analysis
This the first take on BEAM marketing metrics relative to its direct competitors. I identified the direct competitors, gathered marketing metrics, and present now in various ways to uncover trends and anomalies. There are constraints of course, and metrics are limited to what can be found publicly online. Metrics such as those from coinmarketcap.com fluctuate greatly. 
Direct BEAM Competitors
BEAM's direct competitors, those that offer similar products with similar revenue goals, are GRIN, HoriZEN, Monero, NIX, PIVX, Zcash, and Zcoin. I've already decided to add Komodo and Enigma to this group in the future update to this report.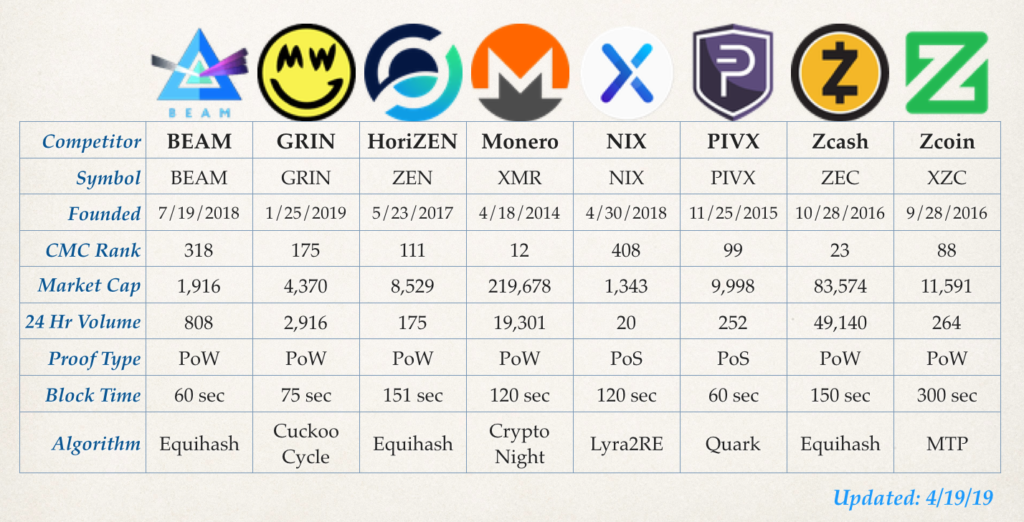 Monero emerged as the brand leader of BEAM's direct competitors:
Discoverability on Mobile: Monero, GRIN
Discoverability on Desktop: Monero, GRIN
Visibility Potential: Monero, PIVX
Search Authority: Monero, GRIN
Brand Authority: Monero, Zcash
Google Exposure: Monero, Zcash
Leaders
Monero: Top performer across the board relative to the rest of the group
Zcash: Leader, but competitors such as PIVX and newcomer GRIN are very close
Contenders
GRIN: New brand with expansive reach, off to a strong start
PIVX: Legacy brand with room to grow its Domain Authority
Zcoin: Established brand with room to grow its Ranking Keywords
Watch
HoriZEN: Signs that this brand will continue to underperform in the digital marketing arena unless something changes
Drop
NIX: Poor performance across the board relative to the rest of the group and recently dropped below 400 on Coin Market Cap
Marketing SWOT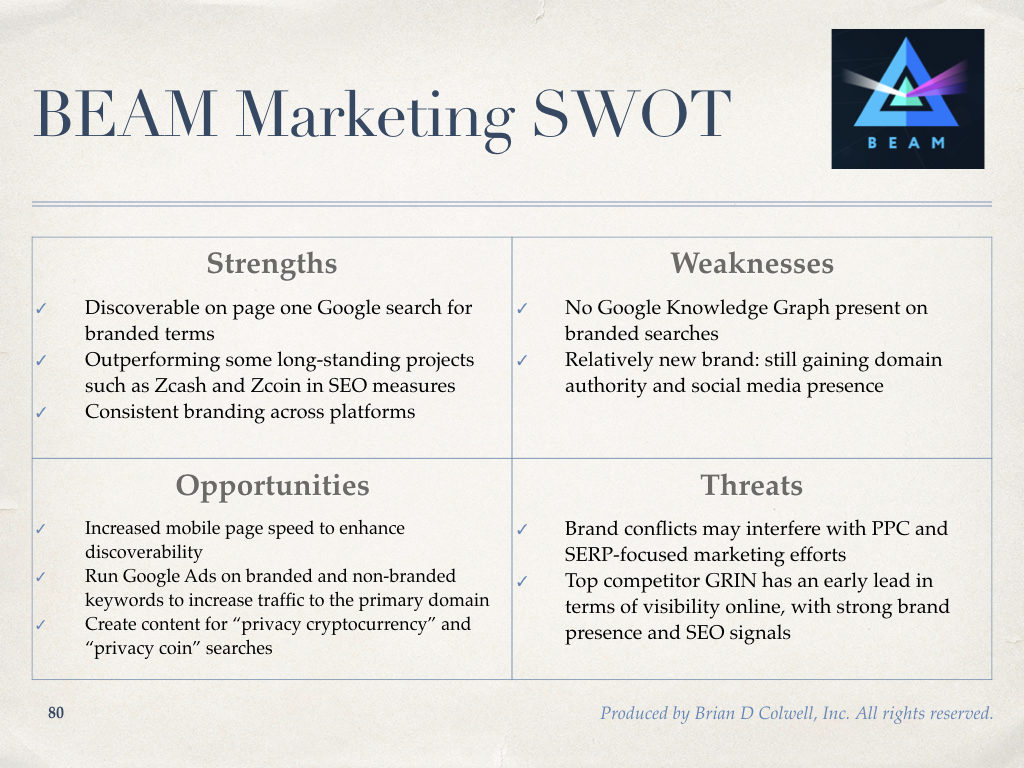 Plans for Next Update
Adjust direct competitors

Expand indirect competitors analysis

Assess off-line marketing activities

Update all data, explore any notable changes
Check out (and download) the entire report from Slideshare.
Feedback is encouraged. Please share your thoughts! Tag me on Twitter: @Kristen_Colwell.