I research masternode cryptocurrency projects frequently, and sometimes have conversations offline that deserve to see the light of day. With permission, I've formatted sections from a recent conversation with @PioyCOLX of @ColossusCoinXT into a few key questions.
Enjoy!
$COLX Private | Instant | Sustainable | Grid Computing
Explain ColossusXT to me; what is the "Colossus Grid?"
ColossusXT is a fork from PIVX, which is a fork from DASH. ColossusXT is a very different project from either of those projects and is very much a different project from any other privacy coin currently on the market. PIVX has solid foundations for the privacy features needed to protect end-user privacy when they are connected to the Colossus Grid. We will use these foundations and expand upon them within our own vision.
As such, ColossusXT is expanding Satoshi's vision into Parallel Computing with the mission of creating a global grid computing resource to be used worldwide in solving real world problems.
The Colossus Grid will connect devices in a peer-to-peer network enabling users and applications to rent the cycles and storage of other users' machines. This marketplace of computing power and storage will run exclusively on COLX currency. These resources will be used to complete tasks requiring any amount of computation time and capacity, or to allow end users to store data anonymously across the COLX decentralized network.
The Colossus Grid will act as a grid computing resource pool for any user running a COLX node. How and why we apply the grid to solve world problems will be an ever evolving story. ColossusXT is more than just a currency, and our steadfast approach to producing technical accomplishments will not go unnoticed.
"ColossusXT is the future of Supercomputer. As the Internet of Things (IoT) continues to evolve, so will the need for ColossusXT."
What does ColossusXT look like in 5 years?
Our goal is to be a leading competitor in cloud computing and storage. Providing government, private cybersecurity, and individuals with efficient solutions to Super-computing, cloud storage through Blockchain infrastructure.
I would like to see hardware options for connecting to the grid to utilize resources after the Colossus Grid is online, and I think this can contribute to many use-case scenarios.
The Colossus Grid will be integrated within the ColossusXT wallet. Buying & Selling resources will happen within the wallet interface. The goal is to have users input what resources they need, and the price they are willing to pay. The Colossus Grid will then look for people selling resources at a value the buyer is willing to pay.
"When the vision of Colossus Grid is complete, it will protect data at rest, in transit, and while it is being processed. Privacy by design is concept here."
How is ColossusXT focused on fair distribution, decentralized coin supply, and good governance?
The ColossusXT team works very closely with the community and is active daily to address any concerns on fair distribution, decentralization, and governance. We work very hard to be fair, but decentralization and fair distribution do not always go hand in hand. This is where our community involvement can come into play, and it's important to remember that "fair" comes with many different viewpoints, this is why governance is so important. Shared ideas coming together to create something great, through a community.
There are 239 Masternodes currently. See the graphic below for wallet "rich list."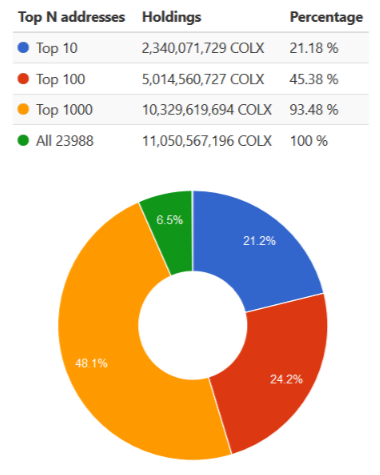 Bonus question! S.W.O.T Analysis: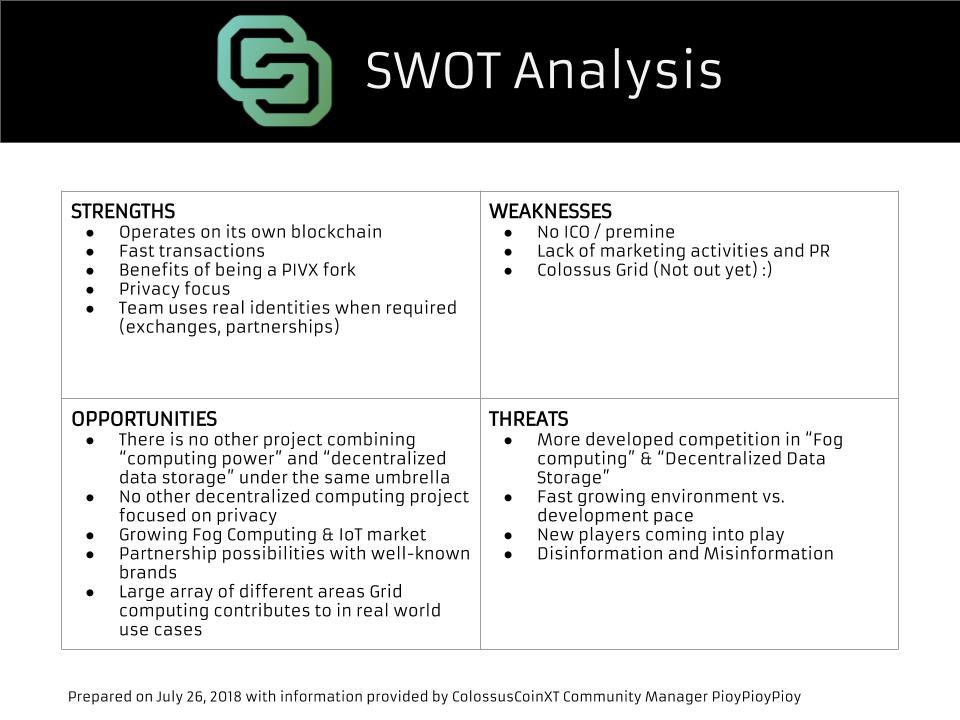 Lightning Network tipping jar: