Central Bank balance sheets ballooned after the financial crisis of 2008.
Central banks spur growth? Well, not really. pic.twitter.com/81jpTNoyNL

— Daniel Lacalle (@dlacalle_IA) April 22, 2019
The appetite for debt wasn't limited to governments.
China 🇨🇳 world record in corporate and household leverage. pic.twitter.com/mnok6ydUJq

— Daniel Lacalle (@dlacalle_IA) April 23, 2019
"Americans are drowning in auto loan debt and changes in interest rates matter…a lot. A new report from the California Public Interest Research Group, or Cal-PIRG, finds the average car loan has increased 75% over the last decade. In all, Americans owe roughly $1.2 trillion in auto loans. Since 2010, the share of sub-prime Auto ABS origination has come from deep subprime deals which have increased from just 5.1% in 2010 to 32.5% currently. That growth has been augmented by the emergence of new deep sub-prime lenders which are lenders who did not issue loans prior to 2012." – Real Investment
"Americans are taking out more loans, they are taking out much larger loans, and they are taking those loans out for a longer period of time," Emily Rusch, executive director for Cal-PIRG."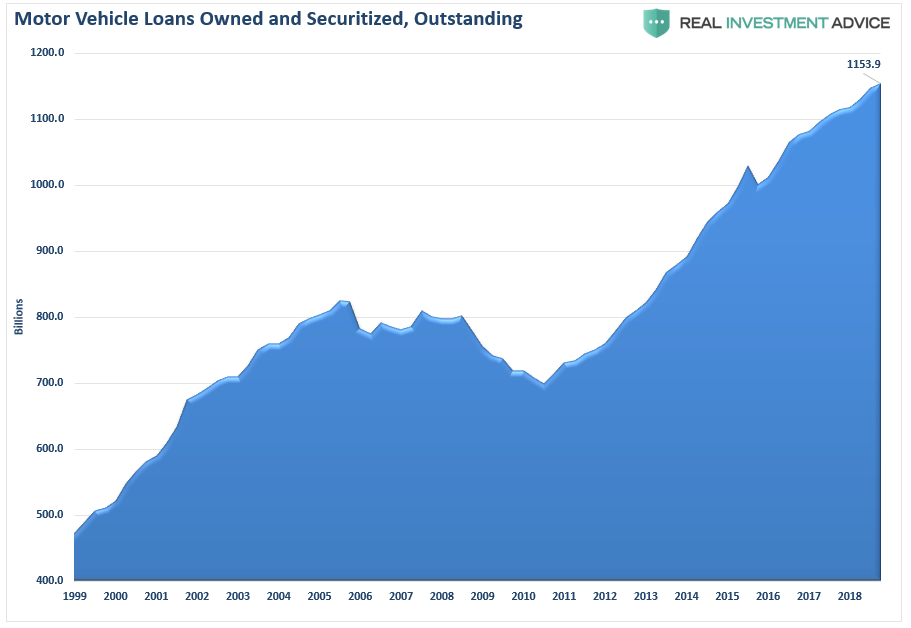 But cracks began to show … Auto loan delinquencies rose as sales slowed,
"There are more sub-prime auto loans outstanding currently than prior to the financial crisis and defaults are rising rapidly. The Federal Reserve recently reported the number of borrowers with auto loans more than 90-days delinquent shot up by 1.5 million in the fourth quarter, reaching a total of 7 million — the highest mark ever in absolute numbers, though not as a percentage of the auto-loan market, which has ballooned over the past seven years. Further, the annual rate of auto sales has slowed dramatically and is approaching levels normally associated with more severe economic weakness. There is a correlation to rising auto inventories and declines in auto sales. The current data suggests further weakness in auto sales coming." – Real Investment
"New car sales locally and nationally are falling as interest rates have soared and automakers have pulled back on incentives. Interest rates on new financed vehicles averaged 6.4 percent in March, the highest in a decade." – the Houston Chronicle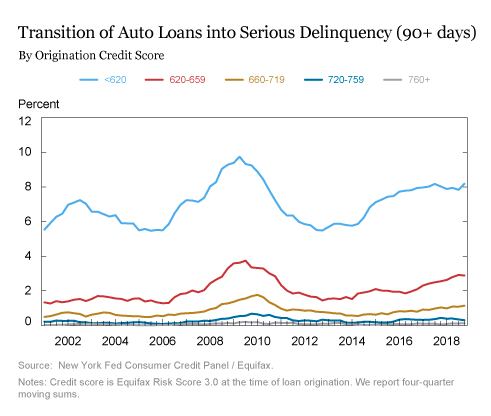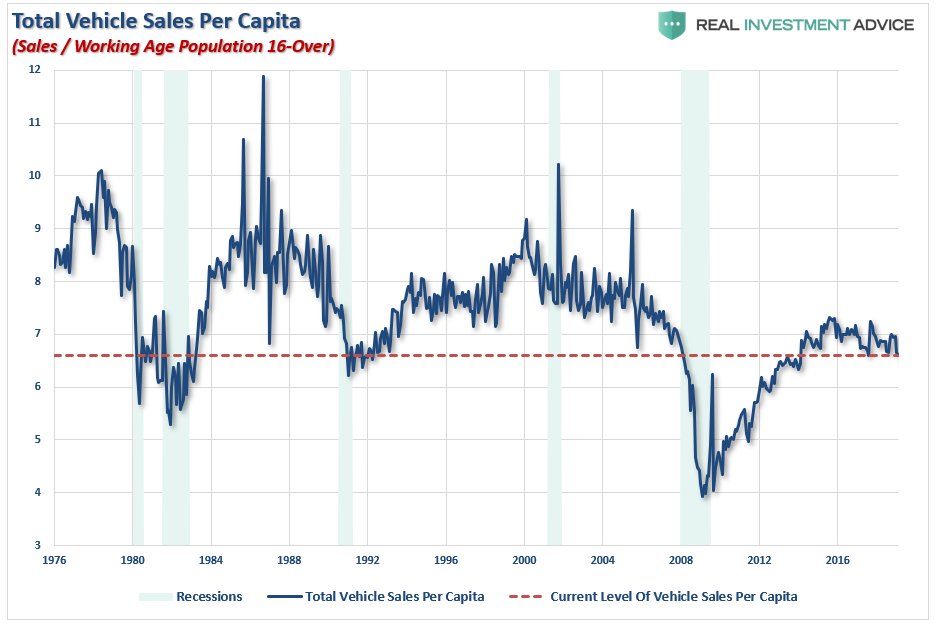 Auto sales tend to be a leading indicator of the #economy. With sales topping, and delinquencies rising on a #CrapTon (Technical Term) of debt, the risk to the economy is likely higher than expected. $SPY $TLT https://t.co/jv0Z0amFH9 pic.twitter.com/lQwDDUrdLM

— Lance Roberts (@LanceRoberts) April 22, 2019
Home sales fell as inventories rose,
"Demand in markets such as Orange County went from 'good to horrible' in late 2018, said Rick Palacios, director of research at John Burns Real Estate Consulting LLC, which tracks home construction. In the fourth quarter, sales of new homes in the area were the weakest since the Great Recession, he said." – Zero Hedge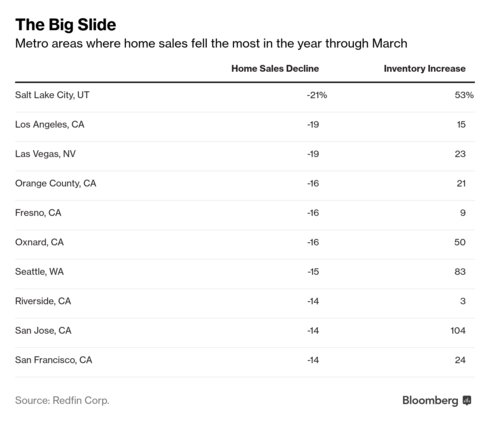 There was a changing of the guard,
Here's a look at top 10 countries with the largest #gold reserves by tonne … See a drastic % change in #Russia and a massive drop in #Switzerland | @KitcoNewsNOW #kitconews #finance #preciousmetals #markets #economics #mining #investing | https://t.co/ufWmpoQ107 pic.twitter.com/1nMZ4QQFOC

— Kitco NEWS (@KitcoNewsNOW) April 22, 2019
And global growth slowed.
Last week we released our World Economic Outlook report which projects global growth will slow from 3.6% in 2018 to 3.3% in 2019, before returning to 3.6% in 2020. Read the full #WEO report. https://t.co/9rIe0EvdTz pic.twitter.com/snVd2zRFC2

— IMF (@IMFNews) April 21, 2019
The global economy isn't prepared for the bubble to burst.
"Many central banks reduced policy interest rates to zero during the global financial crisis to boost growth. Ten years later, interest rates remain low in most countries. While the global economy has been recovering, future downturns are inevitable. Severe recessions have historically required 3–6 percentage points cut in policy rates. If another crisis happens, few countries would have that kind of room for monetary policy to respond." – the IMF
Are you prepared?
Worried about historically high stock valuations? Wondering if precious metals have a place in your portfolio? Not sure if cryptocurrencies are a unique asset class? Interested in investing for all economic conditions? Proper risk management and portfolio diversification are not difficult to achieve.
What is Investment Diversification? introduces the concept of diversification, defines the importance of risk management, identifies investable asset classes, and then digs into each asset class in depth. Get the book – click on the image below!