— Cryptopia Exchange (@Cryptopia_NZ) January 15, 2019
Following the recent hack of Cryptopia, and considering that many small-cap altcoins had trading volume consolidated to CryptoBridge as a result, I thought it prudent to interview CryptoBridge on its business as well as plans for the future. Please enjoy this chat with Scott Wehman, CryptoBridge Marketing & Communications.
Who is CryptoBridge? What does CryptoBridge do?
CryptoBridge is the most popular gateway to the BitShares trading platform where people are able to trade digital assets such as Bitcoin, Ethereum and many other altcoins. BitShares, which is a blockchain, handles all the trading. BitShares was designed as a progression on the idea that Bitcoin introduced (decentralized money) into more complex financial and business operations.
CryptoBridge is one example of a business built on that premise.
We believe it is a worthwhile endeavor to actively develop such a business as a natural extension of the value proposition inherent to cryptocurrency in general, and as an answer to the risks posed by centralized services which have shown time and again to be vulnerable to critical failures.
Our mission is to support the growth of the ecosystem by improving user security and experience and assisting projects with placing their best foot forward. A trust-minimized, easily accessed and pleasant experience is what we want to provide both the traders and projects.
What are some common misconceptions about CryptoBridge that should be cleared up?
The most basic misconception is that CryptoBridge is designed in the same fashion as Binance, Bittrex, etc. It's entirely different. Everything you do with CryptoBridge is a blockchain operation. This introduces both advantages and limitations. For instance, it is not yet possible to implement 2FA or stop-loss orders.
The second misconception is about the level of decentralization that CryptoBridge features. We have to claim responsibility for some of that…
"…our initial promotional language was forward-leaning (sort of the marketing version of "acting as if") as we believed we would have been able to design and implement the Federated Gateways to decentralize capital deposits far sooner. We had been expecting that the language and presentation that was chosen would more accurately represent our status before too much time had gone by."
The growing pains of success have taught us a lot in the meantime, but unfortunately this has delayed the development of the Federated Gateways and led to the perception that we've misrepresented ourselves. We draw fire from detractors in this regard. In the intervening time since our launch, we've been stabilizing and improving as much as possible and are now ready to get back on the path we'd initially started on.
"A significant amount of time and resources has gone into exploring all the potential regulatory elements we need to be prepared for, and this has had the unexpected side effect of informing how we can more accurately describe our service (that of a gateway to BitShares rather than an 'exchange' which we now know we are categorically excluded from)."
There will be an abundance of educational materials and partnership announcements which will clear up this previously foggy situation in coming weeks.
How truly "decentralized" is CryptoBridge? Can CryptoBridge ban accounts? Are banned users able to withdraw their coins?
Since the gateway is still centralized until the federated network of gateways goes live sometime in the future, the operating team needs to host the wallets responsible for deposits/withdrawals. Accounts cannot be banned on the blockchain. While we can block users on our own gateway, the user could still use another gateway like Openledger to trade and withdraw his funds. This is a trade-off while development for full decentralisation is ongoing, it needs to be funded by current exchange operations as it is quite resource heavy and time consuming.
In the world of cryptocurrencies, who are CryptoBridge's primary competitors?
Is IDEX (which only trades ETH and ERC20 tokens) a competitor because of their decentralized nature? Is a platform such as TradeOgre (which generates similar volume) a competitor when they mainly trade CryptoNote projects? OpenLedger since it's also built on BitShares? Each of these projects has such different attributes that under close inspection, one might be hard-pressed to say they are in direct competition with CryptoBridge, yet on a more general plane they definitely are.
Differentiation, as in all endeavors, will unlock a variety of advantages and liabilities.
What's the differentiator that makes CryptoBridge a leader long-term?
Our current differentiating factor is the balance of decentralized and centralized facets of our trading experience.
The BitShares blockchain is very fast, similar to a traditional market experience, but also has completely transparent order book and trading activity/history. We can't front-run our users' trades, nor do we accept a project's asset as compensation for listing (meaning we don't short-sell the projects we list). It's also easy to identify wash trading activities. These are the benefits of being built on a completely auditable blockchain (via the BitShares block explorer). Information is power, and that is something we're really pleased that we can offer for the users.
We will be representing the highest quality assets from all parts of the cryptocurrency market cap spectrum, providing support and supplementary services for these projects and maintaining a reputation of consistent reliability, security and high-quality user experience.
What is CryptoBridge's plan for adoption?
Our most basic goal is to bring the project to the highest level of decentralization without sacrificing performance. The objective there is to raise security and transparency while still retaining ease of use.
Education is of the utmost importance, and so an official educational partnership will soon be announced where we plan to create a dense lattice of free, useful materials for people as they become interested. Crafting an environment and experience which is equally empowering and enjoyable will be key to integrate these newcomers into our core user base.
Currently the US and Canada are where most of our users reside, but Russia comes up behind them in numbers. Quality translators and liaisons for non-English speaking markets would be the next logical step to engage users in other regions. Monitoring account creation, web and user traffic are the most basic metrics however a heavier emphasis on growing our Twitter engagement is currently in development which ties in with educational role we'd like to play.
Some time ago Panama wrote about the "make it rain" feature as a block in CryptoBridge's true decentralization. Beyond steps being taken to resolve the issue from occurring once again, what has been done to further the goal of true and complete decentralization?
Referring back to the education initiatives we're developing, we definitely agree that this needs to be a lot more clear. The conversation and general understanding about what decentralization means is often over-simplified.
Working from this premise, we have identified three categories of perspective: agnostics, pragmatists and purists. Instead of thinking of things as being "truly" decentralized in a binary way, we like to look at it as a spectrum of components which may or may not be decentralized. Agnostics don't know enough to have an opinion (they just want something that works). Pragmatists start from the edge and work toward the center (balancing the current functionality of centralized elements and decentralizing them incrementally). Purists work from the center (completely decentralized) outward toward improving functionality, and tend to have the most rigid, categorical criticisms.
So where does CryptoBridge lie on this spectrum? We're most of the way there, but decentralizing capital deposits will place our operations firmly onto the end of the scale marked "decentralized." Meanwhile, we continue to have a high degree of functionality that users can access easily. Questioning the "trueness" of decentralization casts this debate in a moral lighting which just isn't entirely relevant or useful in our opinion.
Following the Cryptopia exploit earlier this week, someone asked if we'd be taking steps to freeze any accounts that accepted funds from the addresses identified as belonging to the thieves. We were criticized for protecting ourselves in the issue with Kalkulus, so is that the right thing to do? What if there's a mistake and we freeze the wrong account? In an instance where atomic swaps are employed for trading, no one would be able to do anything about it. Is everyone prepared for that eventuality?
The point we're getting at here is that there are no easy answers, and boxing in ideas about how to make these choices is extremely slippery. It's more useful to have an ongoing discussion, compare risks and benefits and to continually educate people than it is to say "decentralized: good, centralized: bad."
Have incentives been added to run CryptoBridge nodes?
Bitshares provides no incentives for running nodes. While there have been plans to provide additional incentive for hosting nodes for the community (including CryptoBridge users), the current market conditions have halted those plans.
Why did CryptoBridge change their update fee from free to 0.5 BTC for consensus changing coin updates?
In the past, we've had free updates and we were overrun by coin teams requesting updates, giving us often inferior code to compile resulting in added effort on our side. In addition, a lot of these forks ended up causing huge issues for the support team as not all users were informed that there had been a fork. People continued to try to deposit into CryptoBridge using outdated wallets or depositing into addresses that were no longer valid. The manual process of retrieving those funds and crediting to the users really increased the required workload to support a fork.
Ever since, we decided to charge for forks and swaps in order to split the added costs with the coins that request it. Non-consensus updates 30 days apart are always free as there is almost no additional effort on our side to install it.
What is the CryptoBridge plan for adding more trading pairs?
Following some of our recent logistical developments we will be able to exercise an extremely high degree of freedom and ease in listing new assets. We plan to use this increased flexibility to exercise greater scrutiny over our listings and also open the avenue to all manner of tokens.
S.W.O.T Analysis!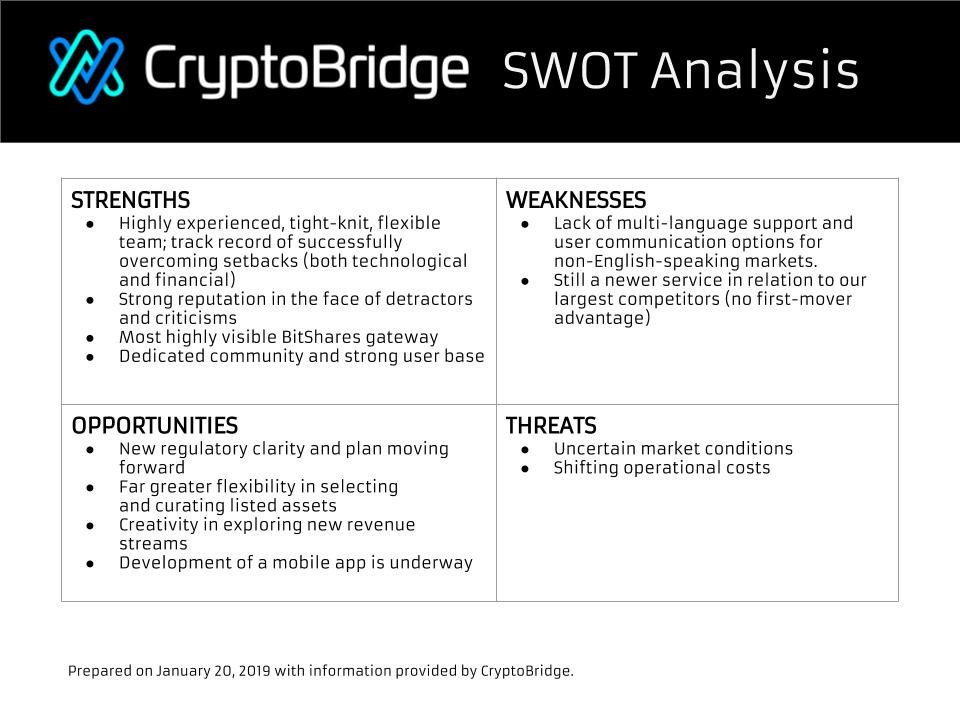 Thanks for reading!
Lightning Network tipping jar: