Not only is Franco-Nevada the world's first gold royalty company, but it is also the world's largest and most successful gold royalty company. Franco-Nevada has the most robust commodities portfolio of all royalty and streaming companies in terms of asset diversification, geography, project pipeline, and revenue type, resulting in sustainable and consistently growing dividends.
Previously this series focused on a top level overview of Franco-Nevada. Now, we're digging into Franco-Nevada's Australia operations and will be following-up with regional-specific posts to gather a complete understanding of Franco-Nevada's commodity and country risks. This blog is the tenth post in this series. For those interested, here are the other articles that led us to where we are today:
Franco-Nevada's Australia Operations
Most recent data shows that Franco-Nevada's adjusted EBITDA by commodity comes to 66% gold, 16% silver, 7% PGMs, 8% oil and gas, and 3% "other." When one considers the adjusted EBITDA by geography, we see geographic diversification built into Franco-Nevada's business with an EBITDA at 42% Latin America, 21% Canada, 18% United States, and 19% rest of World.
Precious Metals:
Other Mining Assets:
Oil & Gas:
Maps with the projects highlighted:
Click the images below for Franco-Nevada's complete asset map.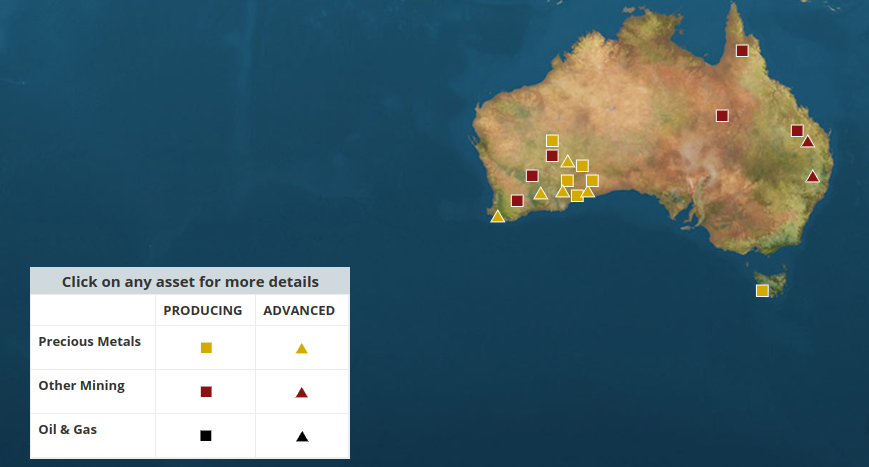 Final Thought:
Stay tuned for the next article in this series! We'll be digging into Franco-Nevada's Australian royalties portfolio.
Lightning Network tipping jar: