Unemployment rates are misleading,
"Young adults are the last to be hired and first to be fired. They are the most economically fragile segment of the population and their levels of employment offer the first signs of economic stress. Given that, the chart below showing the percentage of 15 to 24 year old employed males and females versus initial unemployment claims offers a 'canary in the economic coalmine'. Every economic cycle, the young adult employment peak has nearly perfectly lined up with cycle bottoms in UE claims and ushered in an economic downturn.
Quite noticeable in the chart below, young adult employment peaks have been coming at progressively lower participation rates. The diving participation rate for young male adults is pretty hard to miss. The negative implications of the declining employment rate (coupled with record student loan debt) on financial insecurity is driving family formation and fertility rates to record lows. As for 15 to 24 year old females, their labor force participation peaked in 1989 and has likewise been falling since. Perhaps young females are the most economically fragile of all, as their labor force participation rate peaks have almost matched the UE claims lows during each cycle. As the far right of the chart notes, young female employment participation is significantly falling and UE claims appear to have bottomed…the typical sign of the end of the economic cycle." – Economica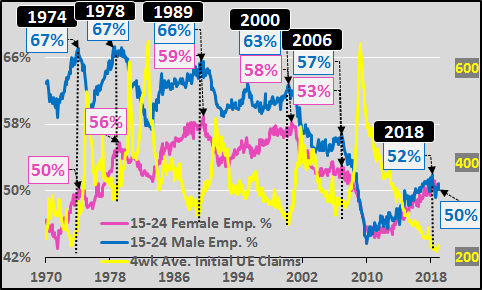 This is NOT the greatest economy ever.
"After the mortgage-securitization-fraud-housing bubble popped, a secular trend– wages for the bottom 95% of wage earners stagnating–accelerated. Getting ahead via earning a college diploma, working hard and counting on merit no longer worked; families with privileges and capital got wealthier, and everyone else found the purchasing power of their earnings declined even as stocks and housing soared." – OfTwoMinds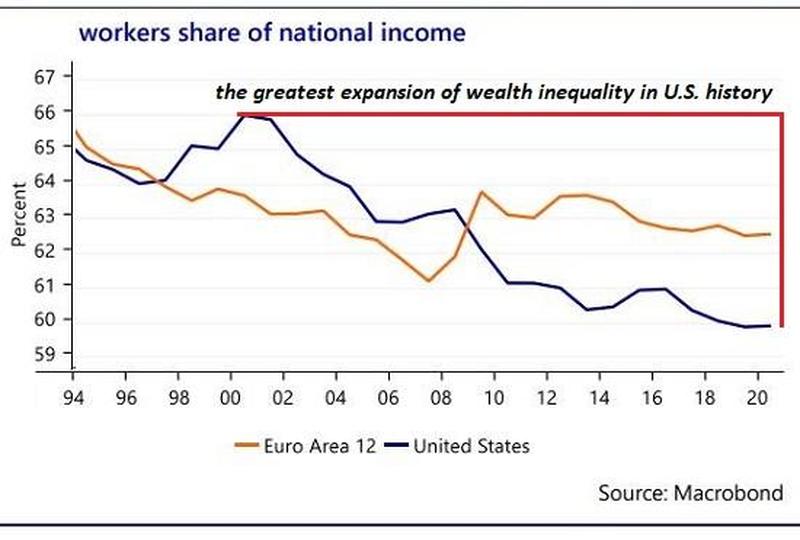 Market manipulation has become routine,
"In practice, the effective FF tends to occasionally diverge from this corridor, and when it does, it prompts fears that the Fed is losing control over the most important instrument available to it: the price of money, which is set via the fed funds rate … ever since March 20, the Effective Fed Funds rate has been trading above the IOER. This is not supposed to happen … and has prompted numerous concerns among the analyst community – what is going on and why has the Fed – which previously adjusted the IOER specifically to avoid having the EFF trade outside the corridor – lost control of rates so badly." – Zero Hedge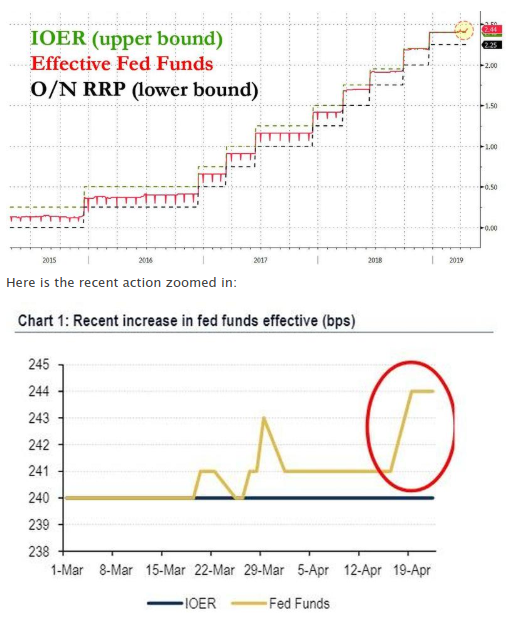 "More than ever today, market participants armed with massive artillery of algorithms can hold markets hostage until they get what they want. They can trigger momentum (up or down) and create massive dislocation in stock prices. They have the power to suck the entire system down the drain; what's dangerous is – they know it. In turn, valuations continue to stretch. Central banks globally will continue to respond. Monetary cans will get kicked down the road until economies structurally heal, demographics become healthier, and wages catch up after close to 30 years of stagnation(?) Or until the drug they provide no longer works to manipulate stock prices." – Real Investment
But all "good" things come to an end.
"An extremely modest rise in 30-year mortgage rates has prompted a sudden collapse in mortgage applications for refinancings. Overall, mortgage applications tumbled 7.3% last week and are down over 15% in the last three weeks – the worst drop since January 2016. But the real pain is in refis – which crashed 11% in the last week (after falling 8.2% and 11.4% in the prior two weeks) as mortgage rates ticked up." – Zero Hedge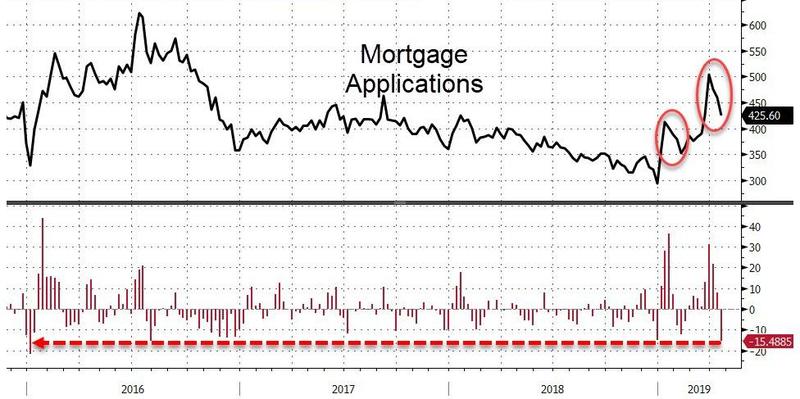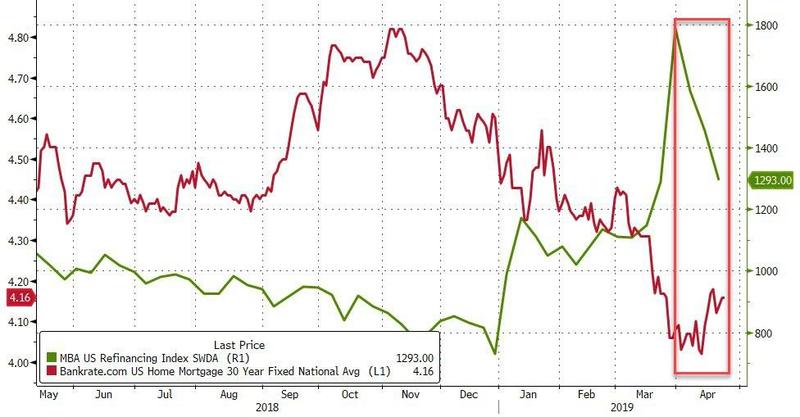 Face the facts …
"The early warning signs of recession are everywhere.  But the depth of this recession, (absent working age population growth, coupled with large 65+yr/old elderly population growth, record debt levels, and minimal interest rate flexibility) will be more severe than anything the US has faced in its history.  This is not business as usual and this is likely the US's (and most nations) last chance to prioritize and strategize for a best possible outcome in a new and entirely different era." – Economica
"When the longest-running economic expansion in U.S. history comes to an inevitable end, the Federal Reserve will likely find itself in a peculiar quandary: With rates already close to zero, it will have few tools to spark growth." – Bloomberg
"The economy is now totally and completely dependent on inflating asset bubbles. Bubbles always pop, destroying the capital of all who neglected to sell at the top. If 'getting ahead' depends on playing asset bubbles, it's not getting ahead, it's gambling." – Charles Smith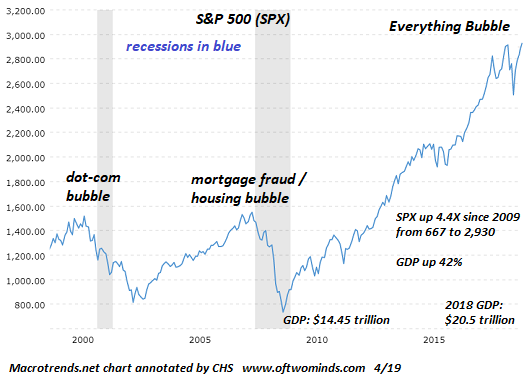 "Predicting recessions is a fool's game. Many thought one was imminent when stocks fell at the end of 2018, but markets and confidence recovered. That said, worrying signs abound. China is slowing down, trade tensions persist and a key indicator in the bond market is flashing yellow. Around the world, corporate debt looks high and increasingly risky. So if a recession does materialize, what can the government do? With Donald Trump in the presidency, fiscal stimulus seems unlikely, unless it comes in the form of more tax cuts (which aren't a very effective form of stimulus). That leaves the Fed. But with interest rates still under 3 percent, the central bank doesn't have much room to cut rates to fight a recession. The Fed has tools to fight the next recession. But its options are shrinking, and the efficacy of new approaches is in doubt. People might be wise to expect less help from the central bank the next time the economy goes south." – Bloomberg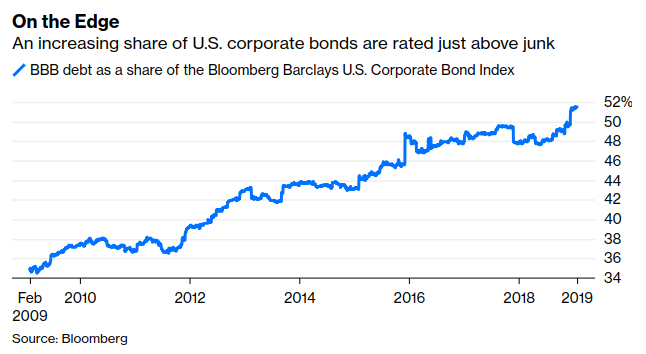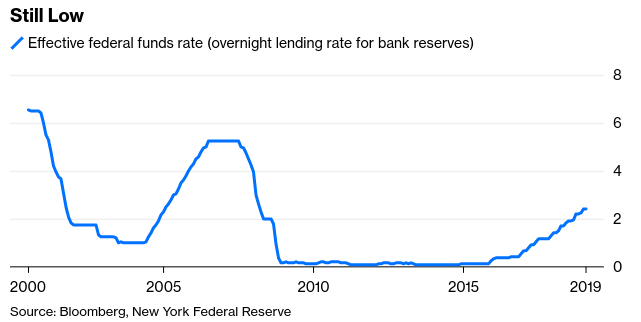 Greed is back.
Investors are driven by two emotions: fear and greed. Too much fear can sink stocks well below where they should be. When investors get greedy, they can bid up stock prices way too far. So what emotion is driving the market now? CNNMoney's Fear & Greed index makes it clear … GREED.
Put and call options – extreme greed
Stock price strength – extreme greed
Safe haven demand – extreme greed
Market momentum – greed
Stock price breadth – greed
Market volatility – neutral
Junk bond demand – fear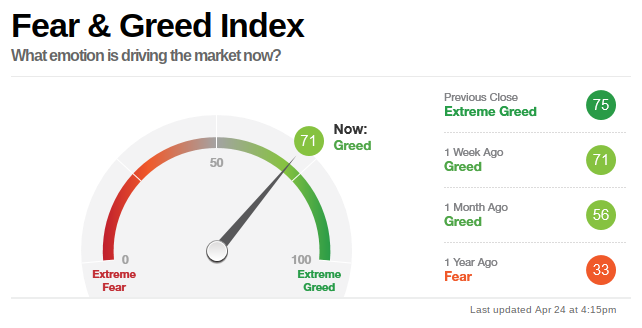 "… be fearful when others are greedy and greedy when others are fearful." – Warren Buffett
Are you prepared?
Worried about historically high stock valuations? Wondering if precious metals have a place in your portfolio? Not sure if cryptocurrencies are a unique asset class? Interested in investing for all economic conditions? Proper risk management and portfolio diversification are not difficult to achieve.
What is Investment Diversification? introduces the concept of diversification, defines the importance of risk management, identifies investable asset classes, and then digs into each asset class in depth. Get the book – click on the image below!