Loki has been trending the last couple months… but why? Isn't Loki simply Monero with masternodes slapped on, or is there reason, intent, and innovation behind this project? Please enjoy my interview with Simon Harman, founder of the Loki Project, as we dig into this privacy tech start-up.
"Trade And Communicate With Absolute Freedom"
"Loki as a concept was created in late 2017 by a group of Australian cryptocurrency enthusiasts. What started as a part-time passion between friends quickly evolved into something bigger, and at the beginning of 2018, the project attracted seed funding and subsequently, a talent pool.  While the launch, private sale, and all major works so far have been carried out by our team, Loki is an open source project and will remain so. We make no claim to the ownership of the Loki concept, brand, or technology. We consider our work to be authorship only."
Explain Loki to me as though I'm new to cryptocurrencies. What does Loki do?
Loki is a form of private digital money, where the currency itself is used to regulate a network of participating computers. Using this decentralised, autonomous network, you can send money, private messages, and browse the internet anonymously. Loki addresses some of the major issues with existing privacy projects by utilising a novel combination of technologies.
Loki will be one of the Internet's most secure platforms for anonymous private communications. The messaging system we are developing will allow users to send a messages without revealing to anyone (except the recipient) that they sent a message at all, let alone its contents, or where it was sent from. There is no central message server to collect metadata from. Every connection to the network is routed through three other nodes to prevent a user's IP address being revealed whenever they connect to the service.
On top of that, users will be able to access the wider internet whilst utilising the node network to hide their IP address when connecting, and also access hidden web applications called SNApps which sit inside the network.
Further, Loki's use as a currency will be assisted by the ongoing development of useful key management systems that will allow developers of websites such as marketplaces, subscription services, or social media platforms to authenticate users by public key cryptography instead of a phone number or email, greatly assisting user anonymity whilst also improving security. This same tool can be used to integrate Loki as a currency into any number of privacy focused apps.
What are some common misconceptions about Loki that should be cleared up?
Loki is a fork (not a clone) of Monero, a fork of the Signal Desktop app, and Lokinet is a brand new project from scratch initially designed by Jeff from our team. We're drawing on a whole bunch of open source projects to put ours together, but one of the biggest misconceptions is that Loki has set up this whole blockchain thing 'just' to create a new messenger.
Loki is not just one product or use case, and the messenger draws on both Lokinet and the Loki blockchain to function correctly. It is more of a proof-of-concept than the end state of the project.
I also think people are quick to dismiss the messenger because they haven't fully read into the unique qualities it has. Loki Messenger will be the first end-to-end encrypted and IP anonymizing messaging service where both users don't need to be online. Our products differ in subtle but important ways to existing products, and our messenger will probably be one of the most secure messaging products available – but communicating this effectively is going to be a challenge for us into the future.
What is Loki's plan to mitigate the potential risks that come with a decentralized organization?
We actually are structured as a non-for-profit in Australia. There are a bunch of governance requirements laid out by the ACNC that we have to follow which give our organisation a great deal of collective governance qualities. However, to say that our organisation is decentralised is disingenuous. There definitely is a core team of people that make most of the judgement calls for the time being, but as the Foundation evolves into a larger organization, this will become more democratic in its nature. I don't see a 'DAO' or some other untested governance structure being a very effective strategy for solid governance into the future.
We also have external auditing and compliance requirements that we have to meet, so we are actually relying on the tried and true governance methods of many open source projects that have come before us, most notably the Mozilla Foundation.
We have a fair bit of information about who makes up the foundation, how it works, what we are currently up to, and we also have a full copy of our constitution available on the foundation website:  The Loki Foundation
In the world of cryptocurrencies/ blockchain, who are Loki's primary competitors? Who are Loki's allies and how do they help Loki?
In the world of privacy tools, we all draw on the work of each other. However, if successful in our vision, Loki will hopefully compete well with services like the Tor network, and private messaging services such as Signal and WhatsApp.
In the world of cryptocurrencies, our closest competitors would be projects like the Orchid Protocol, Mainframe, and ZenCash. However, the only project that we can see that is currently funded to work on a blockchain based mixnet, Orchid Protocol, despite raising somewhere in the vicinity of $40m USD, has gone almost completely dark.
Others have explored the possibility of using a blockchain regulated node network to route messages, including Mainframe, who seem to have gone back to the drawing board to build something bigger and better. They seem to be making good progress, but ultimately there are key differences in our visions, and there is a lot to be desired as far as details regarding implementation and attack prevention.
As far as allies go, we have established some great relationships with other projects and talented individuals over the last year. We do a lot of information and idea sharing but so far there hasn't been a very clear case for a 'partnership' with anyone. However, we do have a working relationship with the Monero Project. We obviously benefit from upgrades that come from their end, but we also push up new features when applicable. This is the great thing about the open source world – projects with different goals can still benefit from each other's existence and advance the space as a whole.
How is Loki focused on fair distribution and decentralized coin supply?
You can read how our premine was distributed here: Premine Report – however beyond that there is little to say about distribution. Being a privacy coin, it is not possible to know how distributed the supply really is.
However, it is my belief that with the thousands of miners that participated in mining Loki post launch prior to the block reward being cut, that Loki is substantially better distributed than many other early projects. Service Nodes are something we have greater insight into. At the time of writing, there are 356 Service Nodes live. It's been 2 months since they were launched, and we have seen a consistent and steady growth in the percentage of all Loki locked up in Service Nodes, now sitting at 41.1% of circulating supply.
The economics behind Service Nodes has been carefully studied, the results of which you can read about there: Loki Cryptoeconomics
Beyond being a dividend machine, what does the Loki masternode actually do?
Masternodes have a huge stigma against them because many have associated them with scam projects, but the idea of incentivising the network of nodes to perform certain actions, or else be booted off the network, is actually a pretty useful idea. Not many projects have caught onto this yet, but this is the key to unlocking new use-cases for blockchain. 
"We are taking the concept of masternodes and actually using them to do something external to the blockchain."
This is one of Loki's strongest points – a Service Node operator is actually going to be participating in the mixnet as a relay of traffic, and they will also be responsible for the storing and serving of messages in use with Loki Messenger. Unlike most masternode systems, Loki's Service Nodes are critical to the core use cases of our project, and perform functions that do not directly interact with the blockchain.
However, Loki's Service Nodes will also be used to lock outputs in ring signatures, therefore allowing users to send a transaction which is confirmed in under five seconds. There is also a proposal up on the LIP GitHub which advocates to use the Service Nodes to checkpoint the blockchain every few blocks, thereby preventing blockchain reorganisations above a certain size, mitigating the risk of 51% attack and other forms of PoW attacks that affect Cryptonote coins such as ours.
We continue to research and develop new ideas about how these nodes can be used and also borrow good ideas from other projects.
What is Loki's plan for adoption?
There are a number of things that we are working on that could prove to become popular. First and foremost would be Lokinet itself as a means of accessing the internet privately.
The privacy community is very conscious about how the tools they use work, and once Lokinet starts to enter the community discussion, I think it will become fairly evident to this group of people that Loki offers substantial improvements over existing tools. Not least because Lokinet supports both TCP and UDP, meaning that almost anything can be easily routed through Lokinet.
Our primary target for our user base are those that already use privacy tools on a regular basis.
Users of the Tor network, Protonmail, Signal, and other common privacy preserving applications already understand the need for these tools, and with improvements to certain qualities of them, we hope to offer a compelling reason to adopt and contribute to the ongoing development of the Loki project lineup. These users come from all sorts of places, but generally all work in the technology industry and to a lesser extent the business and media industries. Most of these users are skeptical about the intentions of governments and corporations, especially large tech companies, and are extremely proactive in their selection of software and services they utilise.
Our go to market strategy involves the prompt release of early versions of our software so that the wider development community can start to participate in reviewing and improving upon our products. Once that starts, we'll be pushing to get some educational pieces published in as many technology-focused media outlets as possible, and gradually start presenting Loki as a viable and desirable alternative to existing privacy tools.
This will be a gradual process, however I think this will be the best approach to sustained user growth.
Why invest in Loki?
"Current conditions are terrible for any new project entering the space, or any project relying on the value of their crypto assets to survive. Luckily we are in neither boat, so the current market conditions are actually really useful, as it reduces people's expectations to run ridiculous campaigns to boost short term interest in the project, and allows us to cut through the sea of projects who are now struggling and aren't delivering on their promises."
Loki has performed well on the markets in recent months, and I think that is largely due to the fact that we are actually delivering features and pushing out a heap of code on a daily basis across all of our products. I challenge people to send me projects that started in late 2017/early 2018 that are shipping as much functional code as we are, because I'm convinced we are one of the highest output teams in the blockchain space at the moment, and I'd love to be proven wrong.
Sadly though, I think we have also seen a climb up the ranks because so many projects that were ahead of us have simply gradually started to fade out of relevance due to a lack of product, funding, and/or consumer interest.
People should invest in Loki if they are looking for a project that is delivering something with immediate real world utility, has a team that is extremely active and committed, and is very development focused. I could go further with this question, but given that there are so few blockchain projects that meet these criteria out there these days, I think it is a pretty strong unique selling point to a typical cryptocurrency trader.
S.W.O.T Analysis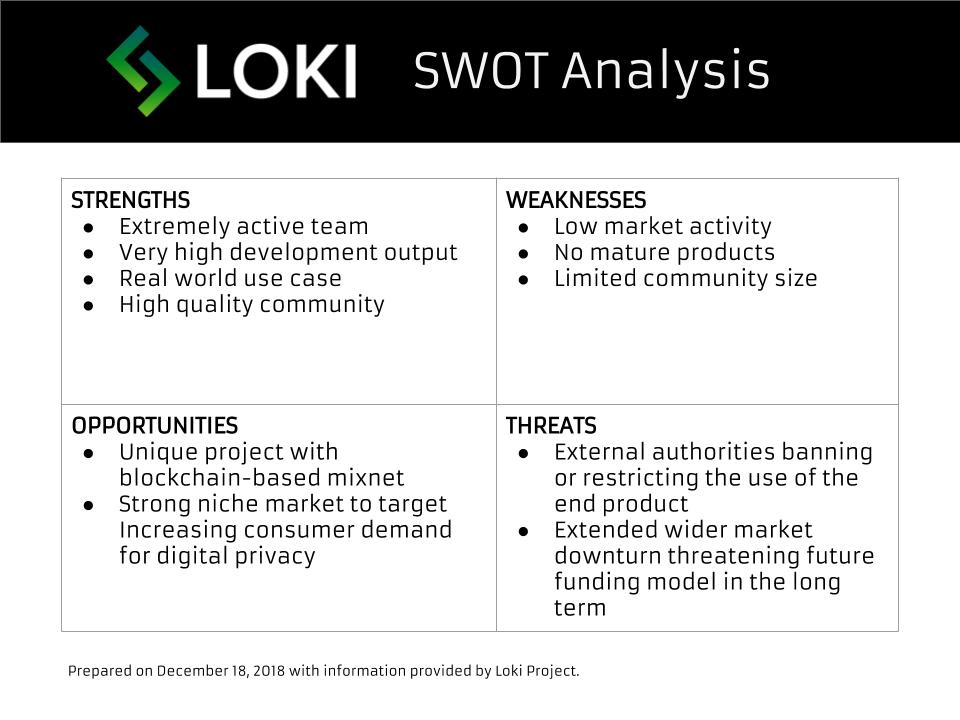 Thanks for reading!
Lightning Network tipping jar: