Best question all day: "What do I get out of this?" I use these interviews with cryptocurrency projects as a final determinant in my investment process. The speed with which a project responds to my inquiries is an indicator… or maybe a red flag? HOW a project responds is also an indicator. In my experience, a project that takes time with difficult interviews such as this, answers objectively and intelligently, and is humble and data driven in its approach is a rare occurrence. It shows pride in ones work; a project that doesn't have a great offering, that hasn't spent the time developing unique technology and an organic community, doesn't really have much to talk about, does it? Not only that, but I always learn something new from these interviews, something to direct my next thought process or research. As always, I'm hunting for a masternode gem! This is how I've come to @ionomics …
Everything You Need To Know About ionomy In 20.5 Questions: an interview
with @AdamMatlack, Chief Strategist of ionomy
1. Explain ionomy to me like I'm a smart 5 year old.
Chutes and Ladders is fun. But what if you got candy when you won? ionomy Studios makes games that are fun to play, but when grownups play them, they can win money and have fun.
ionomy.com is a website where you can store all the candy you won, trade it for other kinds of candy, or discover more games to play that are fun — and that also let you win candy! ionomy is like the baby of Santa Claus and the Pied Piper. The Pied Piper "Mom" tries to get all the clever fun people to make games for kids that are fun to play. And the Santa Claus "Dad" side gives them candy that game makers can give away to the kids when they win the games.
We've also been investigating whether we can integrate ionomy into popular games such as League of Legends. We're looking at allowing purchases via a league of legends skin store using the very rewards you can earn from our platform. We've noticed that in gaming specifically, most people resort to using cheats, as is the case with GTA (as found on GTA BOOM), but through our incentivised rewards, we're hoping to help game manufacturers crack down on the use of cheats.
ION Core is the team of people that builds the candy factory and ensures production of the delicious candy flavors that everyone wants to eat.
2. What are some common misconceptions about ionomy that should be cleared up?
"There's a misconception that ionomy Studios, ION, and ionomy.com are all the same. In reality, the ION ecosystem thrives on the synergies of distinct components."
ION  ?  ionomy Studios  ?  ionomy
ION

is the decentralized blockchain-based cryptocurrency developed by ION Core, the developer team.

ION uses a Proof of Stake protocol, features a masternode network, and offers a zero knowledge proofs privacy protocol.

ionomy Studios

designs games that encourage users to take part in the ION economy by competing in weekly mobile gaming tournaments for cash payouts.

ionomy.com

is a platform for gaming and financial services, including web wallets, hosted masternodes, and tools to use, spend, or trade cryptocurrency winnings from ionomy Studios games.

ionomy

builds partnerships with third party game development companies, encouraging adoption of the ionomy PWR-GRD, the suite of services that makes integration with the ION ecosystem easy.
3. What sorts of demographics best fit the ionomy philosophy, mission, and vision? Who is your target audience?
Each of the projects above has distinct target audiences:
ionomy Studios makes games that use ION cryptocurrency as an incentive. The developers target all kinds of gamers — including those who have never even heard of Bitcoin. The aim is to make popular games that are easy to play. When it's easy to win crypto, gamers can get familiar with cryptocurrency in a low-risk setting with no technical hurdles.
ionomy's "Power Grid" is a suite of services that help game developers make games that enjoy the ION Advantage. The Power Grid services target game developers who want more exposure, or who want to make their games more attractive because they use cryptocurrency.
ionomy.com attracts traders with its best-in-class trading platform so more people will discover the ecosystem of goods and services that have developed around ION. ionomy.com also attracts holders of various currencies through affordable, reliable, and secure hosting of online wallets and masternodes. ionomy wants everyone who holds crypto to discover the robust set of tools and services available on ionomy.com.
4. Recently I've seen some masternode currencies with a lack of focus in terms of allocation of capital. This becomes an issue for the investor… they invest with the expectation that management has their best interests in mind (a fiduciary duty). Where is ionomy's focus right now? What's getting spend in this down time in preparation for future growth?
The ION Core Developer Team, in conjunction with the ION community, has recently put forth five ION Investment Proposals (IIP's). These focus on increasing the role and accessibility of masternodes. One introduces ION blockchain support for secondary tokens than can be used on ionomy.com and in games. And if you love gaming my friend recommends you check out the best gaming laptop under 2000 so all of your gaming needs are taken care of with power and portability. Another focuses on making masternodes more affordable to operate by reducing the collateral requirement. Yet another restructures rewards from Proof of Stake (PoS) to Commitment of Stake (CoS). The longer masternode operators commit to run masternodes, the more ION rewards they earn.
Together, these proposals have the potential to increase demand for ION (to run more affordable and more lucrative masternodes) and to reduce the supply (because more ION is locked up off-market so that people can run masternodes.
Once game developers start incorporating secondary tokens, the ION blockchain will distribute some of the fees to masternode holders. As transaction velocity increases, masternode fee-based rewards grow.
"Ultimately, there are a ton of developments that give people more reasons to acquire and hold ION and run masternodes."
As for downtime, I see it more like when a caterpillar pupates: it looks like nothing's happening… until a butterfly emerges. Then you're like, "Whoa!"
5. How is ionomy focused on fair distribution, decentralized coin supply, and protecting investors through good governance?
The set of IIP's discussed above (answer #4) will be voted upon by the ION community. ION holders are the governors of the ION coin protocol. Through the IIP system, anyone in the ION community can contribute a proposal or critique proposals. Since it's an open source project, anyone can contribute pull requests to the GitHub repo. In a decentralized system, stakeholder agency is encouraged and innovation rewarded. ION Core also posts defined tasks that independent coders can complete to earn ION.
6. What % of ionomy is owned by the top 10% of wallets? Top 25% of wallets? How many masternodes are there? What's the month-to-month growth of masternodes this year? What about in the last 30 days… % growth? Is it growing or declining, and why do you think this is so?
ION distribution:
Only 26% of the total supply of ION is freely available for trade.

40% is held in masternodes.

16% is reserved for game development bounties.

14% is reserved for core coin code development bounties.

3.6% is held by ionomy in staking wallets reserved to support the ionomy business model.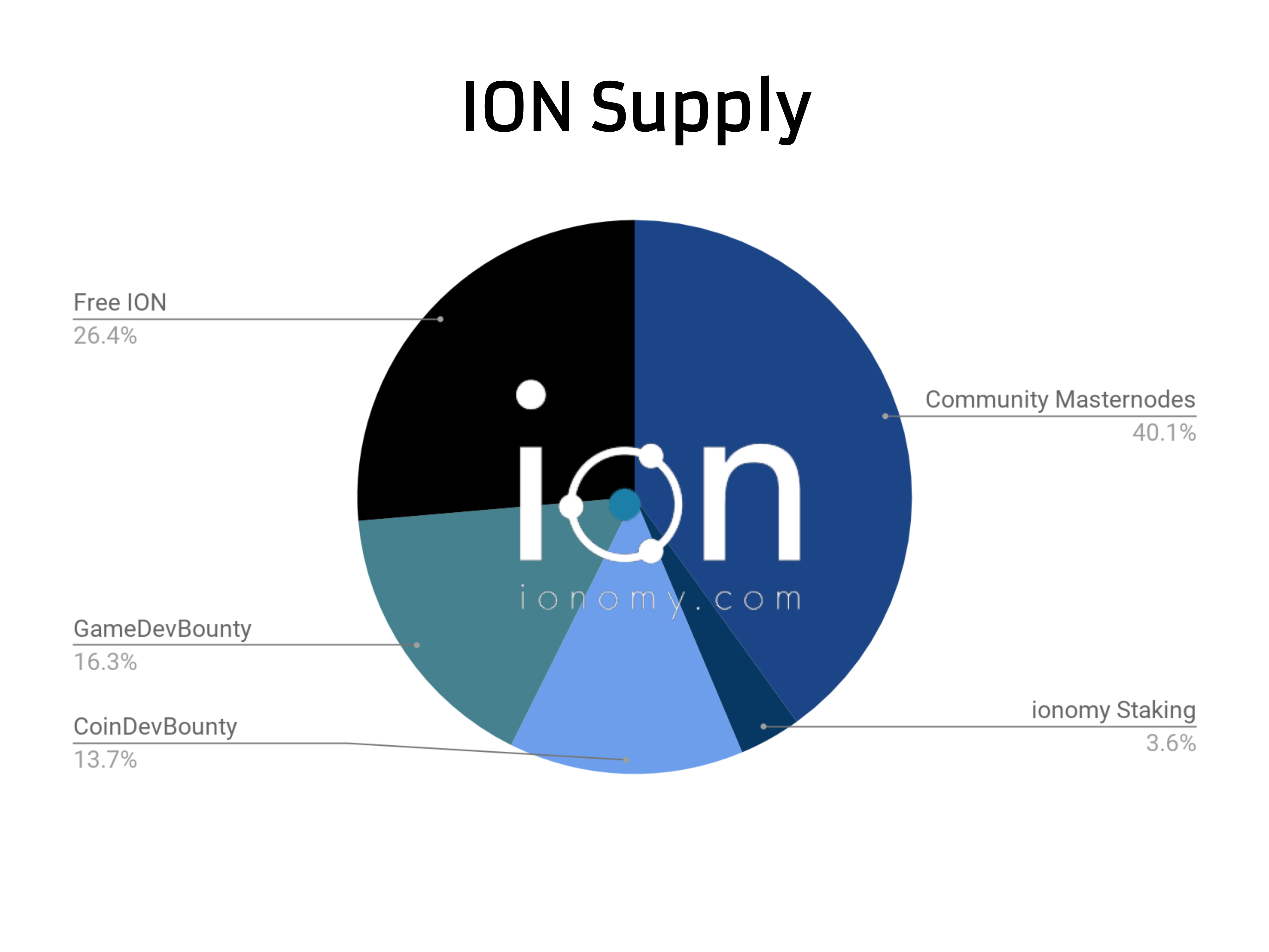 Steady masternodes activity:
Currently, 540 masternodes are online. This number has remained consistent since the beginning of the year with a temporary drop during the hard fork. The steadiness likely reflects the balance between ION in masternodes and online staking wallets. A larger number of ION masternodes could make it more valuable to stake ION in basic wallets than to operate masternodes.
When the Commitment of Stake protocol (IIP #4) is implemented, ION holders will have the option to earn a larger percentage of the static reward by operating masternodes. It is reasonable to project that more people will operate masternodes, committing to lock their collateral for a longer period of time, with the result that more masternodes compete for rewards.
7. Do you view the ionomy roadmap as aggressive, or totally achievable? What has been the track-record for ionomy meeting deadlines?
The developmental roadmaps are both aggressive and achievable. Let's put roadmaps in perspective. ionomy publishes roadmaps to communicate:
Identified developmental targets

Intended sequence of development

Targeted timelines, based on information at the time of publication
A roadmap, of course, can't tell the whole story. ionomy does not discuss, for instance, emerging partnerships and evolving deals. And while roadmaps communicate expectations, they're not great at predicting the realities of market demands, so we regard from the perspective of an agile company.
When ionomy presented at the GDC conference, for instance, the Team learned that the Power Grid component which game developers most sought was the functionality of secondary tokens on the ION blockchain. This information escalated the priority of token integration by the ION Core Team.
"ionomy is driven by a mission to provide value for the ION economy. ionomy and ION Core are nimble and coordinated enough to adapt to market demands."
Finally, since we're always dealing with cryptocurrency, the Teams never compromise on security. They never will in a rush to achieve an internal target, even when that target has been shared publicly. Everyone here understands the responsibility to protect the network is paramount, because putting the network at risk could render all other benchmarks irrelevant.
To understand our track record, please review the charts in Answer #12. Better yet, sign up for an account at ionomy.com and discover all the tools and services!
"Simply put, there are few projects that rival ionomy when it comes to customer facing services, from web wallets, to financial services, to masternode hosting and game asset management."
I'd venture that few offer the efficiency of professional help desk support you'll find at ionomy. As ionomy enters its third year in operation, the growing developer team has vastly expanded its capacity to achieve targets.
8. How is ionomy realizing and/or furthering Satoshi Nakamoto's work and vision?
Bitcoin is brilliant, but right now it's still hard to get into cryptocurrency and many find it intimidating. 
With the invention of Bitcoin, Satoshi Nakamoto solved an amazing array of problems to create the world's first functional cryptocurrency. Even after myriad Bitcoin variations (altcoins) proliferated, none had stable value and none had genuine adoption. Sure, a few companies started accepting bitcoin as a form of payment but the price volatility made it too risky to hold. Mere acceptance (in contrast with adoption) lead to a one-way transactional use for the coin. Merchants dumped bitcoin as quickly as they received it so the price reflected the competition between speculators and users. If anything this was a formula for more volatility, not less.
What would it take to make a coin worth adopting? What would it take to stabilize the value of a cryptocurrency?
"ION is a bridge currency that introduces people to Nakamoto's achievements."
ionomy chief strategist Adam Matlack believed that a digital coin needs a corresponding economy in digital goods. His extensive background in digital mobile gaming helped him see an opportunity to promote a collaboration between a cryptocurrency developer team and a company dedicated to creating use cases for that currency. ionomy Studios was developed as a mobile gaming studio with the express purpose of designing games that integrate with the ION economy. Initially these games were important as a proof of business model, to show that with the dual possibilities of having fun and making money, games could attract players and populate the ION economy with gamers and crypto enthusiasts.
ionomy became much more than a proving ground. The developer experience revealed technical needs and business opportunities that could apply far more broadly if the tools were made available to other developers. The PWR-GRD was born when ionomy Studios pointed to the vast potential of much wider integration and adoption of ION. ionomy Studios' efforts resulted in the development of the Power Grid, a suite of services designed to make it easy for independent game developers and enterprise-scale game companies to participate in the ION economy and leverage Blockchain technology. Each service was designed for a win win.
One example is Lightning. Designed around a secure API, Lightning links mobile game activity to the gamer's ionomy-based user account. Gamers can win prizes of real value (cryptocurrency), spend or trade winnings, and enjoy social leaderboards. Along the way, some may discover other services ionomy has to offer. More important, ionomy can make games not only the easiest way to discover cryptocurrency, but also the most fun!
ionomy is convinced that digital currencies will be an important part of future economies… and that path to adoption can be gentle and fun.
"ionomy helps remove barriers to adoption, awareness, and understanding. Simply by playing a game and having fun, users can win crypto without even knowing anything about it, and without any technical knowledge."
So those are the advantages for gamers, but what's in it for game developers?
The iOS and Google Play stores are saturated with games. It's really hard for even a great game to stand out in the crowd. When gamers can have fun and potentially win cash, the new dimensions stands out and attracts gamers. For developers that want to partner with ionomy, subsidized tournament payouts (in ION) can function as a new layer of incentives. When you add word of mouth, tournaments that pay out in ION may offer a better value proposition than traditional advertising.
9. Complete this sentence: ionomy is the future of: ___________. How will ionomy achieve this future success?
"ionomy is the future of Incentivized Gaming."
Two games with weekly tournaments that pay ION prize money have already been publicly released. A third — our biggest yet — is being tested in private beta. ionomy Studios has also entered into a partnership with a third party game developer team for a very promising game. The game is already popular, and the next iteration will feature the most highly demanded upgrade.
10. Who is ionomy's closest competition? Closest ally?
We're flattered by competition with Amazon.
There are a number of other blockchain gaming projects, mostly in early stages, but Amazon's new GameOn system is the closest competition. ionomy seeks to be a leader in incentivized gaming, and Amazon's GameOn, likewise, adds competition into mobile gaming.  Seeing a giant like Amazon offering a similar service to the one we've built into our games (ionomy Studios has 18 months on GameOn) is gratifying because it validates our idea that rewards and competition can increase the fun for gamers, and increase profitability for game developers. Furthermore, the decentralized nature of ION makes it easier for ionomy Studios to offer incentives to a global market. Developers with GameOn have access only to the US market so far.
"We're forming alliances and marketing PWR-GRD services to game developers."
ionomy's current focus is the development of alliances with the game developer community. We seek to form mutually beneficial partnerships through the PWR-GRD services. Large scale partnerships could increase visibility, accelerate games that incorporate the ION advantage, and exponentially increase usage and demand for ION.
11. What actions are being taken right now that will have long term positive impact on ionomy's adoption?
Making ION masternodes more affordable, rewarding for longer timelock, and raising the cap on potential rewards could reduce circulating supply and possibly even drive ION acquisition.
Adding tokens to the ION blockchain increases use cases not only for ionomy Studios, but also for other game developers.

High visibility racing sponsorships (including NASCAR) market our most fun game yet,

Offroad Heat

, directly to the target audience.

The rollout of the new ionomy.com website will introduce many new services that directly target other coin communities. DASH masternode hosting and a DASH/BTC exchange, for instance, encourage DASH holders to adopt ionomy services, and potentially diversify their portfolios as they discover how much development is going on in the ION ecosystem. Other masternode coin holders will intuitively understand ION.
Dark Matter (XDM) Airdrops

to ION and other voted coins will generate interest and excitement in ION and the ION ecosystem. The process of competing for airdrops could galvanize entire coin communities to pay attention to ION. Since the ionomy exchange will feature XDM trading, everyone who receives an airdrop will have a reason to discover the ionomy platform. Dark Matter is also sponsoring a race car, vastly increasing popular exposure.
"Few masternode coins have a real use case or the active development to realize their potential."
12. What does ionomy look like in 5 years?
The following 3 charts display current achievements, 1 year targets and 5 year targets: ION  +  ionomy Studios  +  ionomy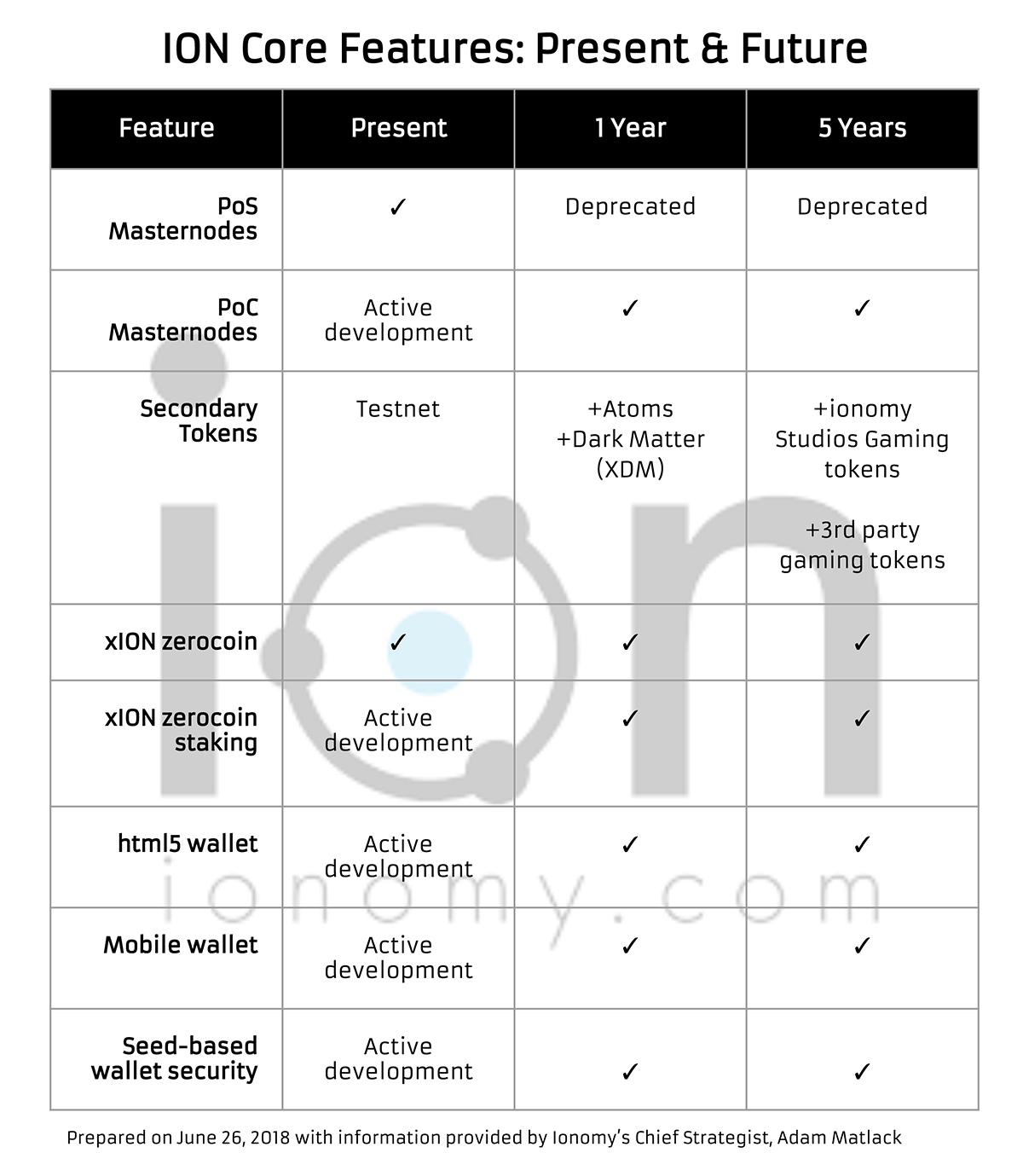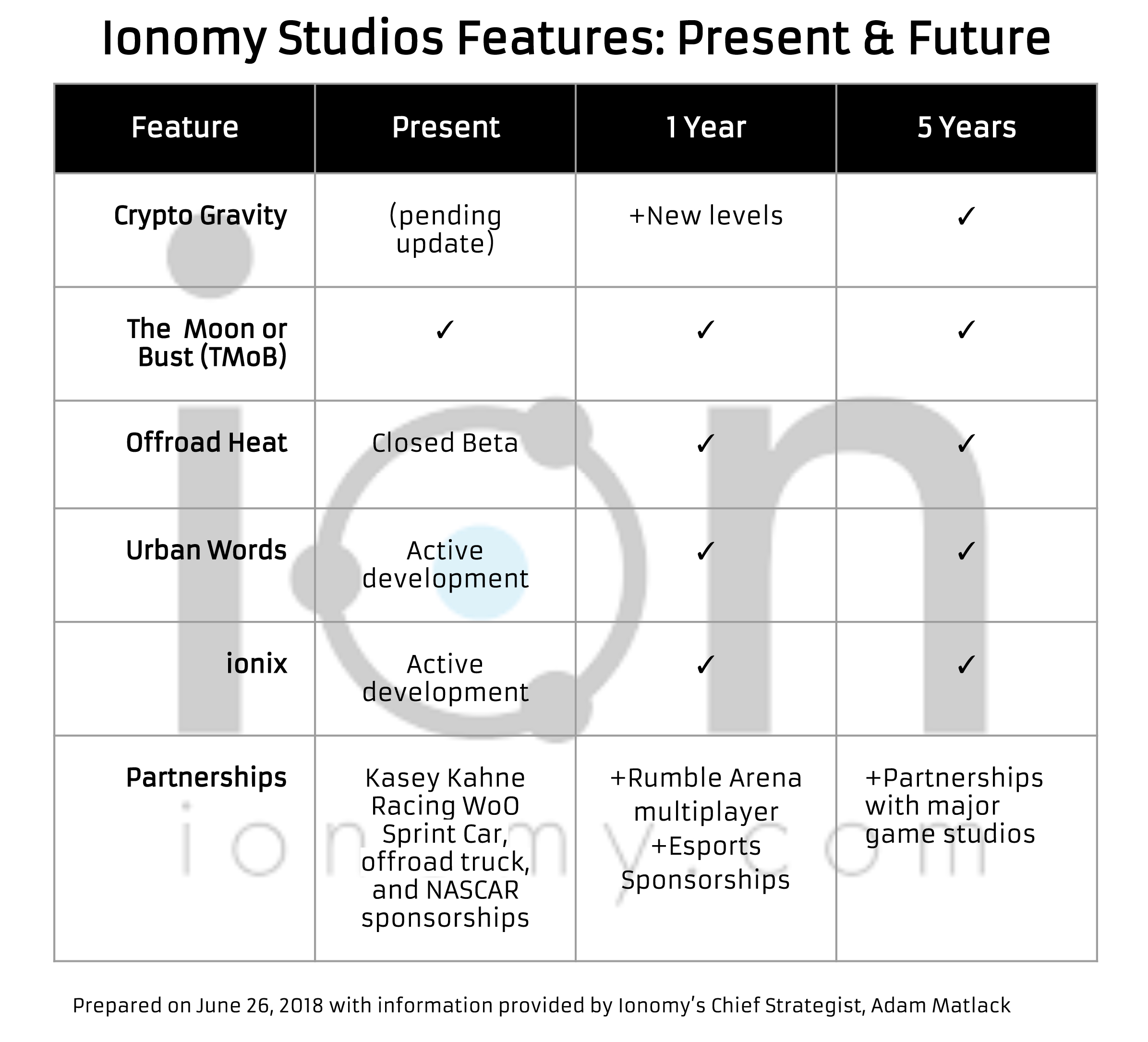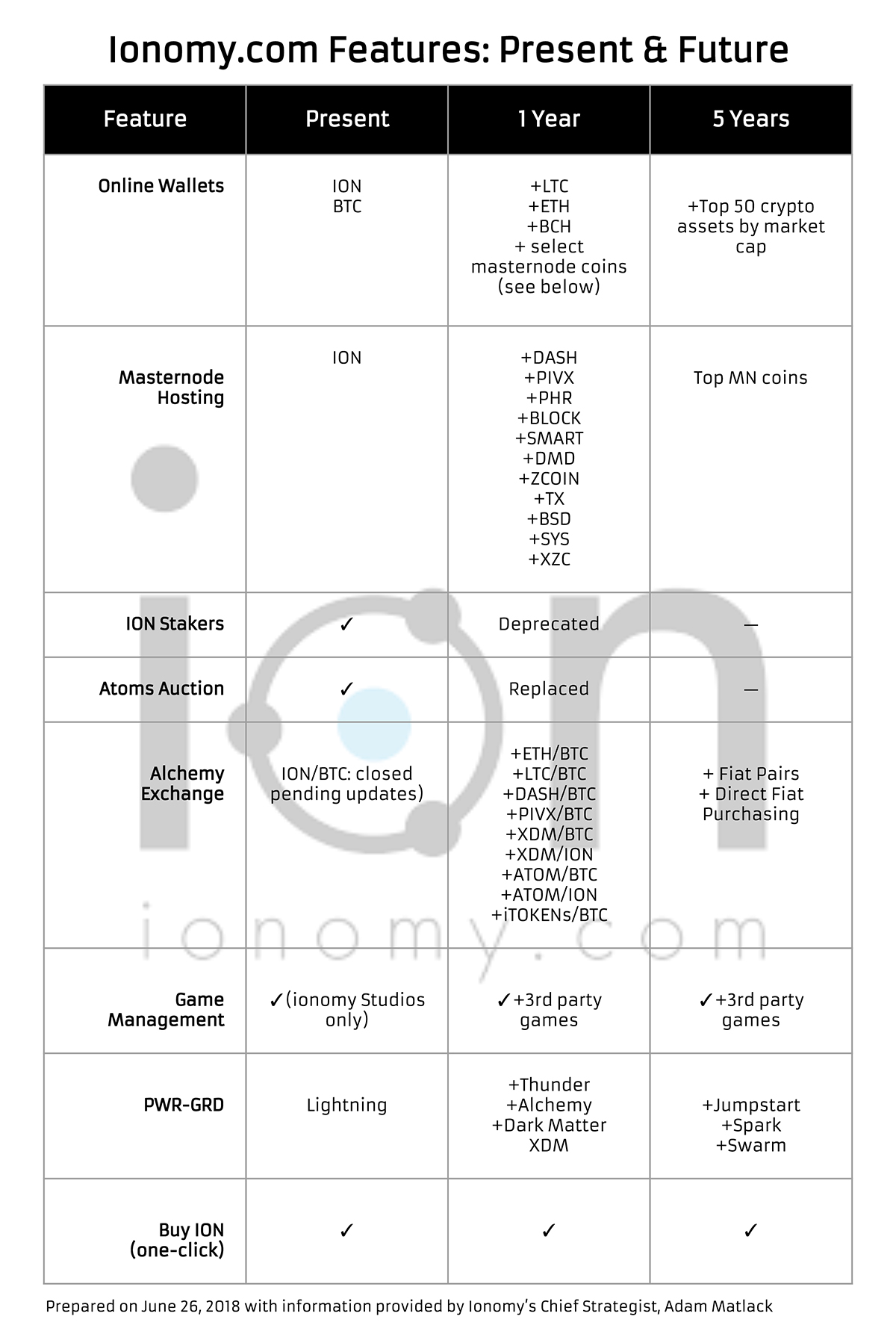 13. Beyond ION being a currency, once ionomy realizes it's current vision, what will the use-cases be?
"As a mature coin, in a mature ecosystem, the ION protocol will function as an expansive decentralized service platform that can be used by centralized service providers, as well."
The use cases will be designed to cater to gamers, game developers, and cryptocurrency users. The ION protocol will feature advanced privacy and security features. The protocol will organize a robust masternode network that allows for efficient scaling. The masternode network will offer protocols for tokens which can be used as in-game crypto assets and/or as fungible cryptocurrencies. Specialized masternodes will implement Swarm, the PWR-GRD service for optimization of low-latency servers to synchronize multiplayer gameplay. The ION/masternode protocol will also facilitate Jumpstart, the PWR-GRD's crowdsourcing platform.
"Throughout the ecosystem, specialized smart contracts will facilitate trustless execution of crowdfunding and gaming related agreements."
14. Masternodes can serve a variety of functions. What's the function of the ionomy masternode?
Currently masternodes secure the ION blockchain by solving blocks. ION Improvement Proposals #2 introduces secondary tokens running on the ION blockchain. ION masternodes will process and secure all token transactions to offload the resource requirements from the main chain, thus ensuring efficient scaling as more tokens are generated and transacted on top of ION Core.
15. I noticed that ION is "static" proof of stake… what does that mean? What are the advantages? What does it mean that ION rewards "connectivity age" instead of "coin age" in order to eliminate exchange abuse? How does that work?
ION uses Proof of Stake version 3 (PoS 3). Version 3 issues "static rewards," meaning that a fixed amount of new ION is generated in each block and distributed to eligible wallets. PoS 3 uses a "connectivity age" algorithm to determine eligibility, meaning that ION software wallets must be verified as online in order to receive rewards for actively contributing network security.

ION chose PoS 3 as an improvement over PoS 2. In PoS 2, the blockchain generates as many coins as needed to reward "coin age" (not connectivity age). Coin age simply means the amount of time that coins have remained unmoved in a wallet address. So the rewards were dynamic (not static) and could be larger or smaller depending on the relative coin age of the wallets online. PoS 2 rewards were issued just for doing nothing (not moving your coins) whereas PoS 3 rewards valued work.
One problem seen with PoS 2 coins was that exchanges, which held large amounts of customer coins, could remain offline and inactive for long periods time. But, when they hopped back on monthly, the network would automatically fork over a month's pay for zero work performed by customer coins. When the exchange dumped the free coins for market value, the sudden volume could destabilize the market price.
It's not that networks and exchanges were bad because they were greedy. Instead, the network designers missed an opportunity to structure rewards that would mobilize mutually beneficial behavior.
The PoS 3 algorithm described above relies upon connectivity age to verify an address as contributing to the network. The result is greater predictability, a more stable rate of inflation, and rewards that incentivize network security. This kind of design is exactly what ionomy is about: using incentives to encourage valuable contributions to the ION economy.
"On June 6, ION announced a new protocol, 'Commitment of Stake' (CoS), to replace PoS 3. CoS rewards masternode operators not just for being online, but for length of time the operator commits to locking ION as masternode collateral."
Masternodes can win a greater percentage of each static block by committing their stake in the network for a longer timelock. The new structure is designed to incentivize consistent operation of the masternode network, which is even more crucial since masternodes will be taking on new responsibilities to maintain security of all secondary tokens on the ION blockchain.
16. ionomy offers enhanced privacy through decentralized coin mixing… does ionomy consider itself a privacy coin as well? Is there a focus on privacy, or is this a feature?
ION, at its core, is a traditional cryptocurrency with a blockchain based ledger that records all transactions transparently. ION also incorporates the capacity to mint zero-knowledge proofs as a secondary feature. This cutting edge technology allows users a degree of privacy in their financial lives. If users want a 100% privacy coin, they can use ION or other options available. If users want a transparent blockchain, they can use ION for that, too. ionomy supports user choice and offers the best of both worlds in a hybrid solution.
17. Developers are key to every cryptocurrency project, and I see many underpaid for their efforts. What's up with the ionomy devs? Are they happy? Is the dev team growing? Are they compensated at industry standard levels, or better?
ionomy highly values the developers who implement the technology needed to fulfill business models securely. Developers, in turn, thrive on independent and collaborative opportunities to  achieve goals that advance the state of cryptocurrency. Developers are generously rewarded with ION — so they literally have a stake in making ION more valuable.
"It's not every day that you get to shape your own destiny. ionomy fosters a collaborative environment where that's possible."
From the start, we said that ION is "more than money." The members of the team are proud of their work and thrive on the energy and fun of these projects. We're bringing game theory, economics, and human psychology into the crypto world, and we're bringing crypto to the gaming world. Hmm, fun and money. It just seems to be a recurring theme throughout. Honesty, our teams works so hard. But most of the time it doesn't even feel hard. There's just great energy at work in these projects. At the risk of sounding corny, we've become kind of a family.
18. What makes ionomy special and different? Not meant as a corny question… is it the tech, the team, the community, what? Why and how? What makes ionomy different from other masternode projects? Different from other gaming projects?
For the corny part, see above. But, yeah, the community is a big deal, too. As the team has grown and the structure has formalized, it's become more professional. That's been necessary for organizational efficiency, but it's also made it harder for the ION enthusiast to participate in the daily activities that advance the projects. That's one of the reasons the IIPs are so exciting — they create new pathways for the community to engage.
As the team has formalized it's kept a tighter lid on behind the scenes developments, too. Understandably, some of the community miss the level of information we used to share about ongoing projects. They want to know what's happening! We totally get it. At the same time, we're confident that when they see what we've been working on…
"… when we open up the new ionomy.com to the public — minds are going to be blown!"
19. How does ionomy stand out from other gaming projects?
There are a lot of projects that started a coin dedicated to gaming. Almost all of them are used just to pay developers or make in-app purchases. But they forgot to give their coin any value. So, why go through the hoops of accepting an altcoin only to convert it to bitcoin and then again to fiat? How does adding three more costly steps make their "gaming currency" more valuable?
By contrast, ionomy is all about building an economy: first by creating use cases (fun games with cash incentives), populating it with users (gamers and crypto enthusiasts), and intensifying the scale of adoption by bringing in more developers and more gamers who will demand ION because it adds value to the gaming experience.
"The ION Core team is actively working on an entirely new protocol that will incentivize behaviors that add value to the coin ecosystem."
People ask us about our "competitors" in the crypto space. We have yet to meet them. Show us one other project that's doing what we're doing, then let's talk.
20. There are two sides to business strategy: tech innovation and marketing (a much bigger word than most realize). Rate ionomy on a scale of 1-10 on tech innovation. Same for marketing.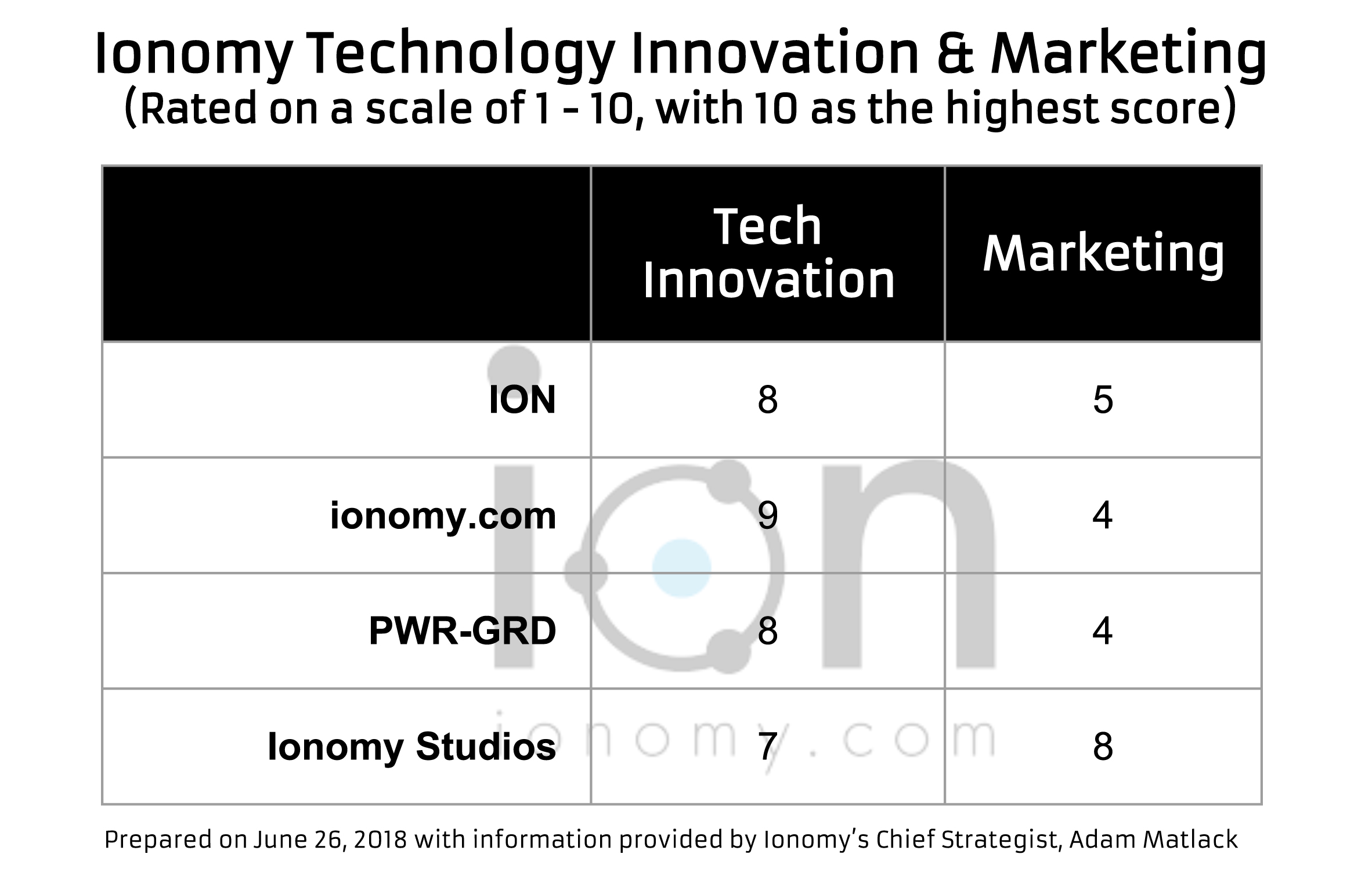 The ION economy consists of many powerful projects. The design, coordination, and implementation that has gone into each project is massive. All these parts work together. The teams are firmly committed to the idea of showing, not telling. From the inside, it feels like each team has set a giant powder keg for each project and linked them with fuses and gasoline soaked rags. It's only a matter of time before ionomy, ION, ionomy Studios, and the ION economy explode upon the crypto world. We're here for the long haul, so there's no rush. But believe me: there are marketing plans in place to make this phenomenon go viral when the time is right.
BONUS TIME! Question 20.5: S.W.O.T analysis ? What are ionomy's: Strengths? Weaknesses? Opportunities? Threats?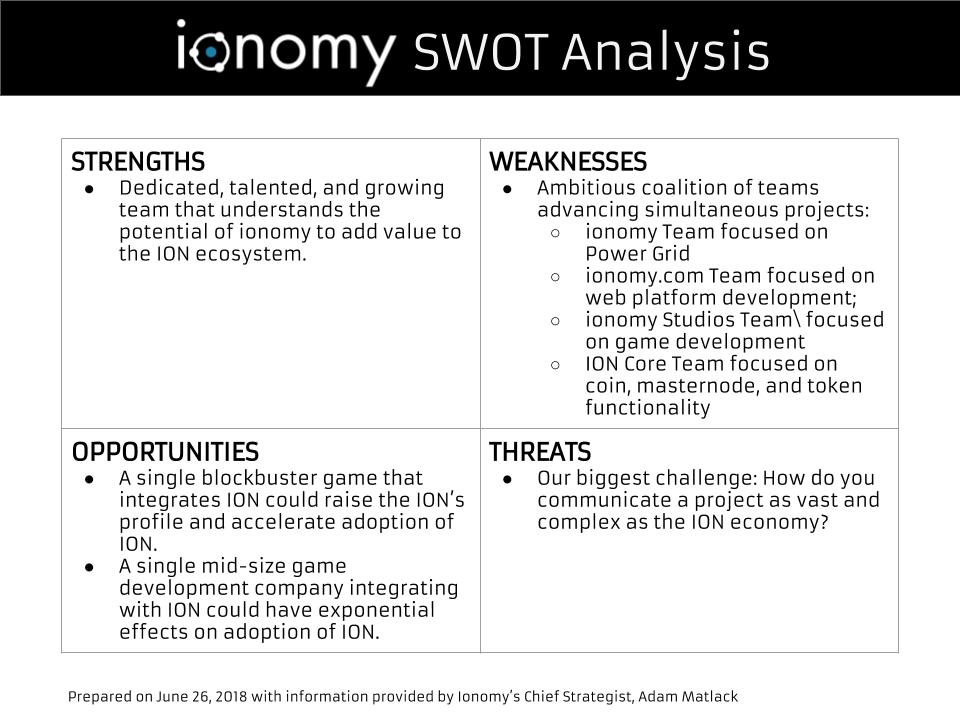 If you've read this far, you know there's a lot going on. It's not easy to summarize in digestible bites:
"The reality is that ionomy means different things to different people. Gamers will focus on games. Developers will focus on the PWR-GRD tools and services. Coin developers will focus on technical innovation and functionality. ION investors will focus on the value proposition. ION traders will focus on market technicals."
We believe that some of the products and services will come to speak for themselves, just as Google has become synonymous with search. We anticipate that each project will need to craft a specific message to reach its target audience.
Thanks for reading! I hope you enjoyed.
Lightning Network tipping jar: