Recently TMZ interviewed Steve Wozniak, who warned people to get off Facebook over privacy concerns. Our privacy, an essential element of sovereignty, the power of self-government, is under attack in a very serious way.
"Privacy is an essential requirement for the achievement of morality in … societies when … the Law is the one that assumes the responsibility to protect and provide." – Beni Issembert, CMO BEAM Privacy
"Privacy matters" and "privacy is worth fighting for", but is the fight already lost? Is sovereignty just another myth, like Big Foot and the Loch Ness Monster?
The Myth Of Sovereignty
The grandson of the Primordial Gods Uranus (Father Sky) and Gaia (Mother Earth), the Titan Prometheus paid homage to his grandparents when he created mankind from clay. Mankind was born of the Earth and breathed the Sky for life. During this time the Titans ruled with Kronos as King and Man lived in idle luxury. Writes Hesiod: "Men then lived like gods, with carefree heart, without toil and misery. Neither did old age affect them … They enjoyed themselves in feasting, beyond all illness … All good things were theirs."

Then there was War between the Old Gods and the New Gods. The New Gods brought new laws, and Humanity found its sovereignty under attack. But Prometheus loved mankind dearly, defying the New Gods, the Olympians, and their King, Zeus, when he gave Humans fire and advanced civilization by teaching a whole range of arts, including metallurgy, animal husbandry, and architecture.

Prometheus paid the price for this progress, for this defiance of the Gods – for his transgressions, Zeus chained Prometheus to a rock to be eternally tortured by an eagle, which would feed daily on Prometheus' liver (in ancient Greece, the liver was thought to be the seat of human emotions). Prometheus paid the price for mankind's sovereignty.
From the Greek myth above, we can clearly see that the concept "freedom has a price" was well understood in ancient Greece. Interestingly, Aeschylus suggested that Prometheus was not only punished for giving fire to Man, but for also ruining Zeus' plan to destroy the human race.
Stepping back from mythology, it would seem that the ancient Greeks actually saw their sovereignty under attack by the body-politic.
Identity Not Possible Without Sovereignty
Without any doubt the story of Prometheus is meant as a challenge to authoritarian regimes and is relevant even today – individual sovereignty is an eternal concern. Because freedom leads to original thought and expressions of creativity, freedom is and always has been under attack.
"There is no freedom without ipseity (individual identity) and, vice-versa, no ipseity (individual identity) without freedom – and, thus, without a certain sovereignty." – Derrida
Freedom and individual identity are key features of the Cypherpunk Movement that led to Bitcoin and, ultimately, privacy-focused projects such as Monero and BEAM: "We the Cypherpunks are dedicated to building anonymous systems. We are defending our privacy with cryptography, with anonymous mail forwarding systems, with digital signatures, and with electronic money."
What the Cypherpunks never imagined was the rise of extremely powerful, market shaping, centralized, altcoin exchanges such as Binance …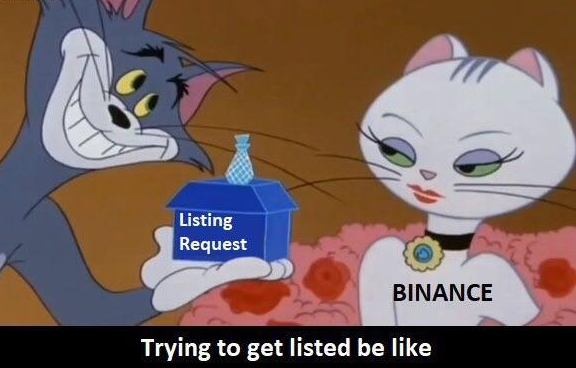 Beyond the politics of laughingly-high listing fees, though, centralized exchanges are vulnerable to hacks, prone to mismanagement, and subject to government regulation. "Not your keys, not your coin." In the current climate, neither cryptocurrency projects nor investors have the freedom to express themselves fully – we are beholden to the centralized powers we swore to leave behind.
"Sovereignty means not just controlling an asset but also ownership of the information on the asset." – Alexander Zaidelson, CEO BEAM
Atomic Swaps Create New Freedoms
"An atomic swap is a direct trade between two different coins running on two separate blockchains; there are no centralized-exchange websites or other third-parties required for this trade. The technology enables common users to bypass the labyrinth of website-exchanges currently necessary to purchase cryptocurrencies." – Komodo Platform
In true Cypherpunk fashion, Atomic Swaps give power back to users by eliminating the third party, the exchange, entirely. Instead, Atomic Swaps allow for the exchange of cryptocurrencies from one person to another directly – a process during which users have full control of their private keys and can communicate with one another.
Direct wallet-to-wallet trading represents the purest form of decentralized trading. According to Andreas Antonopoulos, the primary benefit of Atomic Swaps is the ability to couple two inherently separate blockchains together to create an exchange of value whereby both parties are ensured and protected from fraud and or malicious intent to cheat.
With the goal of improving cryptocurrency interoperability and scalability, Atomic Swaps are a game changer for mass adoption that give users the freedom to govern themselves in new ways. Always remember – B.Y.O.B. (Be Your Own Bank).
BEAM Privacy – Ipseity In Action
While Atomic Swaps are expected to pave the way to wide-scale use-cases for cryptocurrencies, one potential risk is found in the area of privacy – as hash value is shared during the atomic swap transaction, the transaction can be easily traced.
So, while the opportunity for Swaps is huge, the lack of privacy does detract from usability for those concerned with preserving their individual sovereignty. Sure, the transaction is secure from centralized hack vectors, but what about the user's financial security? Maybe the user doesn't want everyone to know when, how, and where they are spending money.
Seeking to improve both user privacy and user experience, BEAM recently launched its Atomic Swaps with BTC and LTC:
Using Mimblewimble and Dandelion, BEAM allows users to develop, in private, an individual identity that best expresses their sovereign self :
"At BEAM, we are big believers in decentralization and the possibility of free exchange of cryptocurrencies between users. For that reason, Atomic Swaps with Bitcoin will be an integral part of our solution. Support for payment channels will be implemented soon after, as well as an integrated UI for a seamless user experience with our desktop and mobile wallets, and our block explorer.

BEAM's vision of privacy shouldn't be marred by user's dependence on centralized exchanges, which are a liability for security and privacy, which are two of our core values." –  Ronen Lahat
BEAM's Atomic Swaps
Let's take a high-level look at BEAM's Atomic Swaps. How do they work? What are the steps to completing a transaction successfully?
The swap is performed in a single transaction which exchanges the ownership of the Beam UTXO for some secret needed to claim the exchanged BTC, in the case of a BEAM-Bitcoin swap. To expand on the subject, there are 3 major phases of the Atomic Swap :
Prerequesites

The being-exchanged UTXOs are locked on both networks for a specific time period (in terms of blocks).
Parties monitor both networks to ensure the source UTXOs are indeed locked.

Exchange

Parties collaborate to create a transaction that transfers the locked Beam to B in exchange for the secret.
B substitutes the secret to the transaction and finally broadcasts it to the network.
Once transaction is visible – A learns the secret.
A creates a BTC transaction to claim the BTC UTXO, and broadcasts it to the BTC network.

Rollback (In case the swap didn't take place, for whatever reason)

Locked UTXOs on both network should remain intact until their lock timeout expires.
After the timeout expiration parties broadcast transactions that transfers the locked UTXOs back to them.
Note that A actually claims the BTC UTXO after sending the Beam UTXO. This means that the lock timeout of the BTC UTXO must be significantly bigger than that of the Beam UTXO, because B may broadcast the Beam transaction just before the timeout expires, the A should still have enough time to build and broadcast the BTC transaction.
BEAM Atomic Swap Resources
BEAM Swap Demo
BEAM Swap Diagram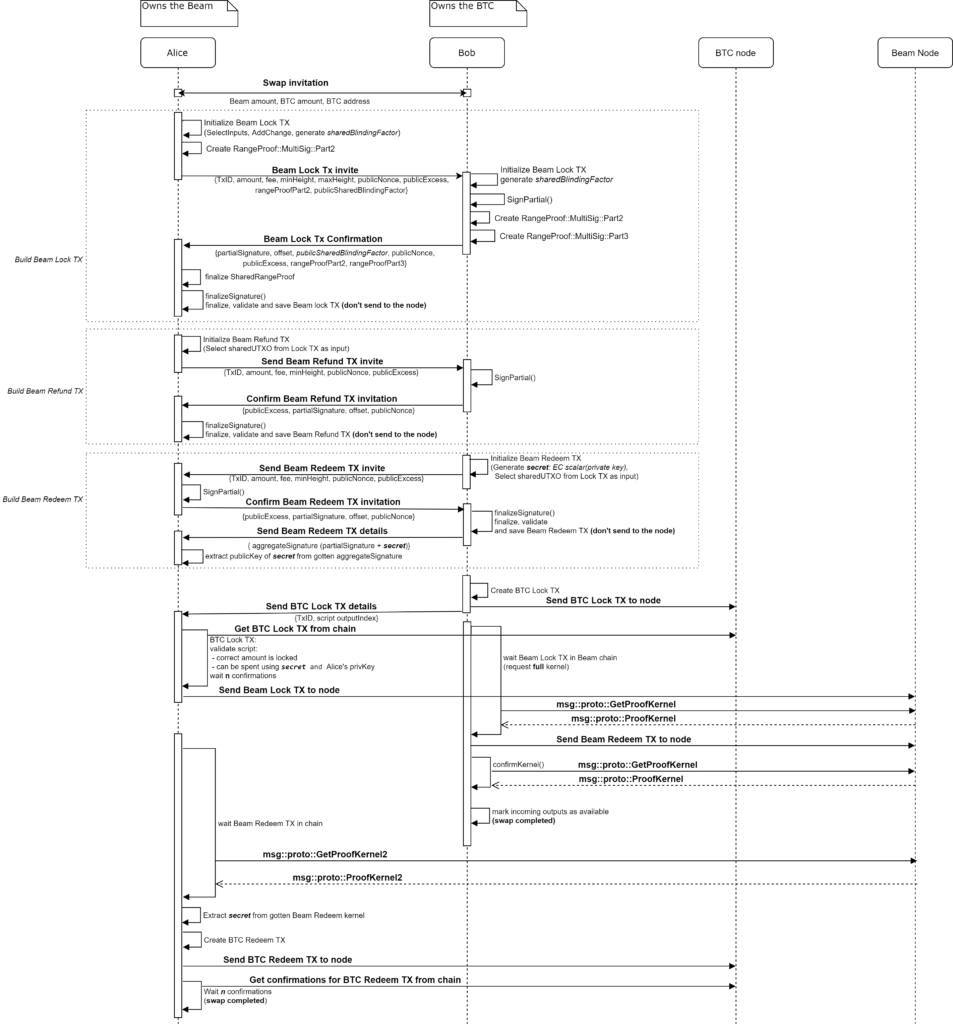 Final Thoughts
While our freedoms are constantly under attack, sovereignty is no longer a myth. Mimblewimble, Atomic Swaps, digital hard monies, and other cryptographic innovations have changed the game for the 99%, putting power in the hands of the user.
With BEAM, we can express our financial selves in total privacy, develop our own individual identities free from prying eyes, and transact in a truly decentralized manner. BEAM is an exciting project with explosive dev and certainly worth watching!
Thanks for reading!