In the process of exploring gold together, we uncovered the often unappreciated precious metals royalty and streaming business model. It was found that these types of companies benefit from several important advantages, such as precious metals optionality with a perpetual discovery option, high margins with a free cash-flow business, and limited exposure to operating costs and geopolitical risks. These business benefits taken together allow for royalty and streaming companies to scale easily, build diversified commodities and mine portfolios, pay dividends to investors, and maintain a level of bear-market resistance. In addition, it has been shown that royalty and streaming companies are able to provide more upside than gold ETFs with less risk than miners.
Previously this series focused on large-cap gold royalties and streaming company Franco-Nevada. Now, we're digging into Sandstorm Gold's operations and will be following-up with regional-specific posts to gather a complete understanding of Sandstorm Gold's commodity and country risks. This blog is the 11th post in this series. For those interested, here are the other articles that led us to where we are today:
Who Is Sandstorm Gold?
Although Sandstorm Gold is classified as a royalties and streaming company, I prefer to think of Sandstorm as a mining-focused VC firm. This is because, as one of the newer royalties and streaming companies, Sandstorm must take greater risks in building its commodities portfolio than the large-caps. In addition, Sandstorm is not yet well established enough for its portfolio to produce sustainable dividends for investors.
This author's understanding is that management's goal is dividends by the end of 2019. Exploration upside remains a primary focus for Sandstorm Gold, in keeping with management's long-term view on achieving maximum ROI. Also, it should be mentioned loudly and frequently that Sandstorm Gold's average cash cost of gold is an amazing $278 per ounce. Margins matter!
"Our portfolio consists of a stable base of cash-flowing royalties, and it's growing. That's why Sandstorm is a golden opportunity for investors. From five royalties in 2010 to over 185 today, Sandstorm has experienced significant growth within a short time. In fact, compared to other gold investment companies, we have one of the industry's best growth profiles. Within the next few years, our royalty production is projected to increase more than 100%. And we're not planning on slowing down. With new acquisitions underway and more to come, we are focused on diversifying and growing our portfolio well in to the future." – Sandstorm Gold
A Portfolio Diversified: Geographies & Commodities
Portfolio By Asset Type:
Revenues:
With 20 assets currently producing and more in development, Sandstorm's cash flow is stable and becoming more diversified. Currently, 54% of Sandstorm's sales and royalty revenues come from North America, with 34% from Canada. Additionally, 24% of revenue comes from South America, creating some emerging markets exposure for an investor to consider. In "other" regions, investors will also see exposure to Africa and Asia. Interestingly, Sandstorm Gold focuses not only on precious and base metals, but diamonds as well. For 2018, 69% of revenues came from precious metals, 21% from base metals, and a solid 10% came from diamonds. In 2018, Sandstorm Gold made an outstanding thirteen acquisitions.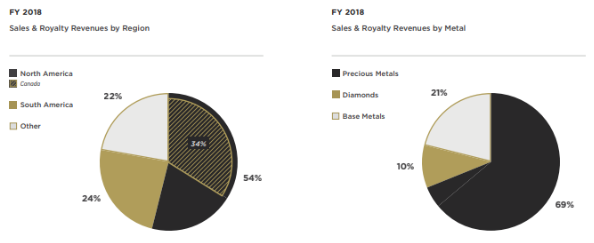 Commodities Portfolio:
It's important to be aware of what geopolitical, currency, and commodity risks Sandstorm Gold has, even though we understand the company's portfolio is "diversified." Below, you'll see that I've organized Sandstorm Gold's commodity exposure by country. Please note that I've included not only producing assets, but developing and exploration projects as well. The reason for these inclusions is to paint a complete picture of Sandstorm Gold at full royalty production.
Geographies with commodity exposure:
North America:

Canada: gold, silver, copper, zinc, diamonds, coal, lead, uranium, molybdenum, cobalt, lithium

United States: gold, silver, copper, molybdenum

South America:

Argentina: gold, silver, copper, molybdenum

Brazil: gold, silver, copper

Chile: gold

Ecuador: gold, silver

French Guiana: gold

Honduras: gold, nickel

Mexico: gold, silver

Paraguay: titanium

Peru: gold

Suriname: gold

Africa:

Botswana: gold, copper, nickel, zinc, iron ore, cobalt

Burkina Faso: gold

Cote d'Ivoire: gold

Egypt: gold

Ghana: gold

South Africa: gold, uranium

Asia / Australia / Europe:

Australia: nickel, gold, uranium

Mongolia: gold, silver, copper, molybdenum, zinc, lead

Sweden: graphite

Turkey: gold, silver, copper, zinc, lead
Impressively, this creates a company with total commodities exposure as such:
Precious Metals:

Industrial Metals:

Zinc

Lead

Molybdenum

Nickel

Titanium

Iron Ore

Energy Metals:

Uranium

Cobalt

Lithium

Copper

Other:
Final Thoughts:
"Over the last number of years we have been working hard on building an exciting royalty portfolio. In the past, it has sometimes been necessary to issue equity in order to build this portfolio and grow the company. However, Sandstorm is now at a point in the company's development that we have sufficient free cash flow and credit capacity (US$225 million credit facility) to purchase future royalties without diluting shareholders. In addition to no share dilution, we announced a significant share buyback program during the fourth quarter of 2018 and will be buying back nearly 10% of the company's common shares by the end of 2019. As we continue to buyback shares and complete non-dilutive acquisitions of near-term cash flowing assets, we believe we will create value for shareholders in the coming years." – Sandstorm Gold
Sandstorm Gold has a lot to offer investors and the timing seems excellent … royalties are set to increase dramatically, exploration continues aggressively, and dividends seem an inevitable for this royalties and streaming leader.
Thanks for reading!
Lightning Network tipping jar –