There are several sectors within cryptocurrencies receiving MUCH attention this year. One of the most infamous is the stablecoin. I jokingly say infamous because of all the drama with Tether in the last several months, but, to be sure, stablecoins are an essential economic tool for our crypto future.
I recently spoke with @StablyCoin 's @dazhengzhang, Co-founder and Chief Technology Officer, to better understand not only how StablyCoin actually works, but to also better understand the differences between the types of stablecoins and their strengths vs weaknesses against various economic conditions (hyper-inflation, deflation, etc).
Enjoy!
Stably: An Interview On StableCoin Types, Strengths & Weaknesses
"StableUSD is a reserve-backed stablecoin that is designed to work across multiple blockchain protocols."
Why are stable coins important? Is there a use-case beyond p2p payments? Do stable coins help with the goal of decentralization? If so, how?
Stablecoins are important largely for the same reason that money is important. Since cryptocurrencies are very volatile (due to their speculative nature and lack of widespread use), they are not suitable as a medium of exchange. We have already invented a medium of exchange that has evolved and become ubiquitous over time, which is our traditional currencies. Bringing these currencies to the blockchain lets us leverage trustless peer to peer transactions of blockchain technology and the existing monetary system.
Stablecoins provide a way to use existing money, but in a way that can be done trustlessly and often with lower overhead. Decentralized systems often require value transfer as part of the main functionality or as an incentive structure. Stablecoins can provide that aspect in place of more volatile cryptocurrencies. Often times this makes for a better product from a user perspective.
Most use cases build upon the p2p payments use case. Any use case where we currently use money or some other form of value transfer could instead be done by a stablecoin (although some situations make more sense than others). For example, setting up a payroll in a DAO, creating a smart contract escrow, enforcing an economic scheme such as staking, these are all essentially p2p payments, but for different purposes.
Currently the biggest use case by far for cryptocurrency is trading and speculation. Although that will be our first target market,
"…we plan to provide stablecoin infrastructure for emerging use cases such as DApps as well as existing use cases such as payments."
Has the math for a true stable coin been discovered? There seems to be a lot of criticism of the stablecoins these days… "stable coins are an over engineered solution to a world that's inherently unstable. Stability is a bi-product of a system that's mature enough for the services that require stability." What are some common misconceptions about stable coins that should be cleared up?
History continues to show us that our financial models are flawed. While we believe that it's good for the ecosystem to continuously experiment with new mechanisms, the financial market is a level 2 chaotic system, so most economic mechanisms develop organically.
What's the point of a stablecoin if there's Venmo? Venmo is good for sending money to friends, but does not scale for large financial transactions and does not enable trustless transactions. We believe that organic stability is the best way forward.
There are currently three categories of stable coins: fiat collateralized, crypto collateralized, and uncollateralized:
What is a "fiat collateralized" stable coin and how does it work? What are some examples of these stable coins?
A stablecoin is an asset which is designed to have a price that tracks the price of something else very closely. For example a stablecoin that tracks the USD should have a price that stays close to $1.
A fiat collateralized stablecoin is one that gets its price stability from being redeemable for the same value in the underlying fiat currency. You can point people to this article for a more detailed description https://medium.com/stably-blog/fiat-collateralized-stablecoins-stably-d18415f2c986
"Some examples of fiat collateralized stablecoin projects are Tether, TrueUSD, and Stably."
Same as the previous question, but regarding a "crypto collateralized" stable coin.
A good analogy to crypto collateralized stablecoins is to look at how a pawn shop works. You give the pawn shop a certain asset or assets, they lock it up and give you cash for it. If you want to get your asset back you can bring back that amount of cash plus interest to reclaim the asset. Similarly a crypto collateralized stablecoin locks up cryptocurrency to issue stablecoins. To unlock the cryptocurrency you repay the amount plus interest. You can point people to this article for a more detailed description https://medium.com/stably-blog/crypto-collateralized-stablecoins-makerdao-a45ae935bef2.
"MakerDAO is the most popular crypto collateralized stablecoin."
Same as the previous question, but regarding a "uncollateralized" stable coin.
Uncollateralized stablecoins tend to rely on the quantity theory of money. The idea is that when the stablecoin becomes too valuable, you inflate the supply to bring down the value, and when the stablecoin becomes too cheap, you remove some supply from circulation. You can point people to this article for a more detailed description https://medium.com/stably-blog/uncollateralized-stablecoins-basis-d7a6016a14f.
"Basis is the big player in uncollateralized stablecoins."
What's the differentiator that makes Stably a leader long-term?
Stably is committed to providing a long term value bridge between the real world and the decentralized crypto economy. We aim to provide the best customer experience by providing high transparency and a product that doesn't cost customers extra. In addition,  Stably is focused on creating liquidity for traders both by getting onto exchanges as well as incentivizing market makers.
"Unlike decentralized stablecoins, Stably does not rely on complex mechanisms for maintaining price stability and is redeemable for the underlying."
This means fewer unknown failure cases. However, there are use cases where a trustless solution has more value despite the potential risks. For those it might make more sense to use a decentralized project.
Stably plans to release its first product, StableUSD on multiple blockchain networks, not just Ethereum. In the near term we believe that Ethereum and Stellar will cover the vast majority of use cases for us (i.e. DApps and payments). However we are a stablecoin company, not just a stablecoin, so we are always considering new platforms and use cases to provide for.
"Satoshi saw a world of trustless value transfer. Although Stably's stablecoins derive their value from a centralized custodian, the value transfer still takes place on trustless networks. We believe this is a good hybrid solution that makes sense for many use cases."
S.W.O.T analysis! What are Stably's: Strengths? Weaknesses? Opportunities? Threats?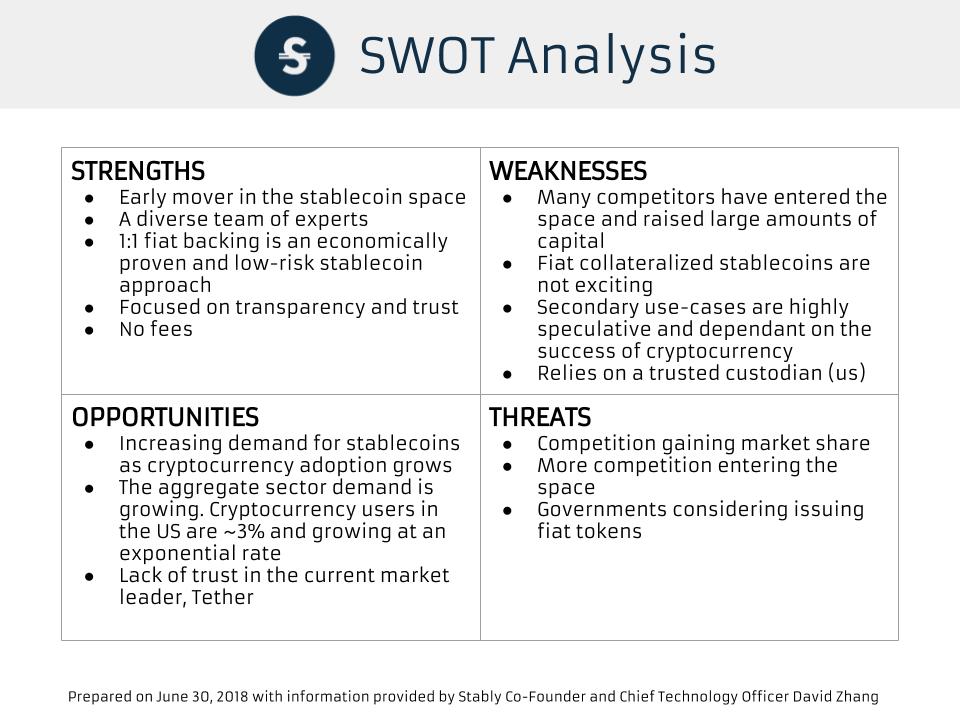 Thanks for reading! I hope you enjoyed.
Lightning Network tipping jar: