Stakenet exists because crypto is still too complicated to go mainstream… "We will build a seamless, cutting edge crypto experience with a hardware device to allow people to actually trade crypto person to person in the real world."
The Future Will Serve You Now…
I spent many years in banking and financial services. The writing was on the wall when banks started bringing ATMs into branches and robo advisors started taking real wealth from traditional financial planners: automation was in, humans were out and the Fourth Industrial Revolution was here.
I exited the scene and found cryptocurrencies shortly after.
I'm excited to bring you this interview with Stakenet because the mission and vision of XSN in many ways fulfill the obligations banks have neglected for far too long : banking made easy, cheap and available to everyone, everywhere.
Let me rephrase that: banking made easy for US, cheap and available to PEOPLE (not just enterprise), everywhere (including the un- and under-banked).
Please enjoy my interview with Stakenet (XSN)!
[with Rebecca Catlin (Marketing Manager), Wesley Forgione (PR Specialist) and Nathan Faust (Founder/Community Manager)]
Who is Stakenet?
Stakenet is a Decentralized Autonomous Organization (DAO) running on its own blockchain smart contracts that allows easy and secure staking of its currency XSN using Trustless Proof of Stake (TPoS), achieving the highest level of blockchain security via decentralized and trustless cold staking. Stakenet also has Masternodes, which provide high-end network services – e.g. they will be running the Stakenet Decentralized Exchange.
Stakenet will be connected to other blockchains, such as Bitcoin, and strives to provide a highly secure interchain economy for cryptocurrencies where you can operate with any just by holding XSN.
We're also working on new applications for XSN TPoS as well as building blockchain-related services such as the mentioned XSN DEX or XSN Cloud, among others. All of this while also developing further technologies for XSN, such as our multi-currency wallets XSN Wallet and XSN Light, or the XSN Hardware Wallet.
XSN, as the coin that powers Stakenet, has all of the latest technologies:
TPoS

Masternodes

Lightning Network

Atomic Swaps

Cross Chain applications such as Cross Chain Proof of Stake
What does Stakenet do?
Stakenet will provide many blockchain-related services to the public with both its coin XSN or all of its other products such as XSN Cloud, XSN Wallet, XSN DEX, et cetera. These services will generate profits that will end up going back to the ecosystem: by sending the profits to the Stakenet treasury, or simple burning them.
"XSN Cloud features a multi-currency wallet, where users can hold and stake different coins from one central location."
Gone will be the days of 10 different desktop wallets remaining open to stake (security/energy issue). This multi-currency wallet is, however, not trustless. Meaning the user will lose control of their private keys. The rest of the services are totally trustless, such as: Masternodes-as-a-Service, Masternode Monitoring, Calculator, et cetera…
Cross Chain Proof-of-Stake: An original Stakenet invention, users will be able to stake any Lighting Network (LN) compatible coin, and receive rewards in any other LN coin, providing what we call "Investment Agility". For example, an owner will be able to stake their Ethereum, and receive rewards in Dash.
Security:  Users who desire more secure staking may hire a merchant to stake for them. The user's coin will then get stored on their cold storage device, like a Ledger or Xeeda, and their rewards will continue to accumulate while offline.
An entire entrepreneurial community of Merchants is already formed and growing. We will feature a TPoS marketplace in Stakenet.io and we are working on doing the user experience as simple as one click
The world's first true DEX run entirely by masternodes: Every other DEX we are aware of has at least one weak point of centralization. Ours will not. Once released, we won't be able to shut it down even if we wanted to.
"The DEX will be the first exchange to be designed and modeled by a seasoned real-world securities trader, Frank Amato."
Frank has discussed with us at length why all current exchanges, DEX and centralized, lack many of the features and abilities he would expect as a seasoned trader. We will fix that by providing crypto's first "pro" trading experience.
Hardware: Stakenet is building the first hardware wallet that not only stores crypto, but is meant to be taken with you in real life to transact and trade easily and seamlessly.
From where does Stakenet come?
Stakenet is a fork of Dash.
"We elected to fork from Dash because it was the original Masternode coin, and Masternodes are pivotal to our overall goal of creating the world's first decentralized crypto-bank."
While we acknowledge that there is some stigma attached to "Forking", we look at it differently. We see Dash as a mere tool, their masternode creation being the "hammer."
We will use that hammer to create our technological developments, with an aim to create convenience and simplicity to introduce crypto into more mainstream markets.
We did not merely "fork" for the sake of forking. We have a vision that required Dash technology, as opposed to reinventing the wheel, which would be counterproductive.
How is Stakenet positioning itself in the fight for privacy rights?
One of the main problems of a distributed public ledger technology is that the ledger itself is not anonymous, because all transactions are recorded in the blockchain.
By combining the structure of the transactions graph with real world information, such as value, dates and the blockchain exit points you can easily de-anonymize the pseudonyms a blockchain uses.
Furthermore, most cryptocurrencies are not fully fungible. Thus, all coins have the same value in the protocol itself, each coin has a history that can be traced in the blockchain. This knowledge can influence your ability to spend your coins especially then if they were part of a previous crime (e.g. Wannacry ransomware).
As solution for cryptocurrencies privacy issues, the Stakenet protocol uses several lines of privacy:
Coin Mixing
zk-SNARKS
TOR
First of all, the Stakenet blockchains includes a built-in coin mixing that makes it nearly impossible to trace transactions. This features is used by other privacy coins, like DASH and PIVX, too.
Secondly, Stakenet is researching zk-SNARK as well for 2018 as an added bonus. Due to zk-SNARK, two parties are enabled to verify each other without revealing the secrets needed for the process. This privacy features is used by other privacy coins, such as ZCASH.
Last but not least, our blockchain will use the TOR network to offer the XSN users the ability to convert their wealth privately in real time. The way Stakenet uses TOR is unique, because it's not just a simple onion routing between private peers.
Everyone is familiar with TOR, and its innate weakness, that being exit node relay detection.
Because the Stakenet masternodes are using the same XSN core as the Staking nodes, we can provide a truly inter-TOR network with untraceable transactions across the Stakenet network. That way we will avoid the exit node relay problem every other TOR coin without masternodes, like Verge XVG faces.

Through this system, users will be able to send obfuscated transactions, and because the network is internal, it will not be accessible by authorities or hackers on exit relay.
"Stakenet is not a privacy coin per se, but privacy is fundamental to the application and adoption of our technology."
The masternode TOR function will be an option, and it will be subject to an additional transaction fee so to compensate masternode owners and add incentive for users to hold masternodes. This will help keep the TOR MN network strong and decentralized, while allowing users the option to send obfuscated funds as necessary.

How is Stakenet improving and innovating blockchain technology?
Within this world of different cryptocurrencies, Stakenet will be the one to unite them all. As we move through a 3rd generation wave of blockchain technology it is important to understand which technologies, communities and decentralized ledger technologies will separate themselves from the rest.
"Instead of a one chain rule, we believe the future will instead be the formation of a global backend – a 4th generation blockchain mesh consisting of every chain, technology and service."
Stakenet will be the chain, that enables a united network of different tech from different chains fully communication as one entity executing synchronously. #jstarhead
Lightning: Stakenet will use the masternode collateral to provide liquidity for its lightning network, creating a stable decentralized backbone unique to XSN and XSN derivate chains. To make lightning as easy as possible to use, we will provide a new wallet with a "one click lightning channel" button. #jstarhead

What's the differentiator that makes Stakenet a leader long-term?
"Stakenet is the future of crypto-banking."
One of the significant impediments to mainstream "normie adoption" is the complexity and technical know-how required to get into the market.
We intend to introduce the "Uncle Bert" standard, whereby our technology is built for the Uncles of the world who are interested in crypto, have money to invest, but are not technologically inclined and get scared away by the complexity of exchanges, ownership and security.
To accomplish this goal, we are introducing a consolidated online portal, where many Staking as a Service functions, such as masternodes as a services and pooled staking, will allow non-technical users a simple location to accumulate and trade coin in a simple and non-technical manner.
Think "Apple in Crypto."
What does Stakenet look like in 5 years?
In 5 years, Stakenet has:
Established itself as a crypto-banking entity, where normal people are able to easily login and transact and invest in crypto as they would with their normal online banking.

Has distributed its hardware wallet widely and people in the real world are using that hardware wallet to pick-up pizza at their local pizzeria, or to pay the delivery guy on delivery.

Decentralized major functions to mitigate security and other risks.
What is Stakenet's plan for adoption? Who's your target audience?
Stakenet is not meant for "Crypto geeks."
We see a major flaw in many crypto projects is that they are targeted to "techie" individuals. This is a major impediment to wide-spread adoption, as the technical skills required scare off the "normies" who do not understand the complexity of the systems.
Stakenet is making cryptocurrency accessible for all, from the Staking Cloud enabling smaller investors to benefit from the features of the coin to building a DEX with Frank Amato suitable for professional traders.
Stakenet is currently developing professional relationships with crypto advisors, media and community members to build awareness of the project.
We have a strong focus on the real-world adoption of Stakenet.
Stakenet have employed a full-time marketing manager and have a number of community moderators and engagement officers to make the project as accessible as possible to the international market.
Is Stakenet's dev team growing?
The developer team grows as the project requires it to do so, we have developers committed to divisions of Stakenet.
For example, we have one developer team working on Stakenet.io and a seperate developer team working on Lightning Network. Some of the developers that are working for Stakenet have this as their full time job, however, most of them still do consulting for firms in order to pay the bills.
As Stakenet continues to grow, and achieves more funding in the treasury to pay developers adequately for their time/services, we plan on having all of our developers full time working solely on Stakenet.
What's the function of the Stakenet masternode?
One of our hallmarks is looking for 'jobs' or functions to create better value for masternode owners, and also to secure and decentralize all functions.
Some of these include:
Job 1: First true DEX run entirely by masternodes. Once released, it can't even be shut down by the Stakenet team even if we wanted to;

Job 2: Masternode TOR network;

Job 3: Being able to vote and provide their own personal opinion on what projects get funded and how XSN is built. 

Because the masternode owners are able to vote on what projects receive funding, they are technically in total control of what XSN puts development into.
Masternodes are extremely important for Stakenet's infrastructure, as they create a second tier network they are able to handle confirmations for transactions, handle stealth send functions, and in the future they will handle all of the transactions over the DEX.
"In the end we don't believe there will be 1,000+ currencies out there, there may only be 10-20 that survive, and Stakenet is going to become one of those."
S.W.O.T Analysis!
[SWOT analysis updated 8/29/2018]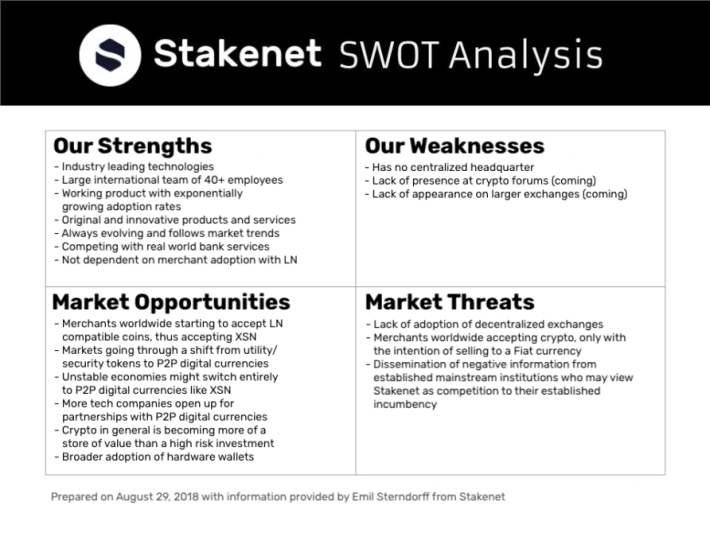 Lightning Network tipping jar: