Economic risks are rising,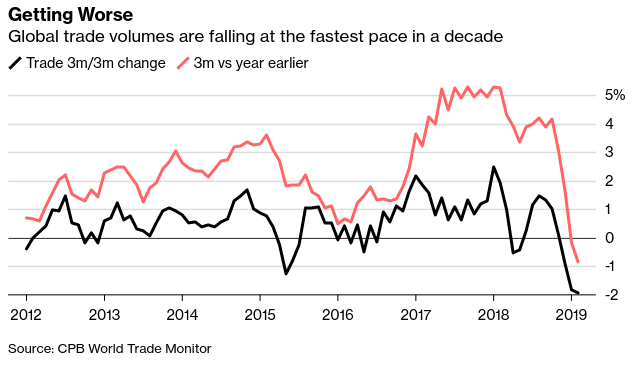 "Korean GDP shrank by the most in a decade amid a tech slowdown. Asia's fourth-largest economy shrank by 0.3 percent in the first quarter from the previous three months, versus estimates for a 0.3 percent gain. That's a big worry for other manufacturing and technology-driven exporters, including Japan, Germany and Taiwan. From a year earlier, the Korean economy expanded 1.8 percent, compared with projections of 2.4 percent. Facilities investment fell 11 percent in the first quarter from the previous three months, the biggest drop in 21 years. Construction investment declined 0.1 percent from the earlier period, when it gained 1.2 percent. GDP export volumes fell 2.6 percent from the previous three months, import volumes fell 3.3 percent, government spending rose 0.3 percent, and private spending gained 0.1 percent." – Bloomberg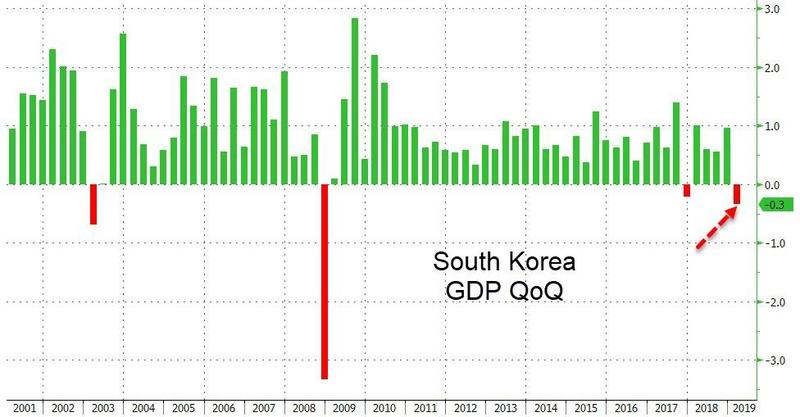 The Bank of Japan warned of "high uncertainties" in its outlook for growth as it pledged to keep interest rates at rock bottom levels through at least spring of 2020. The BOJ now projects that it won't hit its 2 percent inflation target at least through March 2022.
The euro made a new low for the year versus the dollar, with the upcoming set of European elections looming larger as the German manufacturing slump continues.
Argentine credit default swaps have blown out.
Emerging market equities and currencies are in a rough patch.
"Last week, with a delay of about two years, mall and shopping center stocks and REITs finally tumbled, led by Tanger Factory Outlet Centers, as Scotiabank warned about surging mall occupancy risks, while the 10-year Treasury yield reached its highest level since the March Fed meeting, an ominous development for most REITs. Then this week, the rout finally spilled over to REIT ETFs, and in the first three days of the week, more than $475 million in funds was pulled from the $2.4 billion SPDR Dow Jones REIT ETF, or RWR, reducing the fund's assets by about 15% according to Bloomberg. The bulk of outflows took place on Monday, when the fund lost $403 million, the most since 2004, in what appeared to be a delayed response to last week's REIT collapse." – Zero Hedge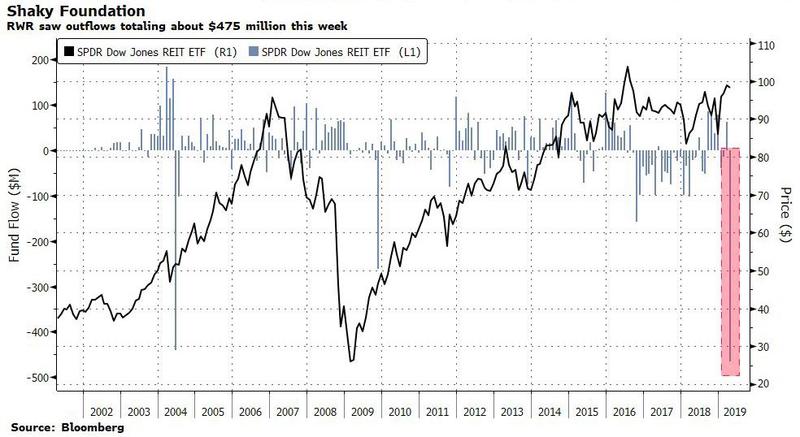 While stock prices have surged to all-time highs, corporate profits remain at the same level as they were in 2011 on a pre-tax basis, and 2014 on a post tax basis.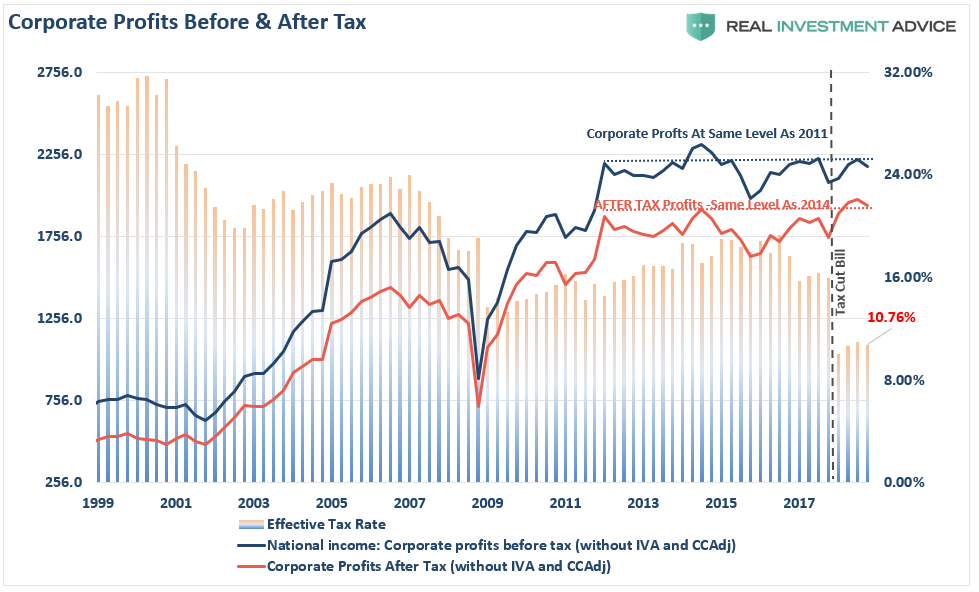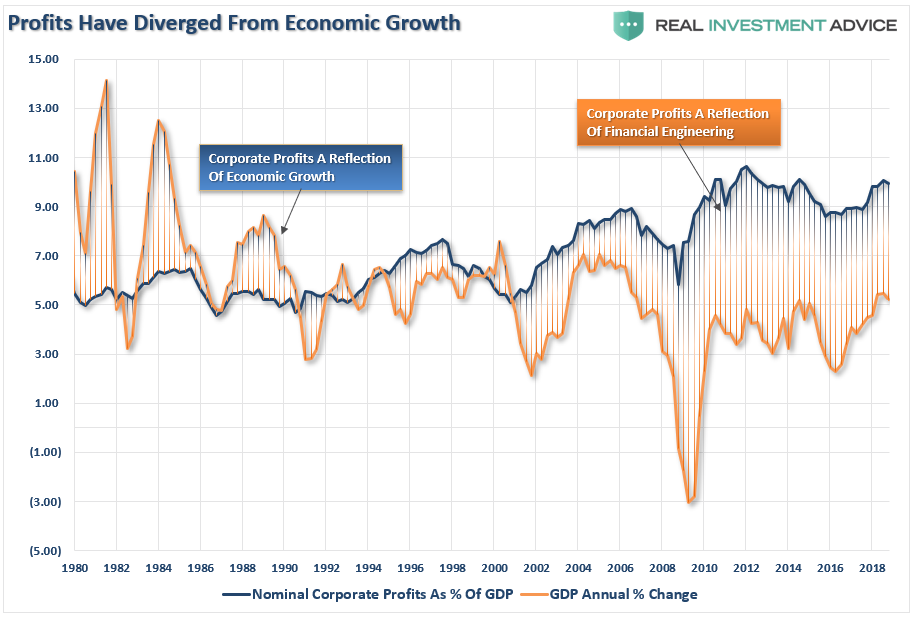 "The risk-on rally is predicated on a reacceleration in growth starting within a couple of months. But, aside from risk asset pricing there's little objective evidence in the hard data to support that view. Charting the basic hard data for industry and the consumer – the heart of the real economy – shows that growth turned down in late summer/early fall, and isn't really recovering. Specifically, industrial production growth in manufacturing is falling, and is already at a two-year low. And real retail sales growth hasn't been this low anytime in the last two years, with the exception of the last three months, which included its worst reading since 2009."– Business Cycle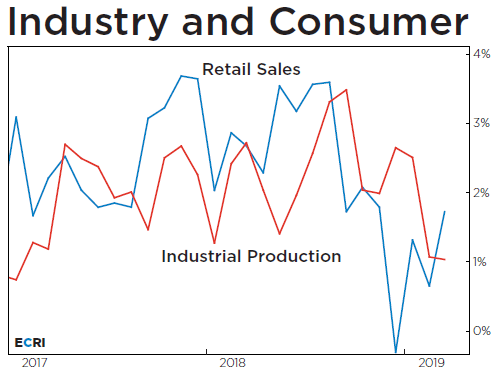 "The breadth of extreme overvaluation [is] not just in the equity market but across a number of other asset classes. The incredible reach for yield we have seen, driven by the lowest interest rates in 5,000 years, has played out in everything from junk bonds and dividend-paying stocks to real estate and MLPs. Perhaps the most notable of all the rampant risk taking in the name of generating yield has been the widespread selling of insurance. Here I mean selling credit default swaps, or put options on the S&P 500, or even real insurance. Most popular of all, though, has to be the short volatility trade … this thing has gotten completely out of hand." – Jesse Felder
But stock market hopium is gaining steam.
"In January, the central bank said it would hold interest rates steady, setting in motion the stock market's strongest first-quarter run in more than two decades, as investors dialed back up their appetite for riskier assets like stock … investors [are] jumping back into equities with both feet as markets approach all-time highs. Investors know there is a rising risk of loss, but, they are willfully ignoring the facts and and piling into risk because the narrative has simply become 'fundamentals don't matter, the Federal Reserve has got your back.'" – Real Investment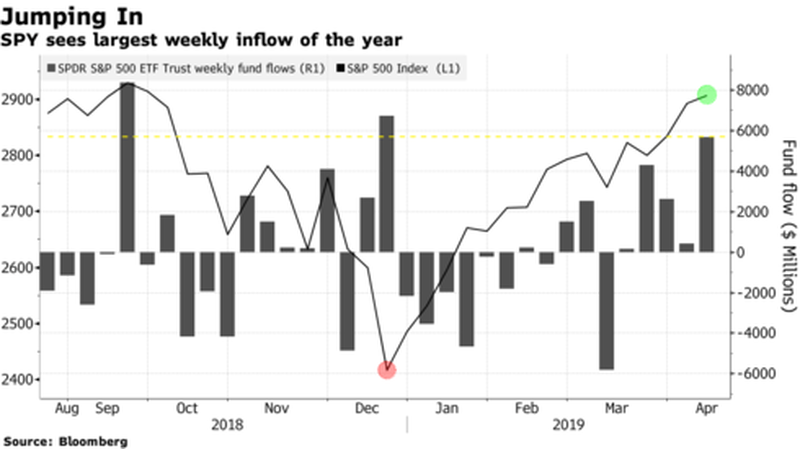 "The bullish sentiment by investors, which doubled between Q1 and Q2 of this year, appears, in part, supported by the majority of respondents' belief that interest rates will remain unchanged this year (67%) and the government will sign economic trade agreements that will help drive the markets higher (61%). Other major market drivers cited by respondents include positive year-over-year earnings (26%), low unemployment rate (24%), lack of inflation (18%), and tax reform (15%)." – Ally Invest
According to E*TRADE:
Bullish sentiment returns. Bullishness rose 12 percentage points since last quarter to once again represent the majority of investors at 58 percent.
Investors believe there's more room for the bull market to run. Two-thirds of investors say they think the bull market has a year or more to go (66%), up seven percentage points from last quarter.
The majority gave the US economy a passing grade. Investors who gave the economy an "A" or "B" grade rose 9 percentage points this quarter, to 64%.
The writing is on the wall …
"In the 60-70's, leading up to the 'Black Bear Market of 1974,' corporate profits were growing faster than GDP. This is ultimately an unsustainable trend as profits are a function of economic growth and not the reverse. The 80-90's bull market was a period of economic growth outstripping profit growth as interest rates and inflation fell. Beginning at the turn of the century, and now three asset bubbles later, profits are again growing faster than the economy. The same can be seen in the cumulative change in asset prices versus profits. When price inflation exceeds profit growth, that deviation has not historically lasted very long." – Real Investment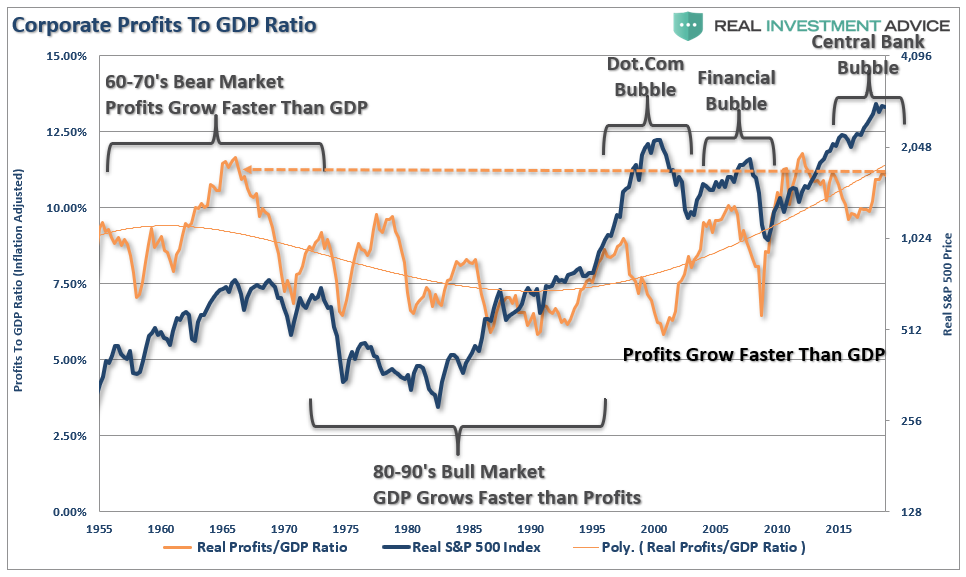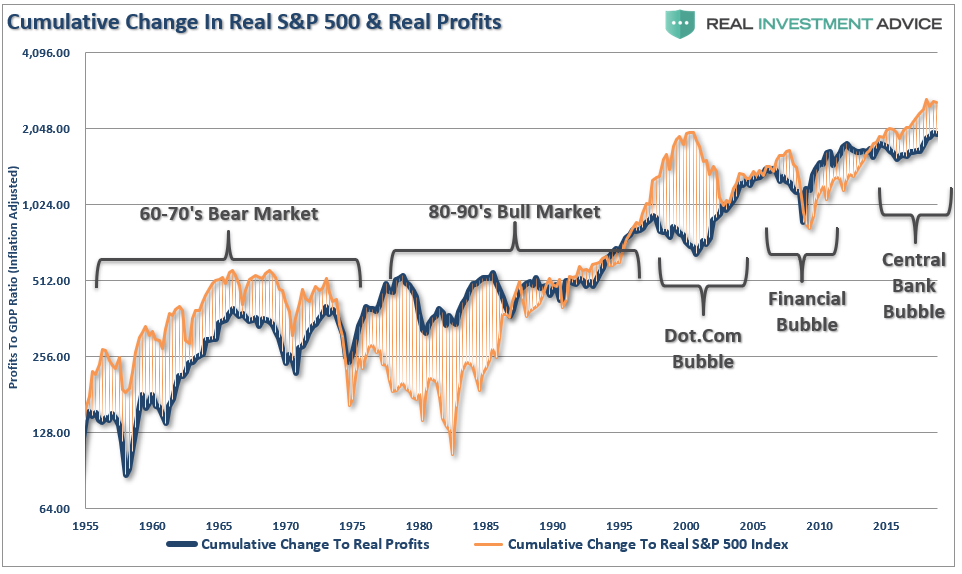 "Overconfidence and overvaluation always extract a terrible payback." – Hussman
"The [previous] bubble popped or deflated not for any crisis, but simply because there was too much debt, too much leverage, too much euphoria and unrealistic valuations. You will get a slowdown, and that is a self-reinforcing feedback loop. Once people stop buying houses and once people stop buying cars… then you are going to get people being laid off, less people being able to afford to eat out, and then you get a self-reinforcing recession. It's not a crisis, but like an erosion because everybody is kind of tapped out. What we can say is debt levels are rising at a much faster rate than earned income. That's where you are going to get a reset at some point. As costs go up and debt levels go up, then lowering interest rates gives you a little leeway, but only for awhile." – USA Watchdog
Are you prepared?
Worried about historically high stock valuations? Wondering if precious metals have a place in your portfolio? Not sure if cryptocurrencies are a unique asset class? Interested in investing for all economic conditions? Proper risk management and portfolio diversification are not difficult to achieve. What is Investment Diversification? introduces the concept of diversification, defines the importance of risk management, identifies investable asset classes, and then digs into each asset class in depth. Get the book – click on the image below!