Beryllium, the lightest of the alkaline earth elements, has an atomic number of 4. As a consequence of its small ionic radius (about 0.27 angstroms), beryllium atoms bond strongly to other atoms forming compounds with great hardness and high melting temperatures. Uniquely strong and light, beryllium is indispensable for many important industrial products used in the aerospace, computer, defense, medical, nuclear, and telecommunications industries.
Beyond the basics above, what else should we know about beryllium? Check out the 20 interesting facts below!
Beryllium was discovered in 1798 by the French chemist Louis Nicolas Vauquelin.

The metal was isolated in 1828 by two chemists, Friedrich Wölhler from Germany and Antoine Bussy from France, who independently reduced beryllium chloride (BeCl2) with potassium in a platinum crucible. Wöhler was the chemist who first proposed the name "beryllium" for the new element.

In the 1920s, copper beryllium alloys were first patented and used as the conductive spring components of telephone switchboard relays produced in Germany.

In the 1930s, pure beryllium was first commercialized for use in medical x-ray windows, while beryllia ceramics found application in insulating circuitry in radio tubes.

In the 1940s, beryllium found use during World War II in marine diesel engines, parachute buckles, and high precision aircraft gyroscopic navigation and targeting instruments. Also during this time, U.S. government scientists discovered that pure beryllium moderates neutrons, making it ideal for control of nuclear reactions and the function of nuclear weapons.

In the 1960s, beryllium came into its own as an essential structural material for space exploration and high-tech defense applications. For example, a beryllium heat shield protected NASA's Mercury capsule and its astronaut on the first manned journey to space.

In 1969, the Spor Mountain, Utah, bertrandite mine opened in the United States, leading directly to U.S. dominance of beryllium production since.

In the 1990s, nickel beryllium alloys enabled the first inertial airbag crash sensor systems to be deployed in automobiles, paving the way for this life-saving technology to become standard equipment in vehicles worldwide.

In May 2018, the U.S. Department of the Interior, in coordination with other executive branch agencies, published a list of 35 critical minerals (83 FR 23295), including beryllium. This list was developed to serve as an initial focus, pursuant to Executive Order 13817, ''A Federal Strategy to Ensure Secure and Reliable Supplies of Critical Minerals" (82 FR 60835).

Based on value-added sales revenues in 2018, approximately 22% of U.S. produced beryllium products were used in industrial components, 21% in consumer electronics, 16% in automotive electronics, 9% in defense applications, 8% in telecommunications infrastructure, 7% in energy applications, 1% in medical applications, and 16% in other applications.

Named after "beryllos", the Greek name for the mineral beryl, the element was originally known as "glucinium" – from the Greek "glykys", meaning "sweet" – to reflect its characteristic taste. However, the chemists who discovered this unique property of beryllium also found that it is in fact highly toxic and should therefore never be tasted (lol).

On a weight-to-weight basis, beryllium is six times stiffer than steel with two-thirds the density of aluminum.

The United States, Kazakhstan, and China are the only countries known to process beryllium ores and concentrates into beryllium products. About 60% of global beryllium resources are in the United States, and the U.S. produced an estimated 90% of the world's beryllium in 2015.

Beryllium manufactured from recycled sources requires only 20% of the energy as that of beryllium manufactured from primary sources.

The three most common beryllium-bearing minerals found in economic deposits are beryl (Be3 Al2 Si6 O18), bertrandite (Be4 Si2 O7(OH)2), and phenakite (Be2 SiO4).

The mirrors of the Spitzer Space Telescope and the James Webb Space Telescope (JWST) are made of beryllium.

Pure beryl crystals are colorless, but the inclusion of other elements in beryl creates colorful, valuable gemstones. Emerald, morganite and aquamarine are precious forms of beryl.

Beryllium metal composites are ideal for producing aircraft and satellite structural components that have a high stiffness-to-weight ratio and low surface vibration.

Beryllium-copper alloys are used in a wide variety of applications because of their electrical and thermal conductivity, high strength and hardness, good corrosion and fatigue resistance, and nonmagnetic properties. Beryllium-copper alloys are used as contacts and connectors, switches, relays, and shielding for everything from cell phones to thermostats.

Beryllium oxide ceramics are used in a wide range of applications, including missile guidance systems, radar applications, and cell phone transmitters, and they are critical to medical technologies, such as magnetic resonance imaging (MRI) machines, medical lasers, and portable defibrillators.
Global beryllium production charted: 1950 to 2015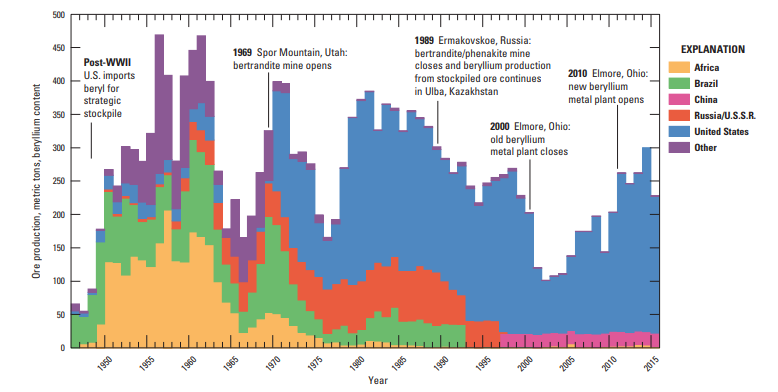 Thanks for reading!