The purpose of this series is to examine inflation and financial sovereignty against poor monetary policy, without hitting one over the head with club-like analysis. Today, we examine why ancient-era coins had value and the purchasing power of an Aegean silver stater (c.500 BCE) at the time of mint.
This series will look at ancient currencies, current inflation and precious metals prices. First, research of a "Type 5" silver stater from Aegina (circa 500-480 BCE) will be presented, including pictures, the coin's historic importance, methods of production, and purchasing power at the time of minting. Then, follow-up posts will consider purchasing power relative to today's prices, by both precious metal content and cost of goods.
Advantageously, the Aegean coin in this report was purchased approximately 20 years ago, so the price of the coin then and now can be considered as well, also by precious metals weight and cost of goods price inflation. This creates a series that should answer some interesting questions: How much has poor monetary policy inflated the cost of goods from 500 BCE to 1999, and then from 1999 to 2019? Has the rate of change increased? Further, is poor monetary policy the primary reason for the change in coin value in recent years, or are there other factors to be investigated?
The First European Coin: Aegean Silver Stater
With the Aegean "turtle" having historic importance as the start of European coinage, this author thought the coin a perfect place to begin a series on inflation and financial sovereignty against poor monetary policy. Truly, Aegean coinage is European money before debasement and inflation to fund politics and greed, as will be seen clearly once Roman coinage is examined.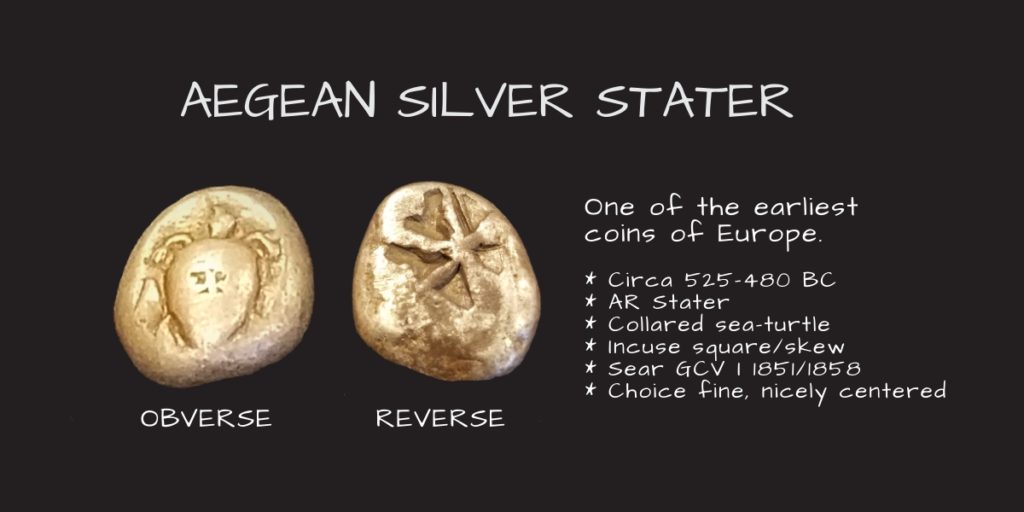 Coin description: The Aegean coin presented is in "choice fine" condition and is nicely centered. It is a type-5 "collared sea-turtle" mint with a banker's mark on the shell of the sea-turtle and incuse square/skew pattern on reverse. Mild black patina visible on reverse of coin. The Aegean coin in this research can be seen in The Classical Numismatic Review: Volume XXIII. Lancaster, Pennsylvania, 1998. Page 20.
Background on Aegina –
The island of Aegina is situated off the coast of Athens. The island's rocky terrain and lack of good agricultural land forced the early Aegeans to seek their living from the sea. As a result, the Aegeans became excellent maritime merchants, and by the early 6th century BCE, Aegina was the central depot for Black Sea grain on its way to Peloponnesos. By the mid-6th century BCE, Aegina had obtained important grain concessions in Egypt. During the course of their travels, Aegean merchants were exposed to the coinage of Asia Minor. The introduction of coinage to Aegina was a natural consequence.
The first European coins were produced on Aegina in the middle of the 6th century BCE. These coins depict a sea-turtle on the obverse, in keeping with the sea-faring interests of the Aegeans.
The reverse of these coins bear the imprint of the punch used to force the metal into the obverse die. The fact that these earliest coins have been found in hoards is evidence to the mint's prolific output. The Aegean "turtles" had a Mediterranean-wide circulation in the mid-6th century, making them Europe's first and most important trade coins until they were finally replaced by Athenian "owls" during the 5th century BCE. In fact, Aegean turtle coins were the standard currency of the Peloponnese for over 200 years.
Eventually, production of turtle coins decreased as silver from the island of Siphnos became unavailable and trade in the Mediterranean shifted to Athenian power. Aegina and Athens were bitter rivals and the Athenians often referred to Aegina as "the eyesore of the Piraeus". In 457 BCE, Athens conquered Aegina and stripped the country of its maritime power. As a result of the loss of its sea power, Aegina replaced the sea-turtle with the land tortoise on the obverse of its coinage and as the emblem of the city. It was also at this time that Aegina formed the reverse "skew" pattern into a more rectangular and formal incuse punch. In 431 BCE, the Aegeans were expelled from their homeland by the Athenians, only returning after the conclusion of the Peloponnesian War in 404 BCE.
Why Did Ancient Era Coins Have Value?
Monies of the ancient era had value because they required great technical, organizational, financial and natural resources to produce…
Limiting production to a degree such that a coin was often circulated for hundreds of years, as value was effectively stored by the weight of the precious metals in the coin, regardless of whether or not the coin was still in production or even if the nation still existed.
Ancient-era coins had value because production required great technical & organizational skills –
Converting raw metal into coinage was no easy task. Each coin was individually struck by hand on a carefully prepared planchet which was cast in a mold of fired clay at a specific weight. Heating to precisely the right temperature, a mint worker struck the planchet between hardened dies with just enough force to transfer an image squarely onto the coin's surface. In certain issues a conscious attempt to align the images (die axis) on a coin's obverse and reverse can be seen, which could be assured by hinging the two dies. Greek coins, however, were produced primarily from unhinged dies.
Dies were generally carved in bronze, brass, or iron which could be worked while still soft and then hardened for striking. Any given issue of coinage for a major city or kingdom might number in the hundreds of thousands, or even in the millions. Obviously, this required a well organized and scripted effort. Because the life expectancy of a die was short, between 10,000 and 30,000 coins per die, most coin types are represented by a substantial number of dies and small variations. As dies fractured during production, they were sent back to the celator for re-cutting, with known cases of dies from one ruler being re-cut to use for coinage of a successor. Because of this, one can assume that …
During the ancient-era, die engraving was a time consuming and expensive element of production.
Naturally, coin standards were vital for the setting of exchange rates, which were based on the weight of the precious metals in the coin. Again, this required both technical and organizational know-how, with standards adopted independently by a number of the more important ancient-era financial centers. For example, the Corinthian drachm was struck at a standard 2.85 grams, the Rhodian drachm weighed about 3.5 grams, the Athenian drachm weighed just over 4 grams, and the Aegina drachm weighed over 6 grams. Quality control and strict standards were guaranteed by these early nations, with the placement of stamps, badges, or names on coins serving as the issuing authority's seal of approval. Backed by the full faith and credit of a powerful nation, these coins were used in daily trade without the need to weigh each individual coin, such was the reputation of the issuer.
Perhaps ancient era coinage represents the original Proof-of-Work, with value derived from the time and skill to produce each coin by hand? In the case of the Aegean silver stater highlighted in this research, a banker's mark is visible on the shell of the sea-turtle, obverse side. In keeping with the Proof-of-Work theme, banker's marks were letters or shapes punched into a coin with the intention to identify the private merchant or government official satisfied with the coin's authenticity. Marks or stamps on coins were used to extend the geographical range that a coin would be accepted as legal tender, to continue in use a coin which had been in circulation for a considerable period of time, and to designate a new authority usurping the coins of another for their own use.
Ancient-era coins had value because production required huge financial & natural resources –
The production of coinage during the ancient era required not only technical and organizational skills, but also the availability of precious and semiprecious metals. A small city or minor kingdom might be able to obtain sufficient material through trade to produce coinage for its own needs, but a major economic or political power needed access to massive quantities of gold and silver; copper was also highly valued. The ability of a power to satisfy this need for precious metals often determined the future of the empire. Without huge quantities of precious metals, growth was in nearly all cases limited.
Gold and silver fueled civilization, not culture and crops.
For example, Aegina obtained its silver from the mines on Siphnos and saw its political and military power decline as precious metals production from those mines declined at the same time that Athenian mines rose to mass production, a major catalyst for the rise of Athens as force-to-be-reckoned-with. But this simple truth isn't seen only in the case of Aegina. Among the great powers of the Classical and Hellenistic periods we find that most has access to strategic and productive mines…
Athens drew its wealth from the Laurion silver mines, Phillip II was able to finance his military expeditions with silver from Damastion and Paeonia, while his son, Alexander the Great, acquired fortunes in gold and silver from conquests in Asia in addition to his father's legacy. Later, the Ptolemaic dynasty saw a supply of gold from the mines in Nubia and copper from mines in Cyprus, while the Seleukids drew their wealth from sources in Asia Minor and the eastern provinces conquered by Alexander the Great.
In the era of ancient history mines and metals equaled power, without which a nation would have no sovereignty.
The Aegean Silver Stater: What Was Its Purchase Power?
The best way to measure the purchase power of ancient coinage is to look at the cost-of-goods for a region against incomes at a given point in history. We are lucky that the ancients loved to write, and classical literature is full of references to the cost of things. Below is a list of daily incomes and expenses from the fifth and fourth centuries BCE. Keep in mind that these price comparisons are unreliable without careful analysis of conditions; regardless, this data will serve as a good base for our comparative analysis of then vs. now, with the Aegean coin in this research having a mint date accurately established at between 500 BCE and 480 BCE.
To help understand how the sample Aegean coin in this report fits into the following information, the author has checked the coin's weight to verify denomination at minting. Confirming that the coin is in fact a stater, at 12.2 grams, it's now appropriate to state that, by weight, the Aegean stater is also the equivalent of two drachms or twelve obols (one drachm = six obols)
Daily income for various jobs during the fifth and fourth centuries BCE – 
Acropolis laborer – 1 drachm
Architect – 2 drachms
Ceramic potter – 1 drachm
Hoplite at siege – 2 drachms
Housemaid – 2 obols
Mud carrier – 3 obols
Navy technician – 1 drachm
Seasonal laborer – 2 obols
Slave miner (+food) – 1 obol
Temple builder – 2.5 drachms
Some expenses during the fifth and fourth centuries BCE – 
Athens' walls – 17,000,000 drachms
Ax – 2 drachms
Cow – 50 drachms
Figs, dried, 25 kilos – 1 drachm
Goat – 10 drachms
Horse – 1,200 drachms
House – 2,000 drachms
Olive oil, 1 liter – 3 obols
Salted fish, 1 piece – 2 obols
Shoes – 8 drachms
Trireme – 6,000 drachms
Wheat, 25 kilos – 3 drachms
Wine, 5 liters – 1 drachms
Therefore, at a value of two drachms or twelve obols, the Aegean coin examined in this report represented one day of income for an architect or hoplite at siege, and could purchase five liters of wine, a liter of olive oil, and a couple pieces of salted fish… or an ax, lol.
Final Thoughts
Next time we'll consider the Aegean silver stater's purchasing power relative to today's prices, by both precious metal weight and cost of goods. How much of the coins current value can be attributed to the precious metals, and how much of the value is based on collector sentiment? How much has the value of the coin increased in the last 20 years? So many questions to answer … so much fun research coming up …
Thanks for reading!