Everyone's talking about Lithium… and they should be, "It's the next gasoline." Disruption is occurring right now in the world of energy as "cleantech" and "renewables" take over traditional energies such as oil and coal.
"…there is an energy revolution taking place before our eyes. For the first time since the Industrial Revolution we see a significant challenge to energy derived from fossil fuels." – Kirill Klip
But I have questions about the viability of Lithium long-term…  Sure, all the major car companies are diving full-steam into Lithium and Electric Vehicles (EV) right now, but what is the opportunity on an even larger scale? I'm talking MASSIVE disruption… is Lithium the one to rule them all? Tesla seems to think so, and has a plan for the #SmartGrid: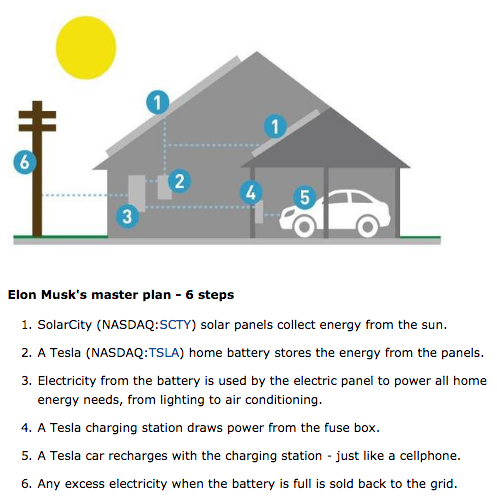 Kirill Klip, International Lithium Founder & President, also weighed in on Tesla energy storage in a recent Twitter interview: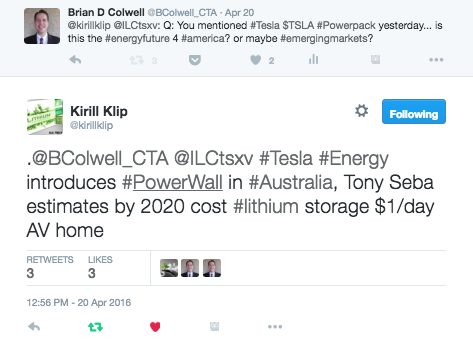 Shining a Light on Lithium
In 2015 Tesla unveiled two new batteries that store electricity from either the grid or a renewable energy source like solar. "The Powerwall" is a compact, wall-mounted, rechargable, lithium-ion battery designed for homes and small businesses. "The Powerpack," meanwhile, is a larger unit designed for utility scale, and can store 100 Kwh. And it's not just Tesla blowing-up the utility level energy storage market. New devices are being launched every month, it seems, as auto manufacturers become battery producers and major commercial interest in back-up and off-grid power builds. Home storage devices from Tesla, Mercedes, Nissan, and Panasonic are pictured below: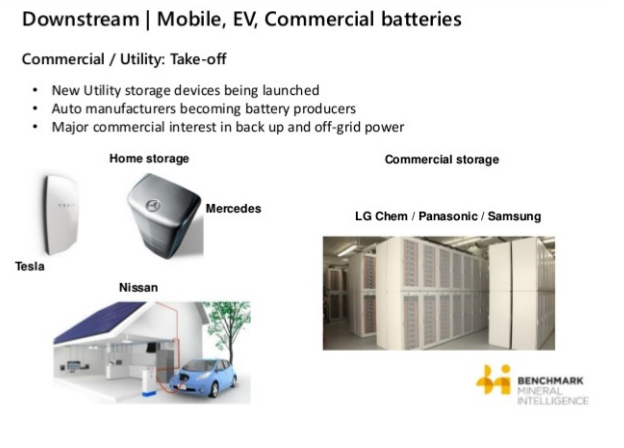 "Battery storage will revolutionize the renewable energy sector by reducing the need for network investment." – Simon Corbell
Battery storage is a BIG deal. It gives power companies additional reserves to draw upon, meaning they don't need to invest as much in generation capacity. In addition, enhanced energy storage increases the reliability of the grid with back-up power. Lithium Guru @globallithium is well informed, as he's worked with "Big 3" Li producers extensively. He agrees with $ALB that Lithium demand for the SmartGrid may be even greater than EV: I agree with $ALB that grid storage will grow significantly. In 2030 Grid related lithium demand may be >than EV.  — Joe Lowry
Some have suggested that, at scale, the technology will be more cost-effective than building new power plants. And for renewable power companies, having extra storage capacity means being able to overcome the problem of an intermittent and unpredictable power source.
In a recent future-planning report, South Australian Power Networks estimated that, by 2023, rooftop solar panels will be installed on 60-70% of dwellings: "Load levelling, particularly in parallel with renewable energy sources, is an area of expanding growth. Lithium-ion battery storage will ensure a continuous supply of energy when wind or sun fail to generate enough power to meet demand."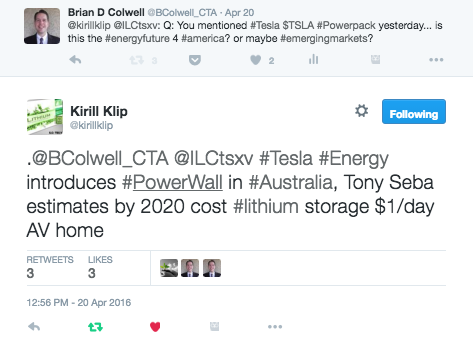 Energy storage via Lithium at only $1/day. This is a major cost of living increase for most families. OK! I get it…  Batteries + Energy Storage = BIG DEAL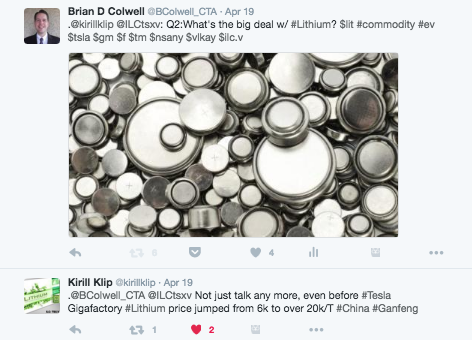 Understanding that few EV companies have a long-term Lithium supply plan, though, the next few years should prove interesting as demand rises explosively. More and more it seems to me that the way to make the money in this field is to control the commodity… the Lithium.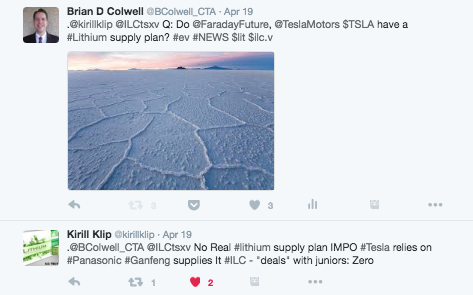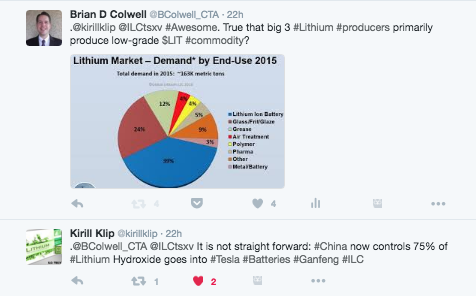 Where does Lithium come from and what are the world reserves?
Most of the known supply of Lithium is in Bolivia, Argentina, Chile, Australia, and China. In fact, Chile is often referred to as the "Saudi Arabia" of Lithium, with a single Chilean lake bed holding 27% of the world's reserve base of Lithium. In 2011, world Lithium reserves by country stood at:
Bolivia: 34%

Chile: 31%

China: 13%

US: 8%

Argentina: 6%

Australia: 3%

Others: 5%
What's worth noting here is that, while Australia only had 3% of world Lithium reserves in 2011, they represented closer to 30% of world production. Where's all that Lithium going? To China… in the form of pegmatites for manufacturers. Let's take a look some numbers for 2015: www.statista.com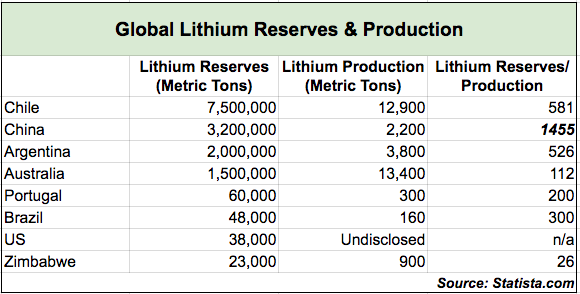 See what I mean? Look at China's Lithium reserves! Knowing that LOTS of that Lithium is EV-grade, and that there's a lack of production of high-grade Lithium, this could be a pretty significant move by China to control the burgeoning EV market… another potential investment lead?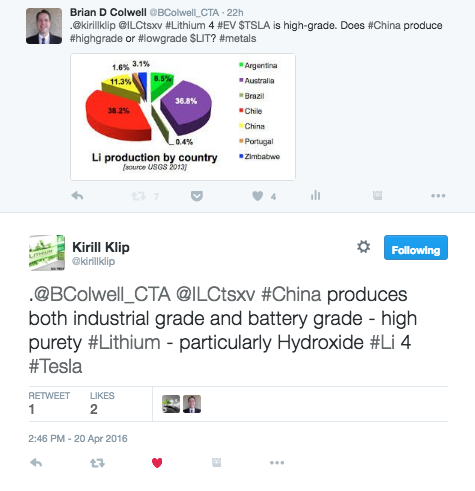 Lithium supply by company 2012:
Talison: 35%

SQM: 26%

Rockwood: 12%

FMC: 7%
As of 2012, the four biggest Lithium producers controlled about 80% of Lithium reserves.
The Lithium market hasn't been immune to commodities volatility, though. There was a shake-up when Albermarle acquired Rockwood for $6.2 billion. As of 2015, just three companies produce 90% of the world's Lithium, with SQM controlling a full third of all world Lithium reserves. However, it's Talison that produces the world's highest-grade Lithium, supplying, via it's mine in Western Australia, more than 30% of current global requirements and 75% of Chinese demand.